You installed Meego in your system and you don't like it? Or do you want to uninstall it from your system? You can simply uninstall MeeGo by installing another operating system over MeeGo. But some time we may have a different situation.
You may need to format your system hard disk entirely before installing a new OS. Some time you need to reformat to different sizes and install different OS to each partitions. This steps are applicable when you want to clean your hard disk before installing any operating system.
Here is the step by step instrucions. Remember…. You will loose all data in the hard disk. Back up your data before start.
Step 1: Create any Linux based Operating System CD / DVD / Pendrive (ie. a rescue disk). In this case I used a Ubuntu OS. Here is the download link.
Step 2: Run Ubuntu CD / Pendrive as a boot disk.
Step 3: Select the option 'Try Ubuntu XXXX'
Step 4: Select System>Administrator>GParted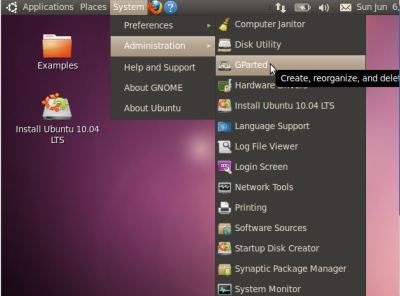 Now you can see all the partitions on the system. In my case this picture is the partition from MeeGo installation.
Step 5: Select any partition and delete it. (for swap partition you must right click on it, select swap off, then delete)
Step 6: After deleting all the required partition, click on the 'Apply' on the top.
You are done. Now you got a unallocated empty hard disk.
You have to partition to the required format (ie. NTFS for windows) and size before installing new Operating System.