Since the Pixel 3, Google has been launching cheaper, underpowered versions of their flagships from the previous year. They have an 'A' after the name, which probably stands for affordable. But the Pixel 6a is a little different than Pixel 6, and you might like our comparison to know why. We'll tell you how and why in this Pixel 6a review.
Let's get started with our hands-on review for the Google Pixel 6a.
Google Pixel 6a: Overview and Specifications
When it comes to Android flagship devices, the spec sheet doesn't matter as much these days. They all generally have the same chipset, an insane amount of RAM and storage, and overall good cameras. But the specs make a value-for-money when it comes to value for money devices such as the Pixel 6a.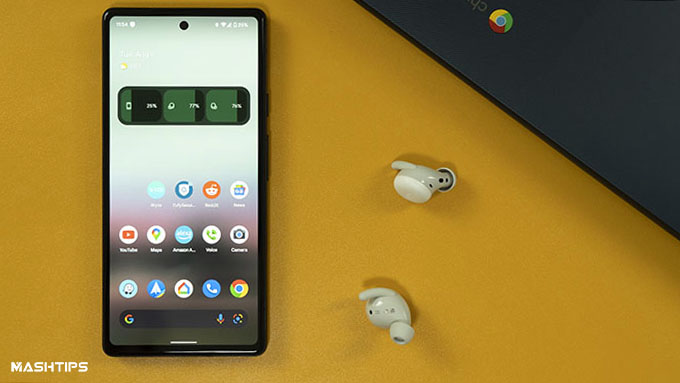 Below is the complete hardware specifications of the Google Pixel 6a smartphone.
Category
Google Pixel 6a
Display
6.1-inch AMOLED
2400×1080
491ppi
60Hz refresh rate
Processor
Google Tensor
Titan M2
Memory
6 GB
Storage
128 GB
Protection
IP67 water/dust resistance
Gorilla Glass 3 (front)
Camera
12MP main
12MP ultrawide
8MP front
Battery
4,410mAh
Charging
18W wired
Connectivity
Wi-Fi 6
Bluetooth 5.2
5G (sub-6, mmWave)
Dimensions
152.2 x 71.8 x 8.9 mm
178g
Related: Pixel 6 vs Pixel 6a: Should You Buy the Cheapest Pixel?
Google Pixel 6a: Design
With minor changes, Google's A series devices have always followed the design language of their flagship siblings from the previous year. In this regard, the Pixel 6a is no different. The big camera bump or bar from the Pixel 6 and Pixel 6 Pro is also present on the Pixel 6a. It's not as bumpy, however, and barely sticks out of the back, which is both a good thing and a bad thing depending on your preference.
Paired with the two-tone design, it's definitely and uniquely Pixel. A unique, recognizable design is something you rarely get out of a $450 phone. Barring the Nothing Phone 1, nothing else beats the boldness of the Pixel 6a's design. Although, the Pixel 6a does not use the most premium materials in the build.
The Pixel 6 Pro uses Gorilla Glass Victus for the front and back, while the Pixel 6 uses Gorilla Glass Victus on the front and Gorilla Glass 6 on the back. The Pixel 6a replaces the back glass with plastic. That sounds bad, but the plastic is premium and does not feel cheap. It offers an advantage if you're not too bent about the plastic back. The material provides a better grip than the slippery glass back on the Pixel 6.
At the bottom chin, you can find a USB-C port with a pair of speaker and microphone grills, like seen in previous Pixels. Obviously, Google is never bringing back the headphone jack so don't expect one from this too.
Although, that's not much of an advantage because you'll want to put a case on it. It's easier to scratch.
Related: 14 Best Pixel 6A Accessories You Can Buy Right Now
Pixel 6a Display
On the front of the device, which you'll be looking at the most, sits a 6.1″ display with a punch hole camera cut out. The bezels are thin, but it's nothing that even cheaper phones don't already have. The Nothing Phone 1 beats the Pixel 6a in terms of the bezels in a good way. It's also the only Android phone with a uniform bezel, just like the iPhones. If Nothing Phone didn't exist, the Pixel 6a could get away with the non-uniform bezels, just like every Android phone.
Moving inwards from the bezels, the display has a 2400 x 1080 pixels resolution, which is a little more than full HD. It's the same as the Pixel 6 or Nothing Phone 1. However, a smaller 6.1-inch display is more pixel-packed at 429 PPI than those two. The show is protected with a much older Gorilla Glass 3. It's not too bad, but you will want to put a case on this.
Another area where Google, might I add, disappointingly, cut corners is the display's refresh rate. It's only a 60Hz panel, unlike the 90Hz on the Pixel 6. Even Nothing Phone 1 has a 120Hz panel along with HDR10+. We keep returning to it because it competes directly with the Pixel 6a. And at least on the front, Nothing's phone has the Pixel 6a beat in almost every department.
Since the fingerprint scanner is now on or under the display, let's talk about that as well. It's good, and it's better than the Pixel 6. The fingerprint scanner on the Pixel 6a is reliable. It's not the fastest, of course, but it's secure. Yes, we tested with multiple fingers, and it works just fine.
Hardware and Performance
This is where the Pixel 6a shines and one of the areas where it diverges from previous Pixel A series devices. Pixel 6a packs in the same Google Tensor chip and the Titan M2 security chip that the flagship Pixel 6 and 6 Pro have. Pixel 3a, and Pixel 4a, both had mid-range chipsets, unlike their more expensive siblings. Nothing Phone 1, for comparison, has a less powerful, kind of mid-range chipset.
That said, while the Pixel 6a is no slouch, the 60Hz display does make it seem slower than something like the Nothing Phone 1. This isn't a big deal if you've never had a device with a 120Hz or 90Hz display since you won't notice the difference. But put them side by side, and the difference is noticeable. The powerful chip does make the Pixel 6a more future-proof against Nothing Phone 1. Then again, it's hard to imagine the 60Hz display holding well in the future, especially when every other phone will have at least a 90Hz panel.
To complement the powerful processor, Google packed 8 GB of RAM with 128 GB and 256 GB storage options. There's a 4410 mAh battery to provide the required juice to all these internals. It's smaller than the Pixel 6 and Nothing Phone 1, but this is where the 60Hz display shines. It draws less power, so the Pixel 6a has better battery life.
That said, it will also take forever to charge because it only supports 18W charging. There's no wireless charging, either. There is also no 12 GB RAM variant, but you likely won't need 12 GB of RAM in the next five years.
Related: How To See Current & Total Android RAM Usage
Software and Updates
In the long term, the Pixel 6a will get three major Android updates and five years of security updates. This is in line with the Pixel 6 and the Pixel 6 Pro. Compared to Nothing Phone 1, that's one more year of security patches. Pixel 6a comes with the latest Android 12 and will be one of the first devices to receive every major Android update.
Pixel devices also receive a quarterly Pixel feature drop update that brings in some new features every few months. This helps keep the device feeling fresh and new. If you care about software updates, you'll look forward to these. Pixel devices were always supposed to be the iPhones of the Android world: smooth, simple software, great cameras, basic things.
It's arguable how close Google has gotten to it, but Android 12 is smooth, fast, fancy, and colorful. It's quite the opposite of iOS visually but offers a similarly smooth experience, if not as smooth. If you don't already know all about it, you can learn more about Android 12 from our guide. Google's Tensor chip isn't the fastest in the industry like Apple's, but it's not about being ultra-fast. Especially for the Pixel 6a, a mid-ranger, the performance is out of class.
Pixel-Exclusive Features
One of the exclusive features the Tensor chip enables is the almost instantaneous Assistant Voice Typing. It's a superfast voice to text, which is much more reliable than before. That's because it leverages years of training models and machine learning powered by Google Assistant. And it's fast because it happens offline, on your device, unlike other things concerning Google Assistant.
The Voice Recording app on the Pixel devices is also excellent for recording lectures or meetings. It automatically transcribes everything quite accurately, so you can look at it later. Apart from the instant transcription, you also get tools to edit it. Recordings can also be automatically backed up against your Google Drive storage.
Pixel phones also have Google Assistant's call screening functionality, which is available in some countries, but not others. You can allow Google Assistant to answer calls on your behalf. It will ask the caller the reason for the ring, and if you like the answer, you can pick up the call. It's pretty helpful if you get a lot of robocalls.
Related: Wake Your Android Phone Without Touching the Screen
Camera Performance
A Pixel 6a review can't ignore the camera, of course. Cameras are all the Pixel phones have been about from the beginning. But this is another area where the Pixel 6a deviates from previous A series devices. This time, it's not in a good way. But it is a $450 phone, after all. Google probably didn't want to undercut their flagships by giving us the same processor and camera at a lower price.
The Pixel 6a uses the same 12 MP primary camera sensor from previous Pixel devices. On the other hand, the Pixel 6 and 6 Pro use a newer 50 MP sensor. The 6a does have a 12 MP wide-angle sensor, which previous A series devices did not have. These are Google's tried and tested Sony IMX363 and IMX386 sensors for the primary and ultrawide cameras. This allows for up to 4x optical zoom on the Pixel 6a.
Also, let's not forget that previous generation Pixel cameras have held their own against increasing competition. The 12 MP primary sensor is the same that Google has used since the Pixel 2. But thanks to their improved software processing, Google has managed to keep it at the top. That is to say that the Pixel 6a is still the best camera you can get for under $500.
The camera has even learned a few new tricks, such as Face Unblur. Pixel 6a can use data from the wide angle lens under low light to ensure the faces never appear blurry in photos. The camera performance is also faster than the Pixel 5.
The images that come out of these are recognizably Pixel if you know what that means. High dynamic range, lighter shadows, boosted colors, and a balanced image that most people will like. That's what you get with the Pixel. You can see it for yourself in the sample images.
Related: How to Hide Display Notch and Cutouts on Your Pixel Phone
Google Pixel 6a: Pros and Cons
Pros
Bold and unique Pixel design
Flagship Google Tensor chip
Best cameras in class
Affordable
Cons
Not the flagship camera
Slow fingerprint scanner
Slower 18W charging
Lacks wireless charging
Pricing and Availability
Google Pixel 6a is available for purchase from Google Store as well as Amazon for under $449. For the price, it offers flagship performance and the best cameras under $500, maybe even under $600 or $700. The software experience is also unique, considering how most Android devices sold are not stock Android devices.
Final Verdict
The story of the Google Pixel flagships has always been about a few compromises here and there. The first Pixel was the best Google ever made but in a very understated, boring, and outdated design. The Pixel 2 lineup was a hit-hard with bugs and quality issues. Pixel 3 had serious endurance issues. Pixel 4 devices were priced inappropriately high for what they offered. The Pixel 5 did not even have a flagship processor.
Even the Pixel 6 and 6 Pro have run into many issues due to the Android 12 transition and the new Tensor chip. On the other hand, Pixel 3a, Pixel 4a, and Pixel 5a have always passed with flying colors, especially in the long run. If you can't see where this is going, the point is that the Pixel 6a does keep this trend alive.
You get three years of major Android updates and five years of security updates, not to mention you get them before everyone else. The new Pixel 6a is an excellent value for money unless you live in India, which costs about $556. Especially not with the Nothing Phone 1 around.
Disclaimer:
MashTips is supported by its audience. When you purchase through links on our site, we may earn an affiliate commission at no extra cost to you.