Google Docs is a great document app that you can use to create text documents for free easily. While the web app is great on its own, you can get even more functionality from Google Docs by using various free- add-ons.
Here are the best add-ons you can install and use with Google Docs immediately in your web browser.
Install Add-Ons In Google Docs
The best thing about these add-ons is that they are simple to install, and most are free to use (although some require you to purchase them after the free trial). Additionally, these add-ons are only linked to your Google account. You may use the add-ons on any PC as long as you are logged in with the same account.
CLOZEit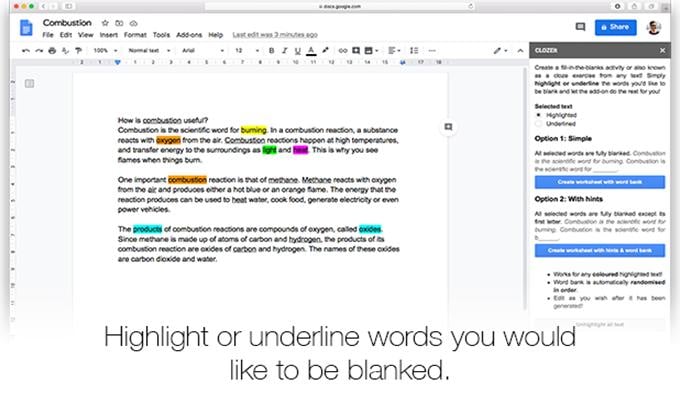 Many people prefer to prepare their question papers for examinations and other tests using Google Docs. But, if you plan to create exercises such as Fill in the Blanks, would you sit and manually remove a word from the sentence? Thanks to the CLOZEit add-on for Google Docs, you can now easily highlight the word to be removed, and the add-on will create a blank in the sentence immediately. You can use multiple highlight colors for the text, and the add-on will automatically remove them.
Key Features: Removes Highlighted Words To Create blanks | Detects Words Highlighted With Different Colors | Switch Between Removing Some Words or Keeping Only a Few Words | Easily Editable | Can Be Run Multiple Times
Install: CLOZEit
Easy Accents – Docs
Many languages in the world use certain accents on top of the alphabet in certain words. With the Easy Accents Add-on, you can easily add these accent marks to your text. You can choose to set the language, create custom lists, and add various mathematical and logic marks to your Google Doc.
Key Features: Add Accents By Selecting language | Supports 20 Different Languages |  Create Custom Lists | Insert mathematical and Logic Marks | Free Use Add-On | Simple Layout | Easily insert Capital Accents
Install: Easy Accents – Docs
Table Of Contents
Has there been a time when you have typed out a long document that spans tens of pages, and you've been asked to make a quick Table of Contents at the start of the document? Well, with the Table of Contents add-on, you can easily create your contents table by simply highlighting and selecting the headings and the format. You can easily create the Table of Contents in a very organized manner.
Key Features: Easy To Use | Creates neat Table Of Contents At The Right Side Of The Doc | Easily Highlight and Format the Headings | Free To Use
Install: Table Of Contents
Grammar and Spell Checker Language Tool
Having the right grammar and correct spelling is important in any document. Now, you can easily proofread your documents with ease thanks to the grammar and Spell Checker add-on for Google Docs. The add-on will detect any wrong spellings and let you correct them by clicking on the correct word. You can also adjust the words and spellings for different languages to ensure you have it right in your document.
Key Features: Free | Checks Spellings | Helps To Correct Grammar |  Supports 20 Languages | Easily Choose Languages | Simple One Click button To Activate Add-On | Create Personal Dictionary | Highlights Errors
Install: Grammar and Spell Checker Language Tool
Code Blocks
If your document has to have a number of various codes in it, it can be difficult for some people to arrange and organize the principles without any tool. Thankfully, the Code Block add-on easily lets you select the code and lets you format the code accordingly, along with the color of your choice. This helps to make the code more readable in Google Docs. A very useful tool, especially for those who are preparing documentation that has numerous codes for understanding or to demonstrate as an example.
Key Features: Highlight And Format your Syntax | Detect Code Language | Multiple Color Themes | Format Codes Into Blocks | Preview Code Layout Before Finalizing
Install: Code Blocks
QuillBot- Paraphrasing and Summarizing Tool
With AI everywhere, it is only fair to have AI tools in Google Docs. QuillBot is a new AI tool that will help you rewrite your content simply and more easily for the audience to understand. The QuillBot AI tool can help remove words that are not necessary and overall help you improve your writing. The Premium version of the AI tool removes character limits and gives you additional paraphrasing tools.
Key Features: Removes Unnecessary Words | Saves Writing Time | Bring Out Clarity In Your Writing | Enhance Vocabulary | Built-in Thesaurus
Install: QuillBot- Paraphrasing and Summarizing Tool
Doc Tools
When you look at Google Docs, you start to notice that many features are missing. Doc Tools is an Add-on that helps bring in many tools that improve your experience with Google Docs. 13 tools will help you format your writing and make it look presentable and interesting to read. Best of all, this add-on is free and has no advertisements whatsoever.
Key Features: Sort In Ascending or Descending Order |  Capitalize Each Word | Convert Words To Numbers and Vice Versa | Make all Words In Uppercase or Lowercase | Format Text in Toggle Case
Install: Doc Tools
Label Maker and Printer
This add-on helps you to create simple and useful labels either to be stuck on packages, used for emails, or even printed out for packages. This add-on has a number of templates that can be edited and printed out right away. You can easily merge data from the spreadsheet into Google Docs to create the labels and instantly print them right away. You get additional templates when you use the add-on's premium version.
Key features: Multiple Free Templates | Easily merge Data Between Sheets and Docs | Print Unlimited labels | No Ads | Free From Label Watermarks | Easy To Use Add-On  |Supports G Suite and Google Workspace | Supports Avery, SheetLabels, Herma, and Online Labels
Install: Label Maker and Printer
Form Builder For Docs
Form Builder is a Google Docs add-on that helps you to create and build your Google Form. You can easily import questions, images, and answers from Google Docs into Google Forms with a single click. The add-on will automatically identify the questions and arrange them in Google Forms. You can choose the type of files for your forms.
Key Features: Imports Conte From Google Docs Easily | Adjust and Customize Google Form Configuration | Randomize Questions | Automatically Map Data |  Multiple Templates Available
Install: Form Builder For Docs
Auto-LaTex Equations
This is an excellent add-on for those who have to use a number of math equations in their doc. With this add-on, you can easily convert the math equation into simple and easy-to-see images. The image is rendered in the highest quality. You can choose the size of the image as well as the size of the fonts used in the equation. This is perfect for those who prepare math tests with equations that need solving.
Key features: Free To Use | Adjust Image and Font Size | Adjust Colors | High-Quality Image Renders | Easily De-Render Equations
Install: Auto-LaTex Equations
These are the best add-ons that you can use to improve your overall experience with Google Docs. In my opinion, if you are someone who uses Google Docs to write, you should install Doc Tools and the Grammar Spell Checker tools to ensure that your document is perfect and neatly formatted all the time.
Disclaimer:
MashTips is supported by its audience. When you purchase through links on our site, we may earn an affiliate commission at no extra cost to you.