WhatsApp stickers step up the fun while texting your friends or family. Apart from the inbuilt stickers, WhatsApp allowed you to import stikers from third-party apps. Also, you would have to head to third-party apps to create your own sticker packs. WhatsApp now lets you create your own stikers without installing any of these third-party sticker makers.
Let's find out how you can create your own WhatsApp stickers right from the WhatsApp and without using any other apps.
Create WhatsApp Stickers on WhatsApp Web
Instead of relying on third-party apps, you can now make your own personal stickers right from WhatsApp. Since this comes straight from WhatsApp, you don't have to worry about giving a third party any data that you aren't already giving WhatsApp. Moreover, the experience is just better, compared to third-party apps.
As of now, you can create your own stickers packs from WhatsApp Web only. If you are not sure how to get WhatsApp Web, get to our guide to set up and use WhatsApp Web on both PC and Mac.
Once you sign in to WhatsApp Web on your browser, you can check for the sticker making option. To make your own personal WhatsApp stickers, follow the steps below.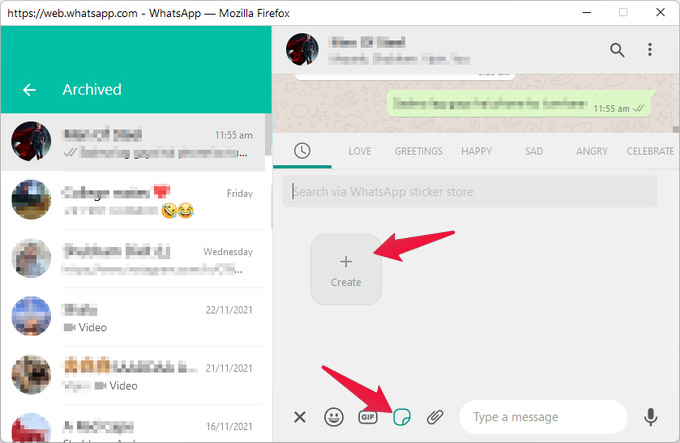 Open any WhatsApp chat on WhatsApp Web and click on the emoji button at the bottom.
Then, click on the Stickers button, and you'll notice the option to create your own stickers.
Click on Create and select an image from your device.
This will open the image in WhatsApp's image editor where you can add emoji, stickers, text, and doodles.
When you're ready, click on the Send button to send the sticker.
Related: How to Use WhatsApp Web Without Your Phone Online
Import Personal WhatsApp Stickers on Your Phone
Although the stickers can only be created on a PC, for now, you can import your created WhatsApp stickers to your phone. WhatsApp does not officially support this, so this is mostly a workaround rather than a feature.
Send your personal sticker to someone from WhatsApp Web on your PC.
Open the chat on your phone.
Tap on the sticker.
Select ADD TO FAVORITES.
Related: How to Send Animoji or Memoji As WhatsApp Stickers
You should now see the sticker in your favorite stickers list in the stickers section. Soon you will be able to create personal stickers from the WhatsApp desktop apps as well. Plus, WhatsApp will let you create stickers from Android and iPhone apps too. For now, you can create stickers from the WhatsApp Web only.
Disclaimer:
MashTips is supported by its audience. When you purchase through links on our site, we may earn an affiliate commission at no extra cost to you.