Whether it is personal or business transactions, financial monitoring and proper budgeting is the essential part of your personal and business success. We are dealing with several modes of payments in everyday transactions like a credit card, smartphone pay, cheques, online transactions, etc.
We have to pay attention and spend a lot of time to monitor our accounts and finance transactions to plan our budget and control expenses to match with our income. There are a couple of good budgeting apps designed for smartphones to save your time.
This app will monitor all the transactions from your financial resources like your bank account or credit cards and display the transactions in your smartphone app almost in real time. This app will combine your transactions based on each category, show your monthly budget, cash flow etc. This app sends the notifications to inform about financial charges, coming bills, and the transactions when you cross the monthly budget limit.
Mint Personal Finance
Mint.com allows you to track, budget and manage your money all in one place, so you can see where you're spending and where you can save. Open an account, add your bank, credit, loan and retirement accounts.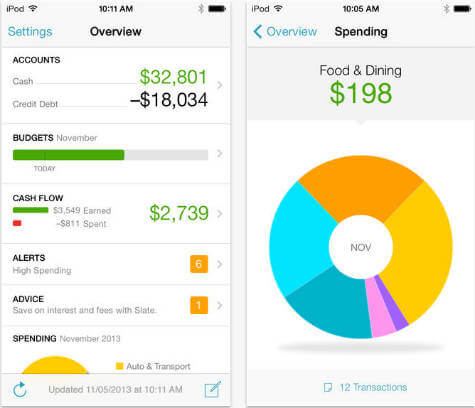 Mint will automatically pull in and categorize all your transactions from these accounts. It's safe, secure and easy to keep your personal finances organized.
Pocket Expense Personal Finance
Pocket Expense is a full-featured finance software that you can carry in your pocket. It is a powerful and easy to use program that will help you track and understand your personal finance.
Pocket Expense brings all your financial accounts together, categorizes your transactions, tracks all your bills, lets you set budgets and helps you achieve your savings goals. In just minutes, you'll see where your money is going and where you could save money.
Download: iOS
PocketMoney – checkbook, budgets, expenses
PocketMoney gives you the most features, at the least cost, in an effective user interface. Need to track your finances on multiple iPhones, iPads, iPods, Androids, or desktops? PocketMoney can do that, too.
Sync multiple iOS or Android devices together over Wi-Fi or to the PocketMoney desktop app on OS X, Windows, and Linux.
With the help of these money management apps, you can combine all money cards and bank accounts into one place and easily track each and every finance transactions. These budget planner apps are very easy to setup and start using. To start, please set up an account with this app and add your credit card, bank and other financial accounts in this app. That's all.
We recommend one of this app to monitor your financial accounts and credit card expenses more efficiently and systematically. Mint is one of the best and free apps that can use on multiple platforms like Windows, Mac, iOS, Android etc. This app is really helpful which send you the email notifications for future bills, finance charged etc.
Disclaimer:
MashTips is supported by its audience. When you purchase through links on our site, we may earn an affiliate commission at no extra cost to you.