It is now an old story to buy and rent game CDs from local stores. Game launchers like Steam, Origin, and Epic are your new game stores to grab newly released titles. There are offers on various game launchers while buying your favorite game. You may find certain games on multiple launchers but are confused about where to buy from.
In today's article, we show you a quick comparison between Origin, Steam, and Epic, the best game launchers for PC gamers.
Content
Origin vs. Steam vs. Epic
Origin, Steam, and Epic are game launchers that stand as a platform for game developers to sell their games and gamers to buy them. Steam was the big dog in the house for so long. But, with their newer strategies, both Origin and Epic have managed to become competitors for Steam.
Origin was developed by EA Games to sell their games as exclusives. Origin holds most of the AAA titled EA games, which makes it unavoidable for a gamer.
Steam first came out in 2004, which was developed by Valve software. It has one of the best game launchers out there. Steam provides a platform for gamers to express their views of a game, create new friends, share their achievements, and many cool features.
The Epic launcher was initially designed for Fortnite, but they now hold most of the newly released games. Epic conducts weekly giveaways of games, which makes them customer favorites.
User Interface
Steam possesses the most feature-rich UI for a launcher. Steam provides a lot of options, which makes it social media among gamers. The game launcher provides features like cloud save, friend list chats, broadcasts, mods support, Linux support, forms,etc..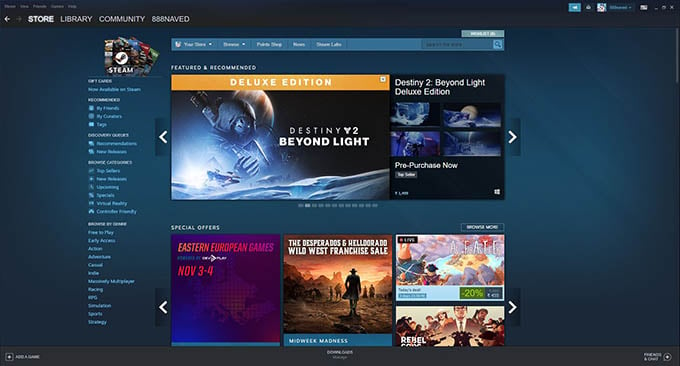 Steam has a big community market in which you can buy and sell in-game items. Steam has a section to showcase in-game achievements. It has the option to gift games. Users can review the game in this section, and reviews can be categorized into various sections.
Origin has the fastest and highly optimized user interface of all three. The platform has better optimization so that it offers the fastest background download speed. Origin offers the feature of playing games while downloading. Origin also has cloud-save, achievements, and friendslist option. You can also add non-Origin games to the Origin game library.
The Epic comes with a minimal interface and has only very few features. The game launcher offers cloud save only for a few games. Epic does not have an effective review system. The friend list and achievements provided by Epic is not so good as the others. Anyways, the game suggestion system is better in Epic compared to others both.
Game Availability
Origin mainly focuses on games developed by EA Games. Most of the AAA titled EA games are Origin exclusive. The main titles include FIFA, NFS Series, Battlefield, etc.. Origin also offers a decent set of games from other developers.
Steam contains the biggest game library with all kinds of games in all genres. It holds more than 30000 game titles. The game variety ranges from the latest titles to games produced by small scale developers, including the Red Dead Redemption 2.
Epic is expanding their collection daily by adding new games each day. It holds titles like Metro Exodus as exclusives. Even though Epic does not possess as many titles as Steam, you get certain exclusive games. Epic offers easy publishing of games by developers and only acquires 12% of the profit share, whereas steam goes for a profit share of 30%.
Pricing and Offers
Steam is known for the huge discounts provided during various season sales, including the holiday season. Discounts can come up to 90% during the offer period. Rather than discounts, Steam also conducts giveaways in which they offer free popular games for contestants. Steam also provides regional pricing and regional currency payment, so the pricing is normalized throughout everywhere.
Origin offers decent discounts in their titles but is mainly known for the featured EA Play. The EA Play is a feature in which the user can subscribe to the Origin on a monthly or yearly basis. At 4.99$ per month or 29.99$ per year, you get EA Play, whereas EA Play Pro charges 14.99$ per month and 99.99$ per year.
If you purchase any one of the EA Play subscriptions on Origin, you can access most of the games in the launcher without paying for each game separately. They also provide early access to upcoming games. The games are free to keep as long as the subscription goes on. The list of games available and early access titles playing time are more in EA Play Pro than EA Play.
Epic provides a fairly good discount scheme. Epic gives away two games each Thursday completely free of cost. These include many good titles also. Epic conducts timely blockbuster giveaways. Some of the recent giveaways included top tier games, namely GTA V, Civilization 6, Borderlands 2, Ark Survival Evolved, etc.
All three launchers accept international credit and debit cards for purchase. You can also pay using PayPal on all the launchers.
Final Verdict
Origin offers one of the most economical ways to play games, whereas Steam and Epic concentrate more on their huge discounts and giveaways. Epic is trying hard to beat Steam by giving away lots of popular games. Steam offers so many features that make it a bit complex than Origin and Epic.
Even though Steam has the biggest game library, the game suggestions feel annoying due to its poor recommendation system. Epic does not possess a reviewing system, signifying that the buyer should trust his luck over a game and believe what the company says.
Apart from such minor issues, all three game launchers offer many games, various new features and are trying their best to become better day by day. If you are looking for a specific game title and is available only on a specific launcher, it is the only way to get it.
Disclaimer:
MashTips is supported by its audience. When you purchase through links on our site, we may earn an affiliate commission at no extra cost to you.