Though WhatsApp regularly introduces new features to improve user experience and data privacy, like locking chats, when it comes to sharing media, it has file-sharing limits. It compresses the file size, resulting in reduced quality. Thanks to the recent update, you can share high-quality photos and videos on WhatsApp.
How to Share High-Quality Photos and Videos on WhatsApp
If you share an image with good quality and a large file size, WhatsApp will compress it to save space. And, the compression might result in low-quality images.
Send High-Quality WhatsApp Images on iPhone
Now, WhatsApp provides the option to share high-quality images with better resolution as such. Let's see how to do that.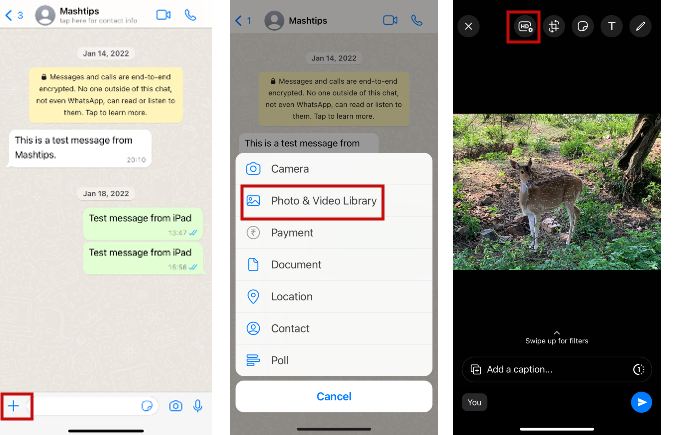 Before starting, make sure your device is running the latest version of WhatsApp. Otherwise, you may not see the option to send high-quality photos/videos.
Launch WhatsApp and tap the Contact to whom you want to share the photo.
Tap '+' icon on the left and tap Photo & Video Library from the pop-up menu.
Select the photo/video you would like to share with your contact. On the top left, tap HD icon. (You will see this icon only if the photo/video has a high resolution).
In the pop-up menu, tap HD quality and tap Done.
Send High-Quality WhatsApp Images on Android
Launch WhatsApp and tap the Contact to whom you want to share the photo.
Tap the file attachment icon at the bottom right and select Gallery from the list of options shown.
Select the photo/video you want to share. Tap HD icon on the top and tap HD quality on the pop-up menu.
The photo/video will be shared in original quality without any compression. Do remember that you need to select the HD quality option every time you want to send a high-quality photo as WhatsApp sends the media only in standard quality by default.
After the media file is sent, you can see the icon HD on that to indicate that the photo/video is of HD quality.
Sharing media in HD quality is helpful, especially for businesses using WhatsApp as the official communication channel to showcase their high-resolution product images.
Disclaimer:
MashTips is supported by its audience. When you purchase through links on our site, we may earn an affiliate commission at no extra cost to you.