Your Android smartphone is packed with enough sensors to track moves and record steps when you carry your phone. You need good apps to utilize those sensors to track your moves and steps.
These apps are using Android device GPS sensor to turn your smartphone to a pedometer that tracks your moves and record it for you. In addition to GPS sensor, these apps can sync with third-party biometric sensors to measure heart rate, monitor travel distance, etc.
These apps can help you to improve fitness, and you can use while you do biking, running, walking or doing indoor cardio and also it can track your movements and display on Google Map.
You can use these apps to listen to your music by integrating your music apps, share your progress with your social media friends and get your friends track record on your phone.
Runtastic uses GPS to map and track sports and fitness activities, such as running, jogging, biking and walking. The app can track cardio workout progress like duration, distance, elevation change, calories burned, etc. to help you build healthy lifestyle habits and reach exercise goals.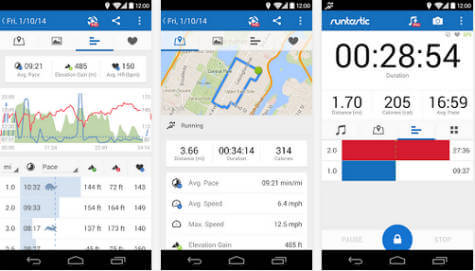 The app works in real-time with GPS and capable to monitor exercise progress. It can keep your personal workout diary, advanced statistics, and graphs. You can share location with other users, customize your dashboard, and also gets graphs with elevation, pace, speed and heart rate information from your jog or run.
RunKeeper app is capable of tracking your pace, measure workout distance, chart weight loss, crush training goals and more. This app uses your Android GPS to track your runs, walks, bike rides, training workouts and all of the other fitness activities. RunKeeper calculates running pace, cycling speed, route distance, elevation and calorie burn for any fitness activity in high accuracy and real time.
With this app, you can get audio updates while you work out about your total mileage, calorie count, pace, speed, mileage. You can share your fitness activities and successes with your friends on Facebook, Twitter and beyond, Invite and follow your friends to join you on RunKeeper, follow their journey and motivate them to succeed through commenting and liking their activity on RunKeeper's Fitness feed, etc.
My Tracks from Google, records your path, speed, distance, and elevation while you walk, run, bike, or do anything else outdoors. While recording, you can view your data live, annotate your path, and hear periodic voice announcements of your progress.
With My Tracks, you can sync and share your tracks via Google Drive. For sharing, you can share tracks with friends, see the tracks your friends have shared with you, or make tracks public and share their URLs via Google+, Facebook, Twitter, etc. In addition to Google Drive, you can also export your tracks to Google Maps Engine, Google Spreadsheets, or external storage.
These are not professional apps that can depend on, but if you are looking for gentle introduction for tracking apps to monitor your moves, record your activities these apps are a good start.
Disclaimer:
MashTips is supported by its audience. When you purchase through links on our site, we may earn an affiliate commission at no extra cost to you.