The job of a free remote access software is to allow you to access a computer or system that is not at your immediate disposal. It's in a remote location which is why it is also called remote desktop software. The purpose is to give you control of mouse and keyboard, so you can control the computer via your laptop or even mobile.
The computer you are connecting to is called the host. The computer that you are using to connect to the host machine is called a client. The best part is that you don't need specialized knowledge to use this software. Just remember that you will have to install the software on both host and client machines before they connect and establish a connection.
Let's begin.
Free Remote Access Software
1. TeamViewer
TeamViewer has been around for ages now and is available on all platforms like Windows, macOS, Linux, Android, iOS, and even ChromeOS, Blackberry, and Windows mobile OS. You can use it to chat, give presentations, and connect to multiple monitor setup.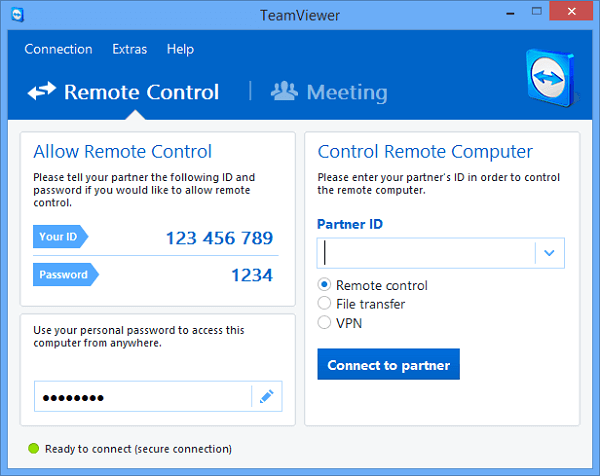 TeamViewer was built for teams and small business owners in mind. TeamViewer supports a number of popular CRM and help desk apps out of the box. Suitable for desktop environments.
Pros:
Chat, VoIP
Print remotely, share screen, 
Useful for meetings
Platform agnostic
Supports popular apps
No port, router or other settings required
Tensor is a SaaS solution for enterprises
Cons:
No free plan for commercial users
Browser client not very functional
Occasional lags
TeamViewer is free for personal use, but you will need to buy a license for using it commercially for your business. A single user plan will cost you $49 while multi-user will cost you $99 per month.
Download TeamViewer for All Platforms
Also Read: 8 Best NAS Devices for Home Network to Access Remotely
2. Chrome Remote Desktop
Continuing with the web-first approach ideology, Google released its own free remote access software called Chrome Remote Desktop. It works on Android, iOS, and has a browser extension for Chrome only, of course. Both the host and client should have the Chrome browser installed for this work.
Chrome Remote Desktop comes without any bells and whistles or advanced features, but is completely free and gets the job done. You can move your cursor, point, and finally click. That's all. Suitable for Chromium-based browsers.
Microsoft Remote Desktop is another free remote access software for small businesses and individuals. It's comparable to Google's remote desktop app but with a desktop client.
Pros:
Quick and easy
Completely free
Point and click access
Cons:
No file sharing
No chat or call
Download Chome Remote Desktop for Chrome
Also Read: Best Remote Desktop Mac Clients to Access Mac Remotely
3. Zoho Assist
Zoho has built a robust set of enterprise and business solutions over the years, and all of them play nice with each other. Assist is a commercial but free remote access software for small business owners. More suitable for users who are into providing remote assistance and support to their clients. It can be tweaked easily for other businesses too.
The free plan will let you share screenshots, chat, and control roles. You can upgrade in the future for advanced features like file sharing, screen sharing and capture, and so on.
Pros:
Live chat
Up to 5 computers
Desktop app
Share clipboard
Manage users
Connects with Zoho desk & SalesIQ
Cons:
No mobile apps in the free plan
No file transfer in the free plan
Download Zoho Assist for All Platforms
4. RemotePC
RemotePC brings something new to the table. AR-powered live video sharing that makes it easy to share what you are doing on the host machine or vice versa. Then there is the always-on remote access where you can gain access anytime, anywhere. 
Unfortunately, file sharing and other features are still part of the premium plans that start at $52/year. The pricing seems to be competitive though.
Pros:
Always-on remote access
AI live video sharing
Cons:
File sharing, transfer in the premium plan
Download RemotePC for All Platforms
5. ConnectWise
One of the best and overall more feature-rich and free remote access software for small business owners, ConenctWise comes in two flavors. The free version will get you a single license 3 access agents and remote access to one session at a time.
There are two components of ConnectWise. One is Remote Support, a cloud-based service that will help you provide customer support to remote host machines. Remote Access, on the other hand, was developed for networks with a number of computers connected to it.
Again, features like chat, file sharing, collaboration, and meetings have been reserved for paid customers. Plans begin at $19/month. 
Pros:
Cloud-based
Support and access
For one user
Cons:
File sharing, transfer, print in paid plans
Download ConnectWise for All Platforms
Also Read: Forgot to Log Off Google Account? Don't Worry, You Can Log Off Gmail Remotely
6. Splashtop
If you need a remote access software to access your office or home computer, Splashtop is a great alternative. It's free and you can connect not one or two but up to five computers. Available on most popular platforms, you can also transfer files using Splashtop.
It offers excellent refresh rates and you can connect via both audio and video. That's a lot of value and reminds me of TeamViewer. If you are looking to provide remote support or manage a team, look to the paid plans that begin at $5/month. 
Pros:
File transfer
Audio and video support
Connect up to 5 computers
Paid plans are priced low
Cons:
Download Splashtop for All Platforms
Free Remote Access Software for Small Business Owners
The crux of the matter is that if you are looking for free remote desktop software, there are many options. But, most of them are designed for personal use and those that don't have limited features. If you are looking for a commercial remote desktop solution, then you will need to pay for it. In most cases, there is a monthly subscription. Free ones are only good enough if you need to access your home computer. 
Disclaimer:
MashTips is supported by its audience. When you purchase through links on our site, we may earn an affiliate commission at no extra cost to you.