Your Mac has the potential to become a highly effective music studio. If you want to create music, record a podcast, or simply put together a ringtone, you should be able to discover the best audio editors and music editing software for Mac that suits your needs.
Here are our top selections for the finest audio editing software for Mac, ranging from simple applications to professional-level software.
GarageBand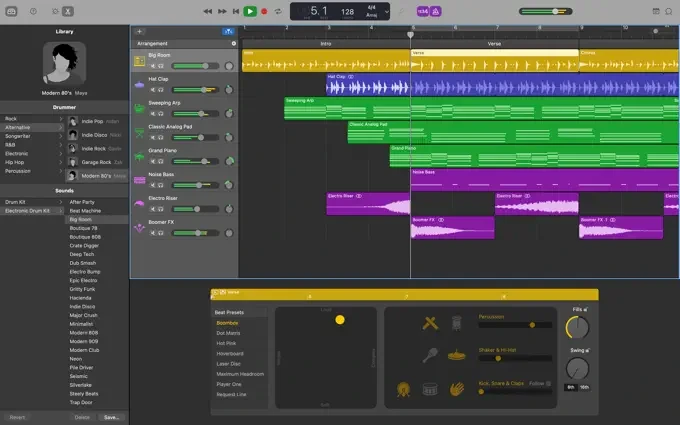 Every new Mac comes with Apple's GarageBand music-editing program. That means if you're just starting out in music or are a hobbyist, GarageBand is the best option. When it comes to creating and mixing music, GarageBand is a great program for those who are new to the process.
Although the program is robust and packed with options, it isn't as complicated as some of the more pro audio editors.
The digital instruments in GarageBand can be combined with your own recordings or you can use only the instruments in GarageBand to create a whole song. It's also possible to purchase additional instrument packs if you're dissatisfied with the included sounds. When working on a project, you can store it on iCloud and share it with others.
Pros:
Beginner friendly
Easy to use
Key Features: Suitable for Beginners | Free App | Integrated with all Apple Products | iCloud Sync
Download: GarageBand for Mac (Free)
Related: Best Audio Tools to Create Game Sounds
Audacity
Audio may be trimmed, copied, pasted, and deleted with the help of the free and open-source software known as Audacity, which is also capable of recording audio. It's not the most capable music editor, but if you're just looking to put together some samples or whatever, it's ideal. Many audio formats can be imported; however, you'll need to install a separate encoder library for MP3.
In addition to being able to edit and mix a huge number of tracks at the same time, you can also edit individual sample points and even perform mastering functions. While Audacity may be superior for podcasting, it's ideal for making samples or exploring new ideas because it's free.
Pros:
Free software
Cross-platform compatible
Key Features: Completely Free | Multitrack Music Production | Cross-platform | Wide variety of export options
Download: Audacity for Mac (Free)
Related: 10 Best Audacity Alternative for Android: List of Best Free Android Audio Editor Apps
Avid Pro Tools
In the world of music production software, Avid's Pro Tools is a well-known name. The music editing software is capable of recording, mixing, mastering, and a slew of other tasks. Record up to 128 tracks, with 32 inputs and over 60 plug-ins, in a single session with a limitless number of sessions.
You have complete control over the volume, speed, pitch, and tone of your audio, in addition to a variety of other parameters that you can adjust when editing music. Honestly, the possibilities with Pro Tools are nearly limitless. For those who want to take their audio editing to the next level, this is a must-have piece of software.
A 12-month contract costs $24.92 per month, while a month-to-month subscription costs $29.99, or $599 if purchased altogether.
Pros:
Lot of features
Industry-standard for music editing
Cons:
Complicated to learn
High Price
Key Features: Complete Music Production Suite | Industry standard software | Upto 128 track editing
Download: Pro Tools for Mac (Premium)
Logic Pro X
Apple's Logic Pro X is a professional-grade piece of music editing software that, despite its complexity, can be used by amateurs. An extensive array of instruments and effects is included in the app for mixing, editing, and composition. It's ideal for those who want to produce polished, professional-sounding recordings without having to deal with a lot of difficulties.
If you're a composer, the 64-bit architecture allows you to create projects with hundreds of tracks and instruments.  
If you are serious about music editing on the Mac and appreciate the songwriting and creating on a grand level, it is without a doubt one of, if not the finest choice available to you. The app costs a professional-level price of $200, but if you are serious about music editing on the Mac, it is definitely one of, if not the greatest choice available to you.
Pros:
Feature-rich music editing suite
Beginner friendly
Cons:
Pricing on the higher side
Slow on Intel Macbooks
Key Features: Best for Beginners and Pros | Great set of features | Indutsry standard
Download: Logic Pro X ($199.99)
Related: How to Make Your Own iPhone Ringtone Using GarageBand
Djay Pro
Djay Pro is equipped with all of the effects, compatibility options, and mixing features that a performing DJ (or even a hobbyist) could possibly need. You are able to sample content from both iTunes and Spotify at the same time, and if you want the whole experience, you also can mix in video from an enormous video library.
With this music editing software, you have the ability to mix from four decks, make mashups and transitions galore, edit playlists on the go. You can also use external screens and AirPlay, and there is interaction with Pioneer CDJ and XDJ DJ systems for even more versatility.
Pros:
Best DJ software for beginners
Lots of features
Cons:
Not a music editing software
Key Features: iTunes and Spotify Sync | Four-deck mixer | Compatible with Windows | Affordable Price
Download: Djay Pro (Freemium)
Ableton Live
In some respects, Ableton is two programs in one. It's a streamlined DAW that records sequentially, with numerous tracks, but when you convert it to Session mode, it's a dream for solo artists.
Individual Clips can be layered and then triggered in a manner that is analogous to the most advanced sample pad ever created. It encourages experimentation while also being a lot of fun to use, and Ableton Live 11 has a slew of new capabilities, such as Comping, MIDI Polyphonic Expression, and Tempo Following.
Your various takes are condensed into one perfect take with comping; the same can't be said for MIDI Polyphonic Expression, which lets you bend and change the pressure of each individual note. With Tempo Following enabled, playing along with an accompanying drummer becomes an even more precise "push and pull" experience.
Pros:
Session Mode
Lot of features
Key Features: Extensive Format Support | Feature-rich music editor | MIDI controller
Download: Ableton Live (Freemium)
Related: 10 Best Free Adobe Photoshop Alternatives for Windows and Mac
FL Studio
Previously known as Fruity Loops, FL Studio is a well-known and widely used music production tool. In addition to this, it provides free lifetime upgrades, which means that even if you purchased it twenty years ago, you will still be able to use the most recent version.
The most recent version comes pre-installed with a demo track that you are free to experiment with and change to your heart's content. This is a very helpful feature, given that the extensive list of options may first seem a little bit overwhelming to some people.
With a little practice, you'll be able to record songs and sounds directly into FL Studio, and then use all of the DAW's many features to tweak them to your liking before sharing them with the community.
Pros:
Demo track for beginners
Easy to use
Cons:
Only sequencing supported
Key Features: Lifetime Upgrades | Beginner-friendly | Cross-platform supported
Download: FL Studio ($99+)
PreSonus Studio One
The Studio One family of digital audio workstations has garnered a remarkable reputation among audio professionals as a DAW that is robust, competent, and thoughtfully designed. Studio One music editing software is now available in three different tiers: Prime, Artist, and Professional, which can be purchased separately.
Prime is free, and even though it doesn't have all of the tools that its more powerful siblings do, it is still a fully functional package that lets you add as many audio tracks, MIDI tracks, and FX channels as you want. 
More advanced capabilities and content, such as the Chord finder and the powerful Sample One XT sampler, are available in the premium editions. But if you don't want to use the free version of GarageBand, Studio One Prime is a fantastic place to begin your journey into the world of PreSonus.
Additionally, PreSonus offers Sphere, a monthly subscription service that includes the company's plug-ins, add-ons, and Notion software. It begins at a monthly cost of $14.95 / £14.11 per month.
Pros:
Fast and easy to use
Alternative to GarageBand
Cons:
No third-party plugin support
Key Features: Decent set of features | MIDI Controller Support | GarageBand Alternative
Download: PreSonus Studio One ($99.95)
Related: 10 Best Video Converters for Mac Users
Reaper
The application itself has a long number of capabilities that may be used to build complete albums from scratch. Layering takes sophisticated editing, the ability to integrate FX plug-ins into track controls, time-stretching to lock portions, and even pitch correction tools are all included in the price.
Reaper's GUI may also be customized with new skins, allowing for a wide range of options for the user's flexibility.
It is a really complicated application, so you should prepare to spend more time figuring things out than you would while using GarageBand. On the other hand, once you have mastered the environment, you will be able to accomplish a great deal more than you could with GarageBand.
Pros:
Customizable with skin packs
Great features
Key Features: MIDI Controller Support | Multitrack Audio editing | Plugin Support
Download: Reaper (Freemium)
MuLab 9
Another fully equipped recording studio, this production suite is capable of recording, editing, and mixing audio.
You now have the option to use MuLab as a standalone synth since the app has integrated both the core composer and the MUX Modular Plugin into a single package. Although it's still aimed at beginners, granular editing options make it a strong tool for those who are more experienced.
You can get a glimpse of all that MuLab has to offer with its free trial, but if you want to continue using it, you'll have to pay £61, $78, or €69 to upgrade to a full version.
Pros:
Great for beginners
Free Trial available
Key Features: MUX Module Support | Beginner Friendly features | Affordable pricing
Download: MuLab (Freemium)
Related: How to Do All PDF File Editing Using MAC
Your level of expertise should be taken into consideration while deciding on an editing tool.
Determine how you want to trim your clips. There are numerous music editing software available for Mac, as well as simple-to-use but less powerful audio editors for Android and iPhone . Decide if you like to edit in the browser, or if you prefer to use professional software.
Disclaimer:
MashTips is supported by its audience. When you purchase through links on our site, we may earn an affiliate commission at no extra cost to you.