AI Robots are popular, they can play with you, and express feelings and feedback based on previous experience. These personal robots can be ideal companions while you work at the office or relax at your home. These can entertain your kids, answer your questions and express their feelings. It will wait patiently for you to provide orders and then carry them out without question. It's also great for keeping kids engaged and learning in fun, engaging ways.
We did some research and found a few of those smart AI robots that can fit on your desktop and entertain you and your kids.
Miko 3 AI-Powered Smart Robot for Kids
Mike 3 is at the AI-Powered Adult Robot. With its sophisticated mind, friendly attitude, and extensive STEM material, this robot unleashes the full potential of children and adults. It can dance, talk to you, laugh, and press the feeling. According to Mike, Miko users' children have a 55% higher participation rate in the platform's educational activities. Mothers find it appealing, and it has the KidSafe COPPA+ seal of approval.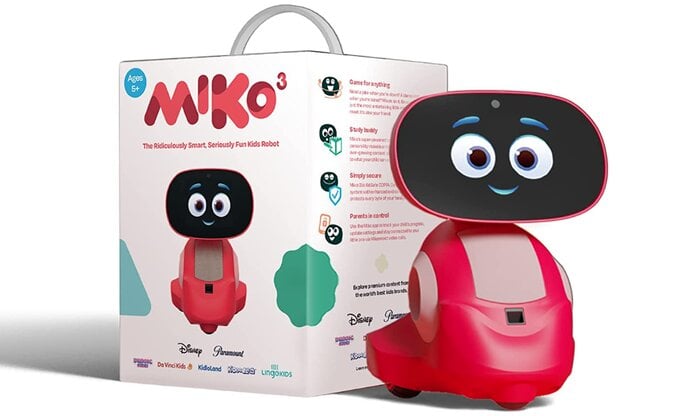 This robot is geared up and ready to go with a wide-angle HD camera and sophisticated sensors. There are dual MEMS microphones to pick up sound. The IPS LCD displays full colors, and speakers let Miko talk. This AI Robot encourages physical activity and transforms playtime into a full-blown dance party with its AI-infused spins on classic games like Freeze Dance. With the help of their robot companion, children can achieve learning objectives and improve their skills to receive rewards. With smart features, this AI-based desktop robot can entertain you or your kids 24/7.
Pros:
AI-Powered Robot
STEM Material for Learning
KidSafe COPPA+ seal
Dual MEMS mic for clarity
Full color LCD for viewing expressions
Cons:
Does not support Alexa and Google Assistant
Limited uses outside education sector
Key Features: AI-Powered Robot | STEM material for coding education | Full-color LCD | Dual Microphones for listening | KidSafe COPPA+ approved | AI-assisted interactive gaming
Amazon Astro Household Robot for Home Monitoring
Amazon Astro employs cutting-edge geolocation and mapping technologies to locate itself wherever it is needed in your home. You can send Astro on a remote inspection of a room, person, or object. Receive notifications whenever Astro picks up on an unknown person or unusual noise while you're away. You may provide peace of mind and assistance to your aging loved ones from afar with an Alexa Together membership. Get notified of your activities, create shopping lists, and set reminders all in one convenient place.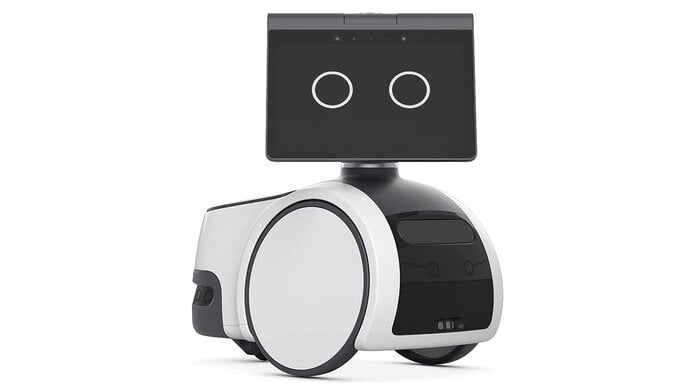 Astro will find you and provide you amusement, or it will track you down and bring you important calls, messages, timers, alarms, or reminders. You may disable Astro's microphones, cameras, and motion sensors with a button, and you can designate off-limits areas with the Astro app. This robot can be used at home to monitor rooms, check security, and have fun with your family.
Pros:
Mapping Technology for navigating the house
Supports Remote Inspection of Elderly and Pets
Alexa-enabled smart features
Privacy-conscious settings to disable camera and microphones
Cons:
Needs Amazon account
Mainly for Adults
Expensive to buy
Key Features: AI-Mapping for Navigation | Remote Inspection Features | Alexa Together for Elderly Assistance | Privacy Feature to Disable Sensors and Camera | Control Smart Home devices
Wonder Workshop Dash Robot Wonder Pack
This Desktop Robot Wonder Pack 2022 includes a Dash robot, ball launcher, sketch kit, gripper assembly kit, two connecting pieces, and charging cables. Problem-solving and logic are taught through Blockly-based coding in in-app coding challenges. You can even program a Virtual Dash robot with the Blockly iOS or web app.

This Robot pack included a full year of access to Class Connect. You'll find everything from tutorial videos and story-based coding challenges to 60 Math activities, 72 challenge cards, and countless code puzzles. You can teach Dash to sing, dance, avoid obstacles, respond to voice instructions, and execute other tasks by programming it in the app.
Pros:
Uses Blockly for programming
Can teach coding with coding challenges
Class Connect with tutorial videos and activities
Supports voice commands
Cons:
Not advanced as the other options
Only supports educational content
Key Features: Blockly Coding Language support | Class Connect for Education | Supports USB-C charging | Blockly App for iOS and Android
Vector 2.0 AI Robot Companion Smart Robot
Vector is a personality-filled AI robot that responds to its surroundings through sight, sound, and touch. The voice-activated features of Vector include its ability to take images, answer queries, time meals, display the day's forecast, and more, thanks to the inclusion of Amazon's Alexa. This Smart Desktop robot, with its cloud connectivity via WiFi, is constantly gaining new knowledge and capabilities.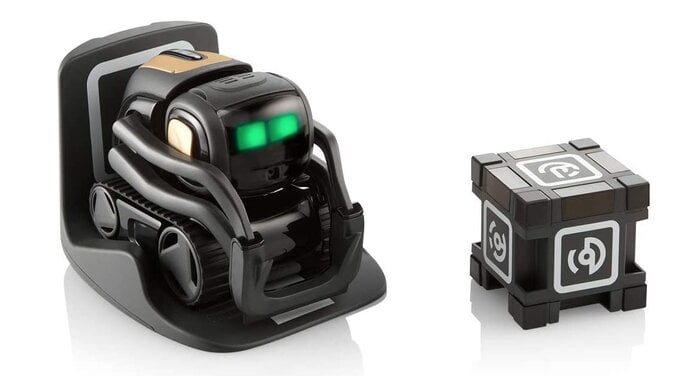 The new battery can be swapped out quickly and efficiently with the newly redesigned battery compartment. The Vector can now have a runtime of up to 30 percent longer. The new 5MP camera in this AI Robot will significantly improve its facial recognition capabilities, allowing him to identify people, animals, and emotions.
Pros:
5MP Camera with IR sensor
New and improved battery life
Supports Alexa integration
Learns your personality with time
Cons:
Needs a subscription to work
Does not work without internet
Key Features: AI-based Evolving Knowledge | Voice Command support | Alexa integration | 5MP Camera | Interaction sensors | Can move around
Anki Cozmo Robot with 3 Cubes
Cozmo Desktop Robot is a real-life robot, just like the ones you've seen in the movies, and he's ready to be your faithful companion. You can Play games with this desktop robot or switch to Explorer mode to observe the world through his eyes. This Robot for Adults is an excellent instructional robot for children and adults with its intuitive interface and emphasis on encouraging creative problem-solving when coding.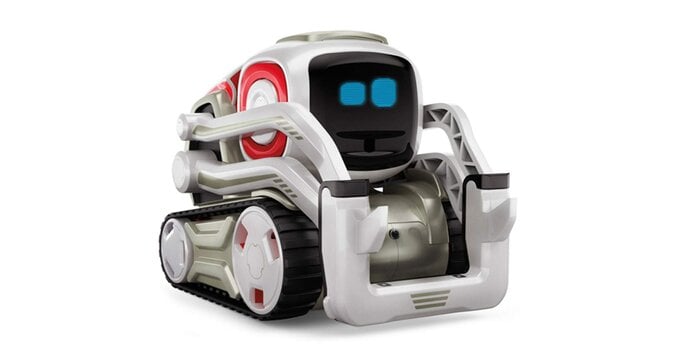 This toy robot is simpler to operate and far more robust and stable. In addition to the preloaded games and intelligence, you can use the included visual programming language to introduce students to STEM concepts. You can teach Cozmo to do anything, from playing hot potato with his Cubes to doing a victory dance. Using the Cozmo app's drag-and-drop code blocks, you can create new combinations of blocks, and Cozmo will then perform your ideas.
Pros:
STEM Material for Learning
Programmable functions
Learns over time
No need for internet
Cons:
Does not support Voice Assistants like Alexa and Google Assistant
Limited uses outside education sector
Key Features: Explorer Mode | STEM coding supported | Mobile app for iOS and Android required | Can play with his cube | Automatic charging
Moorebot Scout AI-Powered Mobile Robot for Monitoring
Today's Deal: $20.00 Off
Moorebot Scout AI Robot lets you keep an eye on things from a distance with no blind spots and two-way audio. The surveillance video robot patrols a predetermined route, returning to its charger automatically after each shift. Use your smartphone to command the all-wheel drive's steering, and the robot will monitor you.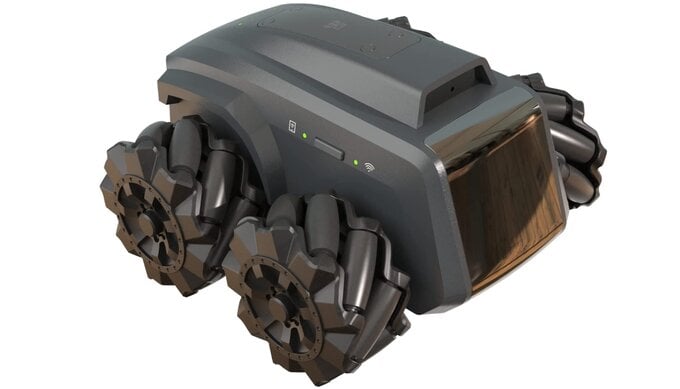 In addition to being a professional robotics platform with ROS, Scout is also open-source. With the help of 3D printing, users may design and fabricate customized navigational aids. This home robot guardian is compatible with Alexa, Google Home, and Siri for hands-free voice commands. Cloud-based mobile alerts are sent to you when sensors trigger an automatic patrol. A fully encrypted peer-to-peer protocol ensures confidentiality. This robot monitors solely along a set course.
Pros:
Two way audio for conversations
Automatic return to charging
Open source programmable
Cloud-based notification system
Cons:
Requires always-on internet connection
Not suitable for children
Only supports pre-programmed commands
Key Features: Two-way audio | All-wheel drive | Open source platform | Compatible with Alexa and Google Assistant | Encrypted P2P communication | Automatic Charging
Eilik Desktop Companion Robot with Emotional Intelligence
Eilik Desktop Robot engages in various introspective behaviors dependent on his normal, happy, furious, and sad emotional states. Pet Eilik on the head, tummy, and back to experience emotions. The more you engage with him, the more his personality will change. It charges via USB-C and has haptic feedback motors, cameras, and an LCD to show different things.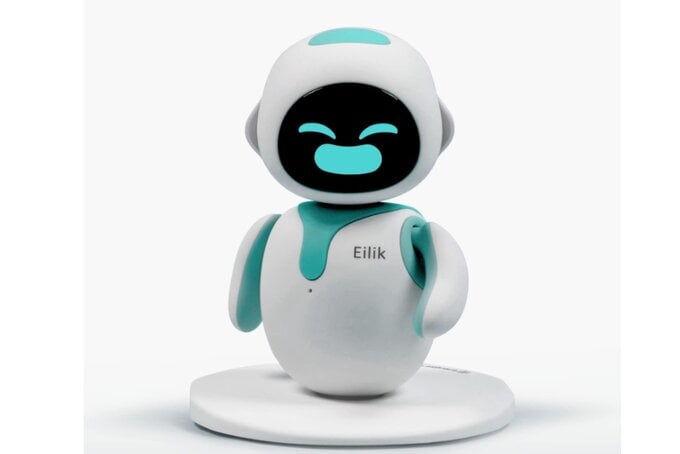 Two Eiliks will immediately identify one another, and they can play together and form friendships (or fight). Eilik is packed with fun and engaging activities you can play right straightaway. A dedicated team of professionals created the facial expressions, body language, narrative arcs, and choreography of Eilik. Each Eilik has infinite potential thanks to regular software updates (which are available for both Windows and Mac OS).
Pros:
Highly interactive robot
Very expressive and supports emotions
Has fun activities to engage kids and adults
Interaction sensors and camera
Cons:
Does not support Voice Assistants like Alexa and Google Assistant
Cannot move around
Key Features: Shows Emotions | Interaction Sensors | USB-C charging | Haptic Feedback | Personality changes over time | Regular software updates
ClicBot Coding Robot Kits STEM Educational Toy
Experiment with your ideas and watch them come to life with over a thousand different possible configurations. Create Desktop robots that can move on their own two feet, on wheels, or even in a snakelike fashion. Choose a path for ClicBot to follow, or build your own robot with the ClicBot app using a simple drag-and-drop coding interface inspired by Google's Blockly.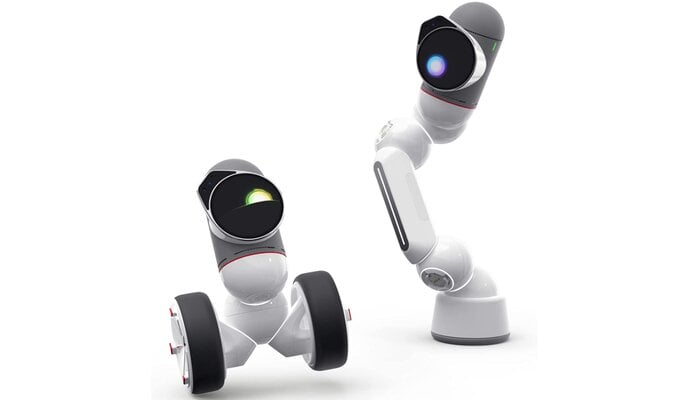 It charges via the USB-C port and has a bunch of accessories – 1x skeleton, 4x joints, 1x holder, 2x wheels, sticker pad, and locker. Use your imagination as you investigate the most cutting-edge STEM education and edutainment options. ClicBot, a lovely companion for developing children, combines learning with fun to revolutionize coding education for both young and old.
Pros:
STEM Material for Learning
USB-C charging supported
Blockly programming language
Customize to your liking
Cons:
Does not support Voice Assistants like Alexa and Google Assistant
Limited uses outside education sector
No personality and works as programmed
Key Features: STEM material for coding education | Supports Blockly Coding Language | USB-C charging | Highly customizable | For kids and adults
All these desktop robots are great for home use, and they perform different functions and have different characteristics. Based on the smart learning capacity of robots, some fo these are smart Robots powered by AI. These AI robots can learn things and interact based on them. No matter, whether AI-powered or not, these Robots are suitable for Adults and a companion for Kids.