Snapchat lets you block others, but you will not notice if somebody blocks you. You might find out that somebody you used to text on Snapchat is no longer there, and confused about whether they blocked you or deleted their account.
There are many ways to find out if somebody has blocked you on Snapchat if you have not received a snap from them.
Ways to Tell If You Are Blocked on Snapchat
Snapchat automatically removes a contact from your phone when they block you. Unlike WhatsApp, you will not find the old chats and contacts on Snapchat once they block. But the catch here is that deleting their Snapchat account has the same effect, so it will be difficult to find out which. Below are some methods to help you find out if someone blocked you on Snapchat.
Search for the Contact on Snapchat
Checking the people in your Snapchat contact list should be the first thing you do if you want to find out whether someone has blocked you on Snapchat. There is a good chance that you are on their block list if you don't see a contact on Snapchat.
If you tap the "New Chat" button in the bottom right corner of the chat screen, you can view your list of contacts. From there, scroll and look for the person and see if their account pops up. If not, they may have blocked you, but keep reading; too early to guess.
Related: How to Get Snapchat Dark Mode on iPhone and Android
Search with Snapchat ID
The next step is to look for the person by searching for their username or full name. You can do this by selecting the Camera live view screen and tapping the search button on the screen that appears.
You should try to search for the username, and if you can't find anyone else who uses it, they may have blocked you on Snapchat. You might even be able to see the username if you were blocked recently; however, when you tap the add button, you will get a message that says, "Sorry! Could not find the user's username." This is a clear message that they blocked you.
Look for Their Recent Stories
Stories and snaps keep everyone on Snapchat going. If the person frequently adds to their story, you should look into the Stories tab to see if they have any new updates. It could be a confirmation of block in case you cannot see any stories from the contact.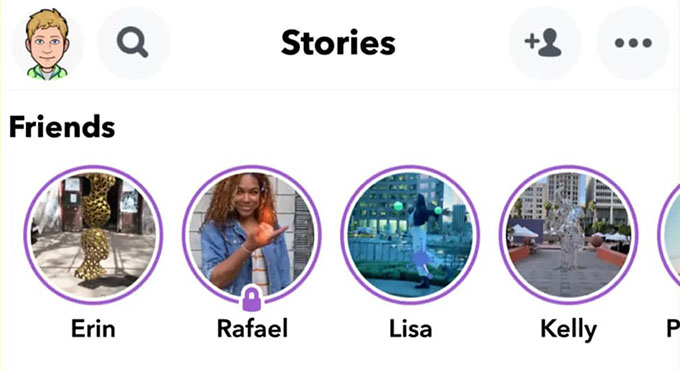 Message the 'Blocked' Person on Snapchat
Another way to know if someone blocks you on Snapchat is to try and send a message to them. This works for contacts who were previously sending Snaps to each other actively.
If they blocked you on Snapchat, your message will not be delivered, and you will receive a notification that reads "Failed to send – Tap to try again."
Related: 12 Best Snapchat Filters and Lenses You Shouldn't Miss this Year
Check Through a Mutual Friend
You can also try to find out if a person blocked you, by checking through a mutual friend's account. You can check with your mutual friend to see if the person who 'blocked' you is visible on their Snapchat account. If they are, it is clear that you have been blocked from sending snaps with that person on Snapchat.
Create a Throwaway Account
Making a second account is something you can do on your own instead of asking a mutual friend. Since Snapchat does not require entering an actual email address to create an account, you can easily create a throwaway account and search for the user using their Snapchat ID or contact name.
You have been blocked if they appear in your secondary account's search results but not in the main account's search results.
Before concluding, make sure you go through all the above methods to confirm if they blocked you. If you cannot discover their account in any way, chances are they deleted their Snapchat account and did not block you.
Related: How to Turn Off Snapchat Location Sharing with Others
FAQ: Snapchat Blocked or Deleted?
Is it possible to send a text to someone who has blocked me?
No, you cannot send a message to a Snapchat user who has blocked you. An error message that reads "Failed to send – Tap to try again" will appear on your screen.
Can someone who has stopped being your friend on Snapchat still see the stories you post?
It is dependent on the privacy settings that you have selected. If the privacy setting of your story is changed from 'My friends' to 'Everyone,' then they will be able to view your story.
How can you tell if someone on Snapchat has removed themselves from your friend list?
You have the option of checking the Snap score. If you cannot view it, it means the person has removed you as a friend on Facebook. You also have the option to open the chat and select the 'View Friendship' option.
Will blocking a user on Snapchat cause their unread snaps to be deleted?
No. Snapchat would not delete snaps that have not yet been opened, and the recipient still has the option to view them.
When I try to view someone else's Snap score, why am I unable to do so?
If you cannot view another user's Snap score, it indicates that the user does not have you on their friends' list. If you could view their score in the past, they likely removed you as a friend.
What does it mean when you see a gray arrow on Snapchat?
If you see a grey arrow next to a person's name, it means that person either has blocked you or rejected your friend request.
Disclaimer:
MashTips is supported by its audience. When you purchase through links on our site, we may earn an affiliate commission at no extra cost to you.