Many of us use our iPhone camera to scan QR codes when making payments at shops, visiting websites by scanning QR codes on advertisement flyers, and more. However, what if you receive a QR code via a WhatsApp message or email? You don't need to use another phone to scan it. This article provides a simple solution to scan QR codes from messages, emails, or images.
How to Scan QR Codes from Image on iPhone
I recently received a QR code on WhatsApp for website registration, but wasn't sure how to scan it. I initially thought I needed to use my Android phone, but then I found a simple solution that didn't require another device. Here's how I did it.
Make sure your iPhone is running at least iOS 15 as you need the Live Text feature to scan the QR code from a photo.
On your iPhone, open the message or email that contains the QR code. If the QR code is an image, save to the Photos folder on your iPhone. If it is any other format, take a screenshot of the QR code.
Launch Photos app and locate the photo that contains the QR code. Long tap on the QR code.
In the pop-up menu, tap Open in Safari to navigate to the web page. You can also copy or share the link or add it to your reading list.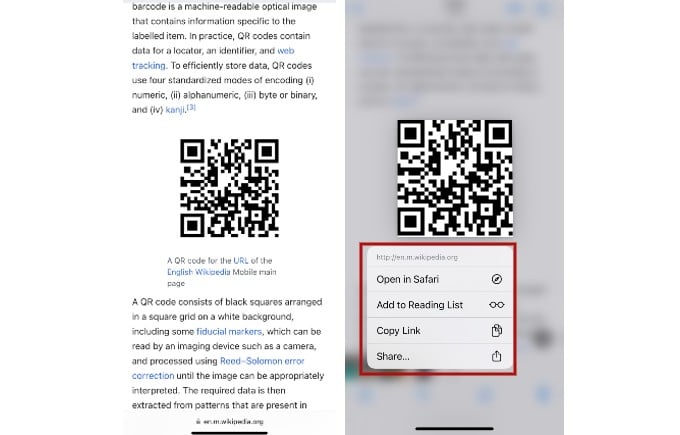 In case you don't see the pop-up, tap on the Live Text icon at the bottom right corner and long tap on the QR code again.
Well, next time your receive a QR code in any format, you can use the above method to easily navigate to the link it contains.
Disclaimer:
MashTips is supported by its audience. When you purchase through links on our site, we may earn an affiliate commission at no extra cost to you.