Health app on your iPhone is a big pool of your daily activities, exercise and health tracking. With the new iOS 15, your iPhone can now measure you walking steadiness. By analyzing your walking steadiness, your iPhone can notify you if you are in a risk of falling anytime soon. Excited to see how that works? Let's see.
In this guide, we will see how we can measure our walking steadiness using iPhone and reduce any future risk of falling.
Measure Walking Steadiness Using iPhone
The new iOS 15 updates for your iPhone bring in a lot of features and walking steadiness is one of them. When enabled, your iPhone measures your walking pattern, step distance, consistency, and more. The iPhone walking steadiness measure works better if you put your iPhone in the pants pocket. Apple Watch already has a fall detection feature to let you call emergency when a fall detects.
Related: 12 Best iPhone Health Monitoring Devices: The Best Apple Health Devices to Ensure a Healthy Life
Let's get to the method to enable and measure walking steadiness on iPhone.
First of all, make sure your iPhone runs the latest iOS 15 update or newer. To check iOS version, go to iPhone Settings > General > About > Software Version.
Now, let's head to the Health app on your iPhone. There, you will see a handful of options, some too complicated, never mind. Let's scroll down from the Health app home page, and tap on the "Set Up" button on the "Walking Steadiness Notifications" card.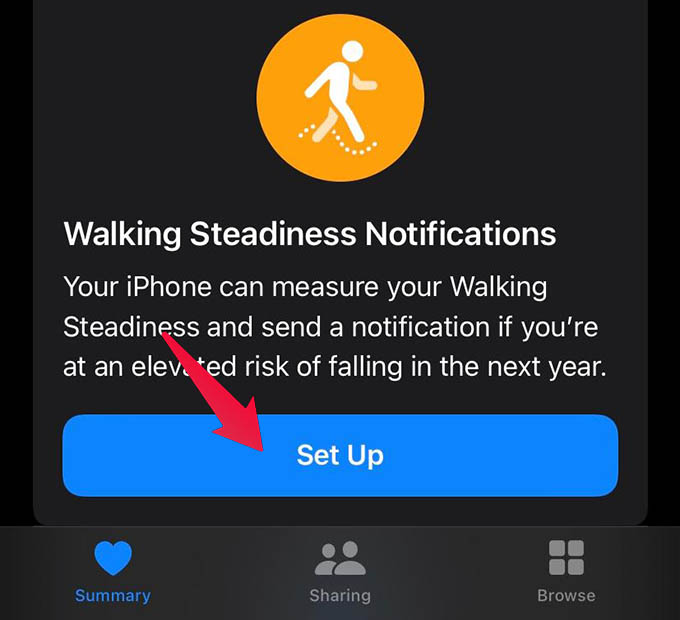 The next screen will show you what walking steadiness alert is, tap Next.
On the following screen, enter your personal information like gender, DOB, weight, and height, then tap Next. Tap Next again.
From the last screen, tap on "Turn On" to enable notifications to alert you about any mismatch in your walking steadiness. When turned on, your iPhone will alert you when you are at risk of falling.
You can also add the Walking Steadiness to your favorites. It will then appear right at the front of your Health app on iPhone.
Now, close the app and get back to whatever you were doing. The walking steadiness report needs to record your walking for at least one day. You can check the Health app tomorrow to see how balanced were you walking today.
The brand-new Health app on iPhone also lets you see the detailed information with graph on your health measures. With the newly added walking steadiness on iPhone, it will help you better without risking to falling anytime in near future. You will get a notification like this on your iPhone if you are at risk of falling due to the reduced walking steadiness.
Related: How to Sync Strava with Apple Watch Fitness App & iPhone Health
If you find any abnormality in your walking steadiness with iPhone, there are measures to prevent it too. The health app will guide you with exercises and methods to improve your walking steadiness. There are pretty more to the health app on your iPhone to keep track of your daily activities.
Disclaimer:
MashTips is supported by its audience. When you purchase through links on our site, we may earn an affiliate commission at no extra cost to you.