Do you tend to forget where you parked your car when you are into new places? Your iPhone not just shows you the navigation on Map, it can also help you find your parked car easily. Apple Maps on iPhone can save the place where you parked your car to let you find the spot later.
Here we show you how to find your parked car using the iPhone with Maps app.
Find Car Parked Location Using iPhone
The Maps app on your iPhone can find when you enter or leave the car. This is simply how it finds where you parked your car. But, it needs you to connect iPhone to the car stereo over Bluetooth or Apple CarPlay.
Before we begin, make sure you have the Parked Location feature turned on for your iPhone.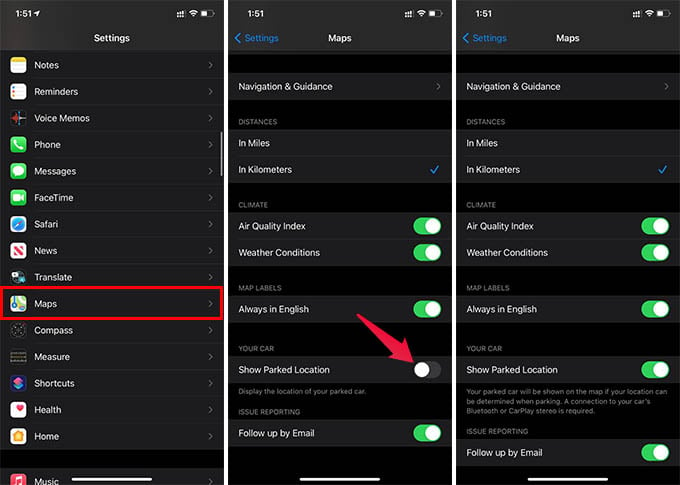 Open Settings on the iPhone.
Go to Maps.
From the next window, toggle on "Show Parked Location."
If the Parked Location feature is enabled on your iPhone and you connect your iPhone to the car stereo while traveling, then it is quite easy to find the parked location with a tap. When you leave the car with the iPhone, it remembers the location accurately.
Mostly, you will get a notification about your car parked location. Don't worry if you did not get one.
To find the car parked location on your iPhone, open the Maps app, and find the "Parked Car" option. You can find it under the "Siri Suggestions" option. Tap on it to get the direction towards your car.
Alternatively, you can also ask Siri "Where's my car" to find the direction.
Related: 7 Best iPhone Parking Apps with Parking Lot Finder & Parked Car Locator 
This can work with any car or even a truck that has at least a Bluetooth stereo player. Also, you can find your parked location even after days or weeks, wherever you are.
Whether your car just got only a Bluetooth Stereo or a Hi-Fi infotainment system with Apple CarPlay, your iPhone can store the location where you parked your car. With this, it now gets easier to find the parked car location using iPhone.
Disclaimer:
MashTips is supported by its audience. When you purchase through links on our site, we may earn an affiliate commission at no extra cost to you.