Apple released the iOS 13 with lots of features including the Animojis and Memojis as stickers for almost every instant messaging apps. Apart from the iMessage, iPhone users can now send the Animoji and Memoji Stickers on WhatsApp as WhatsApp Stickers. If you are an Android user and want to get the same, it is not easy, since the Meomoji is currently limited to iOS users only as a creation from Apple.
However, here is the workaround to get emoji or Memoji stickers on WhatsApp for Android.
Create Memoji Using Your Face
Animoji and Memoji are made by Apple and are available only on Apple devices including supported iPhone and iPad models. So, if even if you want to create the same Memoji or Animoji on your iPhone, it would not be merely possible. Therefore, you need to have an iPhone (or friends with iPhone) to create a set of Animoj and Memoji stickers to use with your Android smartphone.
Here is how to create a custom Memoji with your face on an iPhone.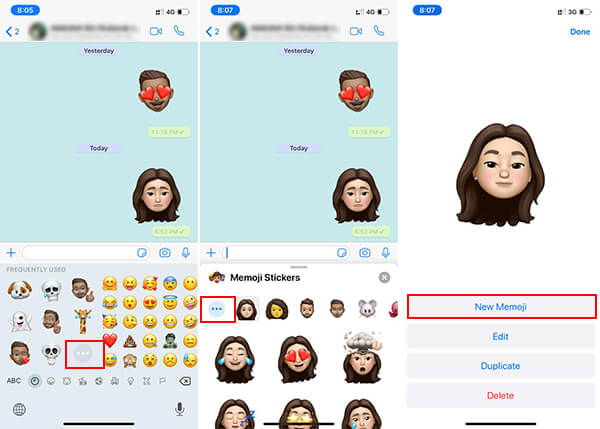 Launch default keyboard on your iPhone from any window. For better understanding, open WhatsApp and tap the input text field for the keyboard.
Tap the Emoji icon on the keyboard.
Swipe right from the Emoji keyboard.
Tap the three dots icon from the Animoji sticker section.
From the Memoji Stickers popup, tap the three dots icon.
Tap "New Memoji."
From the next window, choose the facial characteristics of your own to make it look like you.
Tap "Done" when you finish creating your Memoji.
You can create such Memojis with different faces as much as you want and can customize them any time you want on the iPhone.
Read our complete guide on how to Send Animoji or Memoji As WhatsApp Stickers on iPhone.
Can you Send Animoji Sticker to Android?
Animoji Stickers and Memoji Stickers were initially available only for iMessage. Later, Apple integrated the Memoji Stickers with iOS Keyboard on iOS 13. However, the stickers were initially sent as images, and now you can use them as actual WhatsApp Stickers. For this, you need the latest iOS version (iOS 13) and WhatsApp version (2.19.90) installed on the iPhone.
Since the iPhone sends the Animojis and Memojis are actual WhatsApp Stickers, you can even send them to Android phones as well. They will be visible as WhatsApp Stickers on Android as well as iOS devices. Here is how to send all your Memoji Stickers to your Android smartphone from the iPhone.
Open WhatsApp on the iPhone and enter the chat.
Tap the input text field.
Tap the Emojis icon on iOS Keyboard.
Swipe right and tap three dots icon among Animojis.
Swipe and choose the Memoji face of your own.
You can swipe up or down to find all the Memojis with different expressions.
Tap each of the Memoji face to send it as a WhatsApp Sticker to your Android smartphone.
Tap any of the Memojis and Animojis to send as WhatsApp Stickers to your contact on iPhone. You can then check your Android phone to find all the received Animoji and Memoji Stickers on WhatsApp.
Related: How to Send WhatsApp Message without Saving Number?
How to Save Memoji Stickers on WhatsApp for Android?
WhatsApp Sticker packs allow you to store and reuse various stickers on WhatsApp. However, there is still no option to save all the received WhatsApp Stickers as a single pack and share. Although, the "Favorites" section on WhatsApp Stickers lets you save the Stickers without having the entire Sticker pack. So, if you just sent all the Memoji Stickers from iPhone to your Android's WhatsApp, here is how to save all of them and use them in future, like you are using an iPhone.
Tap the Received Memoji Sticker on WhatsApp.
Tap "Add to Favorites."
All the "Favorite" stickers on WhatsApp will be saved on your Android or iOS device until you remove it from your device. You can use them without installing the Sticker Packs or Sticker making apps. However, if you change the device or uninstall the WhatsApp from your smartphone, all the "Favorite" stickers, as well as the Sticker Packs, will be removed permanently from your device.
Also see: Best Selfie App for Android to take Perfect Selfies
How to Use Animoji Sticker on Android?
If you just saved the Animoji or Memoji Stickers as WhatsApp Stickers using the Favorite section, you can then use them on all your Chats. However, you cannot use them out of WhatsApp, unlike on an iPhone. Follow the method to know how to send the saved Memoji Stickers to your WhatsApp contacts from your Android smartphone.
Open WhatsApp on your Android device.
Open the Chat.
Tap the Emoji icon on the text field.
Switch to the Stickers tab by tapping the Sticker icon from the bottom.
Tap the Star icon to see all the favorite stickers collection.
Tap any of the saved Memoji Stickers to send them to the contact you are texting currently.
You can similarly send multiple Memojis and Animojis as WhatsApp Stickers from an iPhone to your Android device. Then you can use all of them by saving to the Favorites list. You can also follow these steps if you are using an iPhone model that does not support the latest iOS 13 or later, in order to use the Animoji/Memoji Stickers on WhatsApp.
Related: How to Get iPhone X Animoji on Android Phone and Tablet?
Apps for Animoji on Android WhatsApp
Well, there are a few apps that support Animoji and Memoji on WhatsApp for Android users. However, you can't expect the same quality of Animoji sticker for WhatsApp on your Android like iPhone.
Bitmoji – Your Personal Emoji from Bitstrips
With BitMoji, you can create your own avatar on Android phones. You can use this cartoon avatar as stickers to send on WhatsApp and other chat apps. If you don't want to waste your time, there are tons of pre-loaded library stickers in this app.
You can use these stickers to send on WhatsApp. It doesn't matter WhatsApp, Snapchat or Instagram. You can use this app to share stickers and avatar cartoon stickers right from your Android phone.
Download from PlayStore: Bitmoji – Your Personal Emoji from Bitstrips
Mirror Avatar Maker & Emoji Sticker Keyboard
Mirror Avatar Android app gives more options to create custom emoji stickers. You can create a cartoon avatar from your selfie with this Android app. You can customize your keyboard with personalized Emojis created with this app.
In addition to this, there are more than 1500+ memes, stickers and emojis are coming with this app.  This app support animated emojis (Animojis) to send to WhatsApp, Instagram or other social media apps. You can share these emoji stickers on WhatsApp, Facebook, Instagram, Snapchat, etc.
Download from PlayStore: Mirror Avatar Maker & Emoji Sticker Keyboard
There are a bunch of solutions for Android users to get Animoji or Memoji stickers on their devices. These are not built-in like iPhone users, but possible with third party app and other workarounds. We hope this helps to bring your own Momoji on Android.
Disclaimer:
MashTips is supported by its audience. When you purchase through links on our site, we may earn an affiliate commission at no extra cost to you.