Upgrading your home WiFi coverage becomes much simpler and easier with the arrival of mesh WiFi routers. Google WiFi mesh routers were the game changers with simple installation. These routers get a massive upgrade with the new Google Nest devices, still, the old model stays true to its purpose. If you are in a dilemma of choosing between these amazing routers from Google, we are here to help.
Let's find out whether you should buy the old Google WiFi mesh routers or the new Google Nest WiFi routers.
Google Wifi vs. Nest Wifi
Let's take a deeper look at the specifications and features of both Google Wifi and Nest Wifi mesh routers.
 
Google Wifi
Nest Wifi
Speed Rating
AC1200
AC2200
WiFi Range
1500 sq. ft. per point/router
2200 sq. ft. per router, 1600 sq. ft. per point
Bandwidth
(2.4GHz + 5GHz)
1200 Mbps
2200 Mbps
Antennas
2X2
4X4 MU-MIMO
Ethernet Connectivity
Yes. On router and all points.
Only on the hub router.
Smart Speaker
No
Yes. Google Assistant
WiFi Security
WPA2
WPA3
WiFi Standard
WiFi 5
WiFi 5
Design
Let's begin with the design part. Although both the Google Wifi and Nest Wifi come in cylindrical shapes, the latter has a modern, Nest-lineup design language with curved corners and small indicator light. The older Google Wifi has a circular white indicator light which is more visible and looks more attractive (at least for me). When it comes to the buying options, the newer Nest Wifi devices outdo the Google Wifi with three color options: Snow, Sand, and Mist.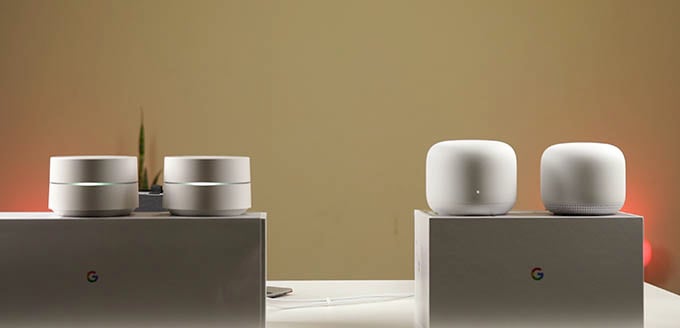 The Google WiFi mesh router setup kept following its original design until the recently launched Google Nest WiFi. The first generation Google WiFi (AC1200) comes with all routers with each working as an access point to your home WiFi. That means, there is no dedicated, router-only device that comes with the package. Each point in Google WiFi (AC1200) can work as either the router (one that connects to the modem) or the point (WiFi extender).
Google Nest mesh router, on the other hand, comes with only one dedicated router unit while the rest of the units in the pack are simply points. You will need to connect the router unit to your ISP's modem and place the points to the rest of your house. The router unit is dedicated to the modem. The point can only work as a WiFi point and does not act as the main router even if you try to connect directly to your modem.
What difference does this make here? Well, when you buy a pack of Google WiFi mesh routers, it does not ask you to connect the specific router to the modem and place the rest in distant locations. You pick one, connect it to the modem and scatter the rest across your house.
All Google WiFi units look and work the same with two ethernet ports in each point/router. That is why it does not matter which router you connected to the modem and which is near your computer. One major advantage to this is that you can connect your computer over the ethernet cable directly from the mesh WiFi point.
When it comes to the Google Nest routers, only the host router has two ethernet ports. The points in the Google Nest mesh do not have any ethernet ports. It will be of no use even if you place one WiFi point near your PC to connect using a patch cable.
Surprisingly, they chose to remove the USB C port to power up the mesh points. The newer Nest Wifi comes with old-school barrel power plugs that you would see only on some old gadgets (and Amazon's Alexa speakers). The best part about the Google Wifi mesh routers is that you can use your standard USB C charger to power them up anytime.
Related: 12 Best WiFi Mesh Routers to Ensure Maximum WiFi Range
Connectivity, Coverage and Speed
Both Google Wifi and Nest Wifi do pretty much the same thing, but the total bandwidth differs with both of them. While the older Google Wifi has a speed rating of AC1200 (1,200 Mbps), the new Nest Wifi is AC2200 (2,200 Mbps) which seems quite faster in the paper. However, this just denotes the total bandwidth combined of all WiFi bands (i.e., 2.4GHz and 5GHz). Since you can only connect your phone or laptop to one WiFi band at a time, this speed rating might not affect you that much.
Since the speed ratings do not matter very much, you can choose to go with either of the routers without looking much into the technical details. You can still get decent coverage all over, even if you have a pretty big house by installing mesh points at several spots. This will work fine whether you choose to buy the Google Nest Wifi or Google Wifi mesh router.
BUT, if you care about getting the latest WiFi 6 standard throughout your home, none of these should be your options. Google Wifi comes with the WiFi 5 standard, which is understandable. But, they still chose to give the Nest Wifi the same old WiFi 5.
However, the Nest Wifi has WPA3 WiFi encryption while the Google Wifi only flaunts the WPA2 (which is still secure, but an old standard). With the home control devices starting to occupy your home, you should be looking for a newer security standard for the home WiFi network. From the networking aspect, both Google Wifi as well as the Nest Wifi support IPv6 and IPv4 protocols.
While this may not come in between your buying choice, you must look at the antenna if you want to connect more devices at the same time and get the best speed possible. In that case, the Nest Wifi turns out to be the winner with its 4X4 antenna configuration against the 2X2 antenna setup in Google Wifi.
Smart Features
While you think there are no "smart" features one could add to a mesh router, Google decided to turn it into a Nest mini smart speaker. The Nest Wifi routers couple with Google Assistant-powered smart speaker so these could the perfect choice if you are planning to set up your own Google-powered smart home.
Google Wifi on the other hand simply does the job of a mesh WiFi router, and no smart home features are included. Still you can get the smart home controls with Google Assistant supported devices. There is no Alexa and HomeKit support on either mesh routers, but you can check out our list of the best HomeKit mesh WiFi routers for a better idea.
App Controls
If you have been a Google Wifi user for a long time, you would be familiar with the Google Wifi app. It has been replaced by the Google Home app a while back and now you can set up and control both Google Wifi and Google Nest Wifi using the same app.
App controls for Google Wifi include standard router controls including speed tests and mesh connection checks. On the other hand, Google Nest is an all-out smart speaker as well, which adds speaker controls as well.
Related: 8 Best WiFi 6 Mesh Routers to Speed Up Your Home WiFi
Lights and Alerts
One major thing you may notice is how the indicator lights in Nest Wifi changed from the Google Wifi design. Both the hub and points in the Google Wifi have the same LED light ring around the middle, which is quite noticeable.
When it comes to the new Nest Wifi from Google, only the main hub unit has a ring light, that too at the bottom which reminded me of Amazon's Echo Dot speakers. The AC2200 WiFi points with the Nest Wifi has an indicator light on the side, along with the four LED dots for the Google Nest speaker at the top. You can find the smart speaker volume status, alerts, and other information through these LEDs on the top.
Related: 10 Best WiFi Smart Plugs to Work with Alexa & Google Assistant
Backward Compatibility
Since Google Wifi is an old router and the Nest Wifi is the latest one, you might not be thinking about one being compatible with another. Although, Google lets you use the old AC1200 point (Google Wifi points) with the Nest Wifi router set up as a mesh point. That means you can upgrade to the Nest Wifi system and still use the old Google Wifi points with this to enhance your home network coverage.
Although do not even think about buying a single Nest Wifi point to use with the old Google Wifi set up. They are only compatible one way, that is, old Google Wifi AC1200 points can work with the Nest Wifi AC2200 mesh network. This is especially beneficial when you want to connect your PC to the internet using an ethernet cable. We will talk about that later.
How Many WiFi Points Can You Have
Both Google Wifi and Nest Wifi routers let you extend your home WiFi to an area of up to 6000 and 7000 sq. ft. You can buy more WiFi points and keep adding to your existing Google Wifi or Nest Wifi network. Although this will expand your WiFi range, there is a limit to it. Google recommends connecting up to 5 points to each WiFi network to get the best speed results. Otherwise, you will be breaking your internet speed with too many nodes and repeating signals.
No matter how fast your internet connection is, adding more than five nodes to Google Wifi or Nest Wifi will do the exact opposite of what you wanted.
Pricing
Pricing is one of the factors that are pulling you back from buying mesh routers. Google Wifi costs nearly $200 for the pack of three routers that can give you total coverage of up to 4,500 square feet. This is in fact decent pricing compared to your regular routers with way lesser coverage (and even boring design).
If you are willing to spend a little more over upgrading your home WiFi, the Nest Wifi is the best bet with its inbuilt smart speaker and even better coverage. Although you will only get two routers at a higher price tag, it is quite good enough to give you optimal coverage of up to 4,400 sq. ft. Here is a price comparison chart for both the Google Wifi and Nest Wifi routers.
|   | Google Wifi | Nest Wifi |
| --- | --- | --- |
| Price (Per Pack) | $179.97 | $109.99 |
| Total Coverage | 4,500 Sq. ft. | 4,400 Sq. ft. |
| Price for 1 Point | $54.99 | $179.97 |
Should You Buy Google Wifi or Nest Wifi?
If you are still stuck between choosing Google Wifi and Nest Wifi, we have sorted out the exact reasons for you to buy either of them.
Why Should You Buy Google Wifi
Of course, Google Wifi is their old mesh router but that does not mean it is no good for your home WiFi. Here are the best reasons for you to go for Google Wifi and save some money.
Use any Google Wifi device as the main hub or point.
Has dedicated ethernet (LAN) ports for all points.
Cost effective option for "just the WiFi."
Works with your existing Nest Wifi network.
Easy to operate with any USB C cable.
Related: 20 Best Tips for Google WiFi Mesh Router Users
Why Should You Buy Nest Wifi
Nest Wifi is for those who need faster connections and smart speakers combined into a single pack. If you have not found any reasons to buy Google Wifi, here are a few reasons for you to get Nest Wifi for your household networking.
Has Google Assistant smart speaker built in.
Faster WiFi connection with better range.
Provides better WiFi security.
Watch Nest Wifi Best Features (Video):
Don't Go for One; Choose This Combo
After reading our comparison between Google Wifi and Nest Wifi, you might be thinking of buying either of them to give your household a strong WiFi connection. However, from what we have tested and proved, it might not the best idea to buy just one. Since the Nest Wifi is backward compatible with Google Wifi, you could make a great combo out of them.
For your household mesh WiFi setup, go for the Nest Wifi (1 router + 1 point) as the primary setup. Although it comes on the pricier side, you will have the added benefit of having the Google Assistant smart speaker along with each Wifi point.
Keep adding the same AC2200 Nest Wifi points to wherever you want faster internet access as well as a Google Nest speaker. Along with it, you can get the cheaper AC1200 Google Wifi points that come with dedicated ethernet ports for wherever you want the LAN connection, especially when you want to connect your old PC to the internet without WiFi connectivity.
As we discussed, both Google Wifi and Nest Wifi have their own pros and cons. That's why we recommend you to get the blend of both and enjoy all the benefits in one shot. Hope this guide helps you choose the best suiting Mesh WiFi set up for your home WiFi.
Disclaimer:
MashTips is supported by its audience. When you purchase through links on our site, we may earn an affiliate commission at no extra cost to you.