If you've been looking for an app to listen to songs together with your friends or family that don't live with you, you don't need to. If you and your friends or family are one of the many users of Spotify, at least. You don't need a third-party app to listen to Spotify together.
Spotify group sessions allow you to create a session and invite others to join. While this works over the internet, you can do it with someone in the same room as you as well. So, if you're having a party, but you don't have great audio equipment, you could just use your guests' phones. It's a one of a kind experience. Although, you can only invite up to 7 people at once.
The feature was introduced in 2020, during lockdowns in most parts of the world. As people had to stay home, limiting every social aspect of their lives, Spotify group sessions were a really helpful feature. But that doesn't mean you can't use it now.
How to Start a Group Session on Spotify to Listen Music Together
Spotify group sessions only work on mobile devices such as phones or tablets. Desktop versions of Spotify do not support creating group sessions.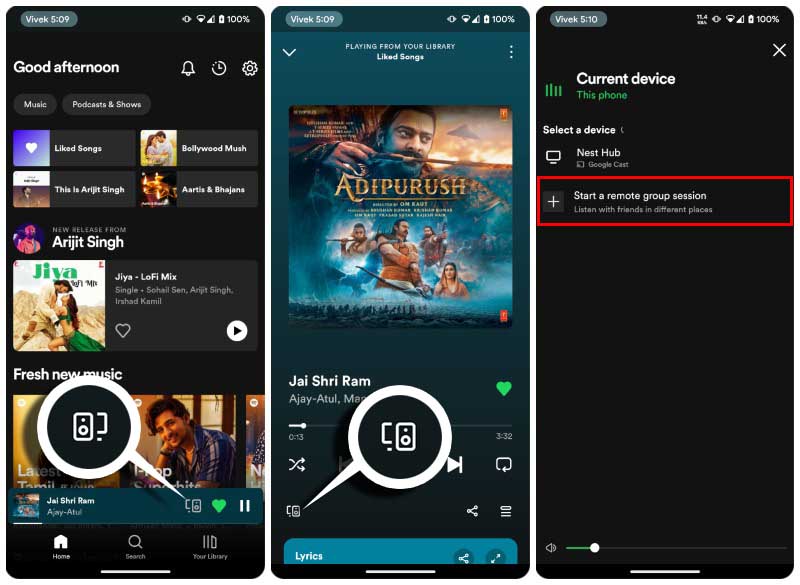 Open the Spotify app on your phone or tablet.
Play a song and tap on the Devices icon.
From here, select Start a remote group session.
Tap on the + icon in the top-right or the INVITE FRIENDS button at the bottom.
Share the invite link via any of your apps, or Copy link to then open and paste wherever you want.
You can invite up to 7 people to join your Spotify group session and listen music together. Also, you can only host one session at a time. The good thing is that like Spotify, this feature too works across both Android and iOS. When you're done, you can tap on the End session button in the devices list.
Sharing our favorite songs with each other has always been something people have done. These days, it's much easier to do with songs being available on YouTube and nearly everyone having an internet connection. Spotify makes this social activity a bit more social by allowing
Of course, Spotify group sessions work with anything else that's available on Spotify, not only music. This means you can listen to a podcast with your people too. For people to join your session, they have to be Spotify Premium users as well. Spotify is not a communication app, however. And listening to music together is no fun if you can't see or hear/read the other person's response. For that, you will just have to use a third party app of your choice.
Disclaimer:
MashTips is supported by its audience. When you purchase through links on our site, we may earn an affiliate commission at no extra cost to you.