Since Apple added the "Battery Health" section on iPhones, it became a routine for everyone to keep checking how much battery health remains. As the number drops, your heartbeat raises, yes, I can hear that. But if you have an older iPhone with a low-health battery and are looking for the cheapest replacement option, third-party solutions are not the answer. As with anything else, you might think the third-party battery replacement could cost lesser, but Apple does it even cheaper.
We will see when you should take your iPhone for a battery replacement and how much it would generally cost to replace the batteries.
When Should You Replace iPhone Battery?
The battery health percentage on your iPhone battery determines when you need a battery replacement or check-up. It is common to see a drop in the iPhone battery's health as it ages. But how fast it drops, or should it drop? Your iPhone's battery health will depend mostly on the charging cycle. Every battery, especially the Lithium-ion ones (used on iPhone and MacBook), degrades little by little every time you plug them into the charger. That means the more you charge your iPhone, the faster your iPhone's battery health drops.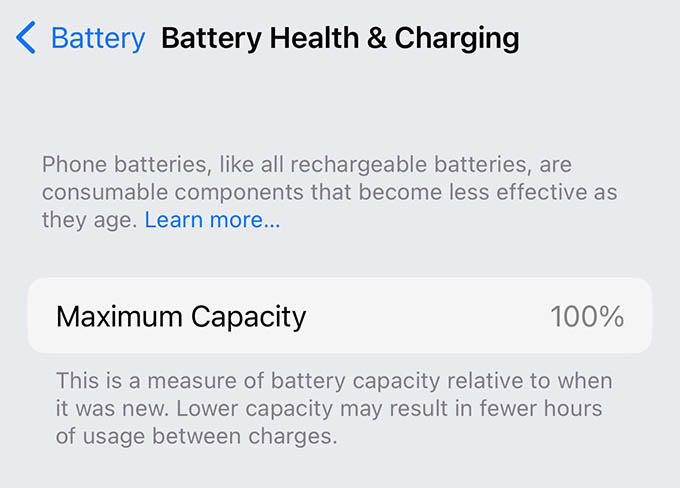 Now, you will want to know when you should replace the iPhone battery. If you are a regular "battery health checker" and are worried about seeing a battery percentage below 90%, stop panicking, you still have a lot more to go to replace your iPhone battery. You will not get a warning to replace your iPhone battery until its health reaches 80 percent or 500 battery cycles. Now when you get a warning at 80, you can either keep using it for a bit more or get a new battery replacement.
To see if your iPhone battery needs to be replaced, go to iPhone Settings > Battery > Battery Health. Before tapping the Battery Health, you can see the Service text if it is in bad shape.
There you will find the current "Maximum Capacity" of your iPhone battery. You will also see an "Important Battery Message" stating that your battery needs to be replaced when you have a bad battery on your iPhone.
We would advise you to get a replacement for your iPhone battery ASAP since otherwise, it would slow down your device and damage it whole.
Related: How to Optimize iPhone Battery Charging for Long Life
Cheapest Way to Replace Your iPhone Battery
As everyone, you must be looking for a way not to burn a hole in your pocket just to get a new battery for your years-old iPhone. Before looking for third-party ways or aftermarket service providers to get a battery for your iPhone, check at your nearby Apple Service Center. Want to know why? Below is how much it cost me to get a full battery replacement for my iPhone 11 and iPhone 7.
Apple Service providers charged me $49 for the iPhone 7 battery and $79 for the iPhone 11 battery.
On the other hand, the third-party service providers quoted at least 20 bucks more than Apple. That makes the official battery the best bet for your iPhone. Plus, you get all guarantees, battery health information, and safety assurance with the original iPhone battery. To get an estimate for the battery replacement for your iPhone, check out the Apple Repair Estimate Tool. As you see below, $99 is the highest Apple would charge you for the latest, most-expensive iPhone battery.
To replace your iPhone battery at the cheapest cost, get an appointment for battery repair and take or ship your device to the Apple Store. Once they take your old iPhone in, it will take around two days to get a battery replacement without having to cost you much.
Related: 10 Tips To Preserve iPhone Battery for Emergency
Can You Get Battery Replacement for Your Old iPhones?
Apple iPhones are meant to stay intact longer than most Android phones out there. If you have been an iPhone user for a long time, chances are you have a classic iPhone from the times when Steve Jobs was alive. Before trying to get a battery replacement for your older iPhone 4 or 5 from Apple, you should know if Apple can get it done for you.
When it comes to the older iPhone models, Apple sorts them into two categories – Vintage and Obsolete. Vintage is the iPhone model that stopped selling in the last 5 to 7 years. You can mostly get a replacement or service for the parts of such iPhone models.
Obsolete models are those which stopped selling more than seven years ago, which means you would probably not use them even if you own one. Since these are much older, you could hardly find any replacement parts or services available for such iPhones.
According to Apple's Service Estimate Tool, you could possibly get a battery replacement for iPhone 5 and newer models from Apple's own service providers. Still, it depends on the availability of parts for Vintage iPhone models.
You better forget about the obsolete iPhone models getting fixed by Apple since they no longer want to repair or replace any parts. Approaching third-party service providers will be the only solution here, but nothing is guaranteed there too.
If you are confused about whether your older iPhone is eligible for a battery replacement from Apple, check the list below to see which older models can get repaired and which all can't.
Vintage (Possible to Repair):
iPhone 4 (8GB)
iPhone 5/5C/5S
iPhone 6/6Plus
iPhone 6s/6s Plus
Obsolete (No Repair):
iPhone
iPhone 3G/3GS
iPhone 4 GSM/CDMA
iPhone 4S
Related: iPhone Battery Draining Fast? 11 Solutions to Save Battery Life on iPhone.
FAQ: Replace iPhone Battery
Can you put a new battery in an older iPhone?
If your older iPhone has a worn-out battery, you can replace it with a brand-new battery. In most cases, you can get the battery replacement from Apple, but if you have used a really old iPhone from 2011 or so, you might want to check with third-party providers.
How much will it cost to change the iPhone battery?
Apple charges only a decent amount of money to replace your iPhone battery. No matter how expensive or latest your iPhone is, it won't exceed $99. Also, for older iPhone models, the new battery starts from $49.
Is changing the iPhone battery worth it?
As mentioned, changing your iPhone battery will cost at least $49, depending on your model. If you think your iPhone is worth more than $49 (or the estimated cost), it is always better to get a new battery. For obsolete iPhone models, you could get a used one from the market for cheaper than the new battery costs alone.
How do I get my iPhone battery replaced?
You can get your iPhone battery replaced from the Apple Service Centers at the lowest cost possible. However, if you choose third-party Apple Authorized Service providers, the service cost may skyrocket.
How many years does the iPhone battery last?
Apple promises at least 500 battery cycles for an iPhone battery, which would take almost two years to reach. So, if you just bought an iPhone now, you can use it with a healthy battery for at least two years, and even more if you use it carefully.
Disclaimer:
MashTips is supported by its audience. When you purchase through links on our site, we may earn an affiliate commission at no extra cost to you.