Google search is easy fast and powerful search engine. However, there are more advanced Google Search links and tools that we never used before. These advanced Google Search tools are powerful, simple and can be used on the same Google Search Engine website. These advanced search links provide more precise and critical information without installing any additional plugin or software. Just like other Google services, these search tools are free and help to improve your work and personal life.
Here we are presenting advanced Google Search Engines and Links that can do amazing things in your daily life other than just a web search.
Google Advanced Search
Google Advanced search help you to do a search for a more precise way to narrow down result accurately.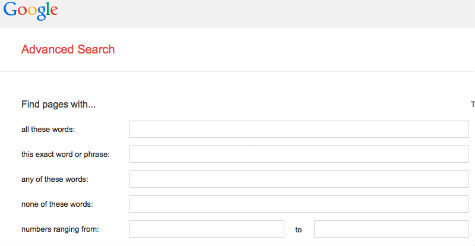 Advanced search offers you more flexibility in Google search with option to select language, region, exact search phrase, etc.
Website Link: Google Advanced Search
Search & Download MP3 Songs with Google
Google Search Engine can search MP3 and Song formats with advanced Google search terms.
For the best result, there is a format to search the song, which leads the user to the song directory and you can download songs to your computer. Please read here for the step by step guide to Search MP3 Songs & Download with Google Search Engine.
See also 12 Essential Google Search Tricks That You Never Used Before
Google Advanced Image Search
Do you want to know the name of a celebrity from the picture? Do you want to get similar images from a website picture? Google introduced new features in Chrome browser recently that is capable of searching similar images from a web page.
Please see here the more details for Finding People Name and Images Using Google Image Search. You can search and find out the name and of a celebrity from a photo or you will be able to find out the more related details of a picture that you found on a web page by following article 7 Best Features of Google Now That Make Your Life Easy.
Google Hotel and Flight Search
There is an inbuilt online tool to search for flights and hotel from Google. Google can populate a list of available flights with filter options. You can filter out the results based on the stops, price, airline and times.
You can go to the corresponding link to the offer site and buy the ticket. Please see this article to Find out the Best Flight and Hotel Deal with Google Tool.
Google Input Tools online
Do you want to write your mother tongue with an English Keyboard? Google Search tool can help with Google's input tools.
With this Google Input Tools, you can get your message in the language and style you want. Google input tools help you to switch to over 80 languages and input methods.
Website Link: Google Input Tools online
Google Search Public Data
Google Search Public data is one of the advanced Search Engine to query in public database.
The Google Public Data Explorer makes large datasets easy to explore, visualize and communicate.
Website Link: Google Search Public Data
Google Trends
Google Trends is a search analyzing tool that analyzes a percentage of Google web searches to determine how many searches have been done for the terms you've entered compared to the total number of Google searches done during that time.
Website Link: Google Trends
Google Crisis Map
One of the essential advanced Google Search tool built on top of Google map. Google crisis map is a collection of national and regional-scale layers related to weather, hazards, and emergency preparedness and response. Most of the US. Emergency information including evacuation notices for hurricanes, storm warnings and earthquakes are covered on this advanced Google Crisis Map.
Website Link: Google Crisis Map
Google Finance Converter
Stock traders and marketers, here is a real-time advanced Google search tools to check stock quotes & charts, financial news, currency conversions, or track your portfolio with Google Finance.
For Android users, there are dedicated stock and trade apps with amazing features, please see the list of Best Android Stock Market Apps for Status & Portfolio Management and stock apps available for iPhone.
Website Link: Google Finance Converter
Google Finance
Google has an advanced tool to help for accountants and other financial experts. With Google Finance tool, you can get real-time stock quotes & charts, financial news, currency conversions, or track your portfolio with Google Finance.
Those who are worried about financial management, there are Mac Finance Software and also for money management apps for Android users.
Website link: Google Finance
Google Scholar
Google Scholar provides a simple way to broadly search for scholarly literature. From one place, you can search across many disciplines and sources: articles, theses, books, abstracts and court opinions.
This is a powerful version of Google Search tool that can be useful for academic publishers, professional societies, online repositories, universities and other websites. Google Scholar helps you find relevant work across the world of scholarly research.
Website Link: Google Scholar
Google Books
One of the powerful Google search engine for students and college professors. With Google Books, you can search and preview millions of books from libraries and publishers worldwide. Google Books search tool can discover a new favorite or unearth an old classic. Search the latest index of the world's books. With this advanced Google search engine, you can find millions of great books you can preview or read for free.
Website Link: Google Books
Google Translate
Google's free online language translation service instantly translates text and web pages and there is no particular introduction required for this.
Website Link: Google Translate
Google Correlate
Google Correlate is like Google Trends in reverse. With Google Trends, you type in a query and get back a series of its frequency (over time, or in each US state). With Google Correlate, you enter a data series (the target) and get back queries whose frequency follows a similar pattern.
Website Link: Google Correlate
Google Alerts
Set up an alert for the Google search. With Google Alerts, you can get email notifications any time that Google finds new results on a topic you're interested in. For example, you could get updates about a product you like, find out when people post content about you on the web or keep up with news stories.
Website Link: Google Alerts
This list of search links include the tools that can set a customized alert in a critical condition, brings you crisis map all around the world in an emergency situation, help you to write in your mother tongue, etc.
Disclaimer:
MashTips is supported by its audience. When you purchase through links on our site, we may earn an affiliate commission at no extra cost to you.