The WiFi network may not be able to provide ideal performance all the time that you expect. There are a bunch of Android apps for WiFi strength measure, DSL Speed Test, Network Analyze, Spectrum Analyze, etc. These Android Wireless Manager apps are available free from the Google Play Store. We have also listed WiFi Hotspots apps, those can search and find out free WiFi networks for Android users. iPhone users, please check here for the best WiFi tools for iOS devices. Whatever the platform it is, it is better to have a couple of apps based on your WiFi connection and use.
You can use these Android WiFi apps with home WiFi or public WiFi to check performance or WiFi signal strength and to find free WiFi hotspots.
Android Apps for WiFi Speed Test
When you register for an internet provider, they project their speed in MBs just as a part of their marketing trick. You can use these tools to check the real speed of your internet. Another possibility is that the provider caps your internet or 4G speed over a limit. These Speed testing tools are coming handy to test the WiFi speed with Android phone.
Related: Best 14 Tips for Google WiFi Mesh Router Users
Speedtest.net
This Speed Test app by Ookla is an easy and fast Android application to test your WiFi speed. This Android Internet speed test app can show connection consistency in real-time graphs. The tests are done using the custom protocols to determine communication between server and client (in this case, your smartphone).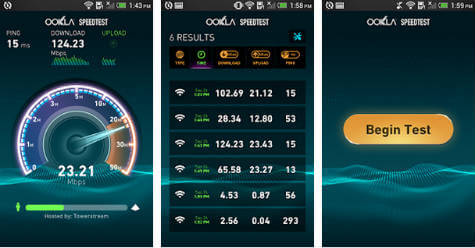 Speedtest.net by Ookla has switched from the traditional HTTP protocol to the newer TCP protocol. The rate of download is determined with the download speed from the 4759 servers located around the world to the clients. This can help you to troubleshoot or verify the speed your provider promised you. You can track past tests with detailed reporting and share your results.
Download from PlayStore: SpeedTest
Related: How to Lower WhatsApp Data Usage on iPhone or Android?
3G 4G WiFi Map & Speed test
This Android WiFi map and speed test app can map cellular coverage, find WiFi hotspots, test and improve signal reception and get faster data. The WiFi app comes from the famous open signal developers. The built-in signal-compass points you in the direction the signal is coming from.
The WiFi map allows you to quickly locate nearby public networks and coverage maps let you see the best places for signal. Speed test feature allows seeing the real speed of your connection. The network rank will enable to see which carrier is best in your area. Also, the connection history can be recorded. OpenSignal claims to have the most extensive global database from its crowdsourcing since the launch.
Download from PlayStore: 3G 4G WiFi Map
WiFi Signal Strength Analyzer for Android
These Android WiFi Strength Analyser apps come in handy when you suspect that you don't have enough WiFi signal strength. Turn on one of these WiFi Analyzer apps on your Android phone and check the Wi-Fi signal quality and strength at any position in your house.
WiFi Analyzer
WiFi Analyzer is a handy free App for Android users that can use to check WiFi signal strength with an Android phone for free. You can use this Android WiFi Analyzer app to turn your phone into a WiFi analyzer to show the WiFi channels around you and the signal strength.
This WiFi analyzer app can help you to find a less crowded channel for your wireless router by measuring the WiFi signal strength and channel interference. WiFi channels are important in reducing interference and improving the signal. With this Android WiFi Analyzer app, you can specify which channel to use for the router. The graphs show which channels are overlapping and most frequently used channel frequencies. Also, we can also see the ratings of each channel to choose the best one to pick.
Download from PlayStore: WiFi Analyzer
Network Signal Info
Network Signal Info provides detailed information over the currently used network, whether WiFi or cellular connection. This app gives you quick visualized and detailed information about how good is the signal strength.
The mobile signal widget can display network operators, Sim operator, phone type, network type, network strength in dBm and ASU, data state, data activity, country code of the mobile phone, device ID, IP address, roaming state. In WiFi widget, it can show you the WiFi-Name (SSID), BSSID, Mac address, maximum WiFi speed, IP address, external IP address, net capability, net channel, subnet mask, Gateway IP address, DHCP server address, DNS1 and DNS2 address.
Download from PlayStore: Network Signal Info
WiFi Expert
WiFi Expert is an Android application to analyze and troubleshoot Wi-Fi network. This Wi-Fi Android app can scan all available Wi-Fi network and display information about connection quality which includes analysis of the signal strength as well as data about co-channel and adjacent channel interference. The Wi-Fi analyzing app can also display network SSID, AP/Router vendor, Authentication/encryption type, Channel, IP address and other useful information that help you to troubleshoot the network. It also provides ping utility to display the gateway or DNS servers. The Wi-Fi Expert is a lesser known but highly useful app.
Download from PlayStore: WiFi Expert
WiFi-Manager Android Apps
When you go out for a while to a shopping mall or public place, these tools are coming handy to find out free Wi-Fi spots. It is better to have these apps already on your phone to open and search for free Wi-Fi hotspots.
Related: 7 Best WiFi WPS WPA Tester Apps for Android
Android WiFi Manager
WiFi manager helps you to find, connect and manage WiFi networks. The Android Wi-Fi manager app displays detailed connection info. Another option lets you switch among your favorite networks with a single tap, and yet another option toggles WiFi Access Point.
This best Wi-Fi tool automatically switches among your favorite networks with a single tap by using the WiFi Network Switcher widget. The frequency of each signal is accurately determined to minimize the interference and thereby to decrease the speed. Besides, you can also set a self-descriptive and icons to individual Wi-Fi networks to identify them. Also, there are in-app purchases which brings some more premium features.
Download from PlayStore: Android WiFi Manager
WiFi Connection Manager
WiFi Connection Manager is the WiFi scanner, manager, and connector for your Android. The most noteworthy feature is the ability to display saved network password on rooted devices. The Android Wi-Fi connection manager can switch between available networks to solve the network conflict problem.
It can add/connect to specific hidden SSID network and can manually add a network, with individual support for EAP/LEAP encrypted network. The additional features include Auto detect Web Authentication, Backup/Restore saved networks, Add/Share Wi-Fi network with QR code, Arrange connecting network priority, etc.
Download from PlayStore: WiFi Connection Manager
Android Apps for Free WiFi Hotspot Connector
When you drive outside and wait for a while in a shopping mall or other public places, these Android free WiFi apps are coming handy to find WiFi hotspot locations.
Free Zone – Free WiFi Scanner
The Free Zone Android Free WiFi app helps you to find out free Internet access anywhere using Wi-Fi hotspots. It can automatically discover which Wi-Fi hotspots work for free.
Free WiFi Finder app can use passwords shared by others and access Wi-Fi hotspots in bars, restaurants, malls, and other public places and you'll be automatically notified when you're in range of a free Wi-Fi hotspot. The app is not available in the Asian countries yet.
Download from PlayStore: Free Zone
WiFi Finder
Android WiFi Finder app is helpful to list the free WiFi hotspot near your area or town based on the location. This WiFi finder is a must have app for travelers who are roaming around and want to take advantage of free or paid public Wi-Fi hotspot.
This best WiFi hotspot finder app can scan for WiFi hotspots around you or search for public WiFi anywhere in the world. This free WiFi app can view WiFi hotspot detail, call location, get directions or share the hot spot. This Android app can work both online and offline and compatible with both phones and tablets.
Download from PlayStore: WiFi Finder
Free WiFi Connect
Free WiFi Connect app enables any Android smartphone to search for open WiFi network and connect to it automatically. This WiFi hotspot app is doing the same function of WiFi finder that can display available free WiFi hotspot of any location.
This way you can save your data usage and quickly hop over free WiFi network. The app reserves your choice and will not change the network if the device is connected to any saved network. You can also connect/disconnect to any network by simply tapping on it.
Download from PlayStore: Free WiFi Connector
WiFi Master Key
There are thousands of free Wi-Fi hotspots are available Globally. Wi-Fi Master key app lets you connect to free Wi-Fi hotspots with WiFi Master Key, that stored in App itself. With this Wi-Fi Master Key, you can search and connect to shared WiFi hotspots. You can use this app to share the Wi-Fi with a security password that will save in the app as encrypted and not revealed to the user.
Android Apps to Catch WiFi Thief
Make sure nobody else is accessing your WiFi and protect your network from intruders with these Android apps. Your Android phone will help you to keep an eye on your home or office network with network monitoring apps.
Related: Someone is stealing your WiFi? Find out using Android Phone
Fing – Network Tools
Fing, free Android Network Scanner App to find out, which are the devices connected to your Wi-Fi network. This is a powerful Android App to find out Wi-Fi thieves, network intruders, hacker presence, etc.
This app also powered with few more other important Wi-Fi scanners like  Port Scanner, DNS lookup, Ping, and Server monitoring. This Android Wi-Fi scanner will report back the result with device details including IP address, MAC address, Device Name, Vendor, Device Manufacturer, etc.
Download from PlayStore: Fing Network Tools
WiFi Inspector
Android WiFi Inspector is a tool to scan and report all the devices connected to a particular network. The list will include both wired and wireless devices connected to your network. This Android Network Analyser tool can report back to device IP address, MAC Address, device name, and manufacturer. This Android WiFi Inspector could save the list of known device and alert you if any new device joined in the network so that you can always be alert to any presence of a new intruder into your network.
Download from PlayStore: WiFi Inspector
We listed all major Android Network Apps that can Inspect Connected Devices on the network, Wi-Fi manager, Wi-Fi Hotspot Finder, Wi-Fi Signal and Channel Analyzer and Wi-Fi Speed tester, an ultimate all in one list for all your Wi-Fi and network needs.
Disclaimer:
MashTips is supported by its audience. When you purchase through links on our site, we may earn an affiliate commission at no extra cost to you.