Apple unveiled their newest iteration of iPad named as iPad Air in a event on October 22, 2013. Before few hours of Apple event, Nokia unveiled their first tablet Lumia 2520. Let us see a specification comparison of the above devices along with the famous Google Nexus 7.
Apple also upgraded it's iPad Mini version with the much anticipated Retina Display along with the 64bit A7 processor.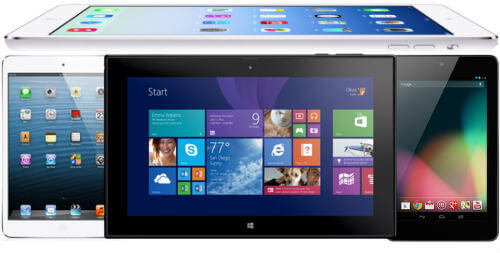 iPad Air and retina differentiate in screen resolution and  al other specs are same except the price and that make around $200 higher for the retina model. Nokia and Nexus tabs price lower than iPad models and Nokia works on Windows OS and Google Nexus on Android.
CPU
RAM
Display
Density
OS
Rear Camera
Front Camera
Wireless
Connector
Sensors
Battery
Back up
Dimensions
Weight
Audio
Charging
Price
Apple started the 64bit computing in the mobile segment with the introduction of iPhone 5S. They are now expanded their 64bit devices line to Apple iPad Air and iPad Mini with Retina Display. In the coming months we can expect more 64bit devices from the rivals like Samsung, Google and Microsoft.