A blogger should have to worry about a lot of things in addition to article writing. This includes site maintenance, visitor rating, site performance SEO improvement, marketing etc. Instead of doing all these works by yourself, you can depend apps for most of these works.
Here is a list of apps that can help a blogger to monitor income from Google AdSense, your blog visitors and other scaling factors determine your blog marketing performance, number of visitors, site speed etc.
The app from WordPress allows you to publish your post directly from the app rather than login into your blog and add article that can your save time.
Most of these are paid apps, but also theses are worth for their money when we take account the performance and features of the applications.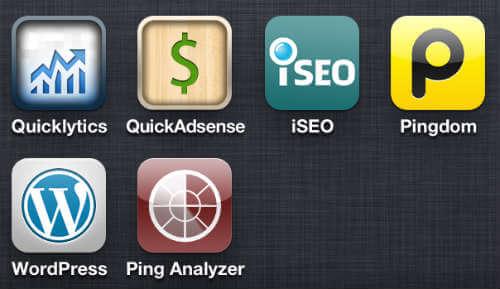 Quicklytics
Quicklytics is a Google Analytics App that is the easiest and fastest way to check your Google Analytics account. With Quicklytics, you can check almost realtime analytics about the visits of your sites in a simple dashboard. The app supports unlimited Google Analytics accounts and also unlimited sites per account. Quicklytics focuses on displaying the most important data for your Google Analytics accounts: Number of visitors, pageviews, average pageviews and bounce rate.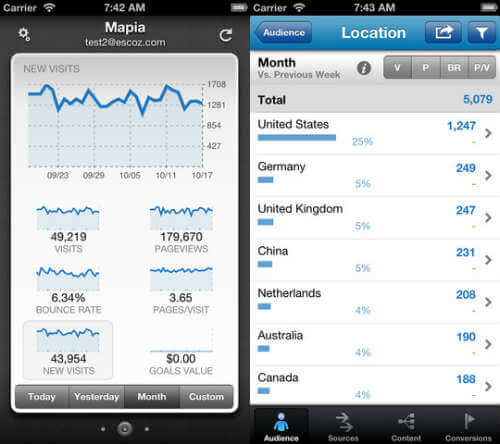 There are more metrics are available and you'll be able to see lots of different charts like Visitor reports with Country/City, Browsers, type of visitor. Sources reports include the list of sources of visits, referring sites, keywords used, and campaigns. Content reports: with Top Content, Top Landing pages, Site Search, and 4 different reports for Events etc. You can also quickly use the results of one report to filter values for other reports, creating unlimited combinations, and allowing you to quickly understand different traffic patterns on your site. Understand your data in a quick and actionable way.
QuickAdsense
QuickAdsense is a – Google Adsense App and fast way of checking your Adsense account. All reports available in Google Adsense are available in the app like Overall account total and details, Total and details by Product, Site, Countries. This apps also gives advanced reports such as platform, Ad format, Ad unit, Ad Unit Size, Targeting Type, URL channel, Custom Channel, Bid Type and Buyer network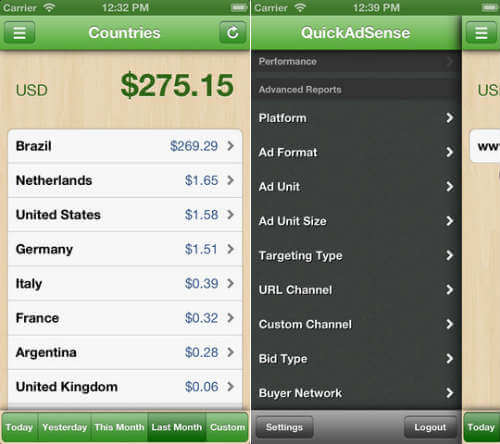 QuickAdsense uses OAuth to authenticate with Google Adsense in a secure way, and downloads data in a matter of seconds.
It's easy to manage your WordPress blog or site from your iOS device. With WordPress for iOS, you can moderate comments, create or edit posts and pages, view stats, and add images or videos with ease. All you need is a WordPress.com blog or a self-hosted WordPress.org site running 3.1 or higher.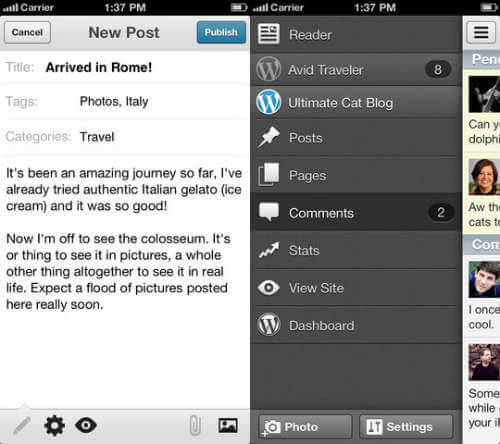 This apps make your life easy and you can keep blogging on the way and add pictures, edit comments and get the site view on your iPhone or iPad.
iSEO is a SEO Audit Tool help you to know SEO stats of your websites and easiest way to track your SEO progress. It lets you enter unlimited number of domains, and keeps your historical data organized in one place.
You can save snapshots of your SEO stats and compare it using timestamps. This is the perfect way to analyze your SEO work.
Pingdom iPhone app lets you connect to the Pingdom uptime monitoring service and view the current status of the servers and websites you are monitoring. It is a handy companion when you receive an error alert from Pingdom.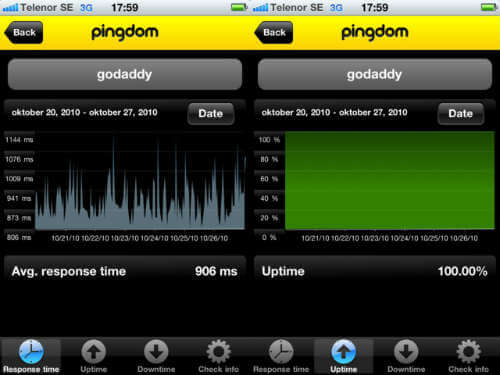 Pingdom get alerts directly to your iPhone (push notifications) and help you view the current status (up or down) of all monitored sites. Moreover this will help you to view uptime and response time statistics for each site. Pingdom helps you to get information about each check, such as its monitoring resolution, check type (HTTP, Ping, DNS, SMTP, IMAP, POP3, TCP port, etc) and target (IP address or URL).
Note: You have a valid Pingdom account to use the Pingdom iPhone app.
Ping Analyzer is an easy to use graphical network ping tool that provides real-time average, minimum and maximum round-trip times (RTT), jitter and Mean Opinion Score (MOS) estimation. Ping Analyzer lets you quickly enter the host name (or IP address) of the host you wish to ping. You can also adjust the number of ping requests that will be sent, the time interval between packets, the packet size, and the maximum IP Time-To-Live (TTL) of outgoing packets.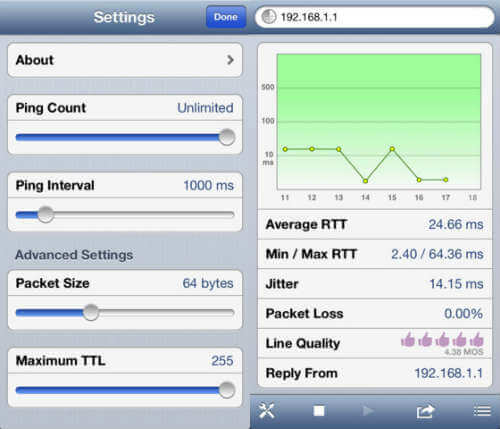 Ping Analyzer uses Internet Control Message Protocol (ICMP) Echo Request and Echo Reply packets to determine the availability and response time of a target machine. The key difference from other tools is that Ping Analyzer does not emulate the output you would get on any computer by running the original ping command.
Please share your thoughts and let us know if you are using more application.