As we eagerly anticipate the release of Apple's iPhone 15, the excitement extends beyond the device itself to the range of accessories that will enhance your experience with this groundbreaking gadget. In a significant shift, the iPhone 15 ditches the traditional Lightning port in favor of the versatile and powerful USB-C connector. This change promises faster charging and data transfer speeds while aligning the iPhone with a more universal standard already used by many other devices and Apple's own MacBooks and iPads.
This article will guide you through the best accessories for your iPhone 15, ensuring you are fully prepared to make the most of the USB-C future.
MagSafe Accessories
MagSafe involves magnets integrated into the devices, enabling easy and secure attachment of various accessories. These are the best MagSafe-compatible accessories for your iPhone 15 series smartphone.
Moft MagSafe Wallet Stand
The MOFT MagSafe Wallet Stand is a versatile accessory for iPhone 15 users, as it combines practicality and convenience in a sleek design. It is compatible with the MagSafe feature, enabling it to firmly snap onto the back of your iPhone 15 or any MagSafe-compatible phone case. This wallet stand is not merely a holder for your cards, but it also doubles as a stand.
One of its notable features is its slimness, which subtly complements the iPhone's aesthetic without adding extra bulk. Despite its sleek design, it securely holds your most frequently used cards, providing easy access whenever you need them. It also allows you to prop up your phone in either portrait or landscape mode, which can be particularly useful when watching videos or making video calls.
This feature eliminates the need for carrying separate phone stands, thus enhancing the user's convenience. However, it's worth noting that while this wallet stand does not support the 'Find My' feature or wireless charging, it does not interfere with Apple Pay functionality.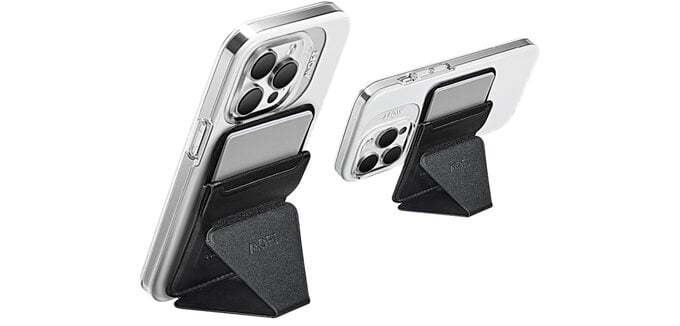 Key Features: MagSafe supported | Holds 2 cards | Supports 3 viewing angles in Portrait or Landscape | Powerful Magnets | Does not support Wireless Charging while attached | Apple Pay works | Slim design
Moft MagSafe Battery Bank
The Moft MagSafe Battery Stand is a versatile, lightweight accessory for iPhone users. Weighing only 4.6 oz/130 g, this battery pack offers a 3400mAh capacity, ensuring an extended battery life for your device. It is compatible with the iPhone 15 series, supports MagSafe and charges through MagSafe-compatible cases.
This pocket-sized stand is ideal for users who are often on the move and away from an outlet. It features a slim stand that can be layered on and unfolded for comfortable viewing. The Moft MagSafe Battery Stand comes with a USB-C charging cable but does not include an adapter. It takes about 1.5-2 hours to fully charge. It also includes intelligent heat management to ensure safe usage.
The battery stand also supports pass-through charging, allowing it to charge while attached or detached from the phone. The power level is indicated by the lights on the battery pack. The modular design of this stand allows users to snap off the battery and share it with others, making it a convenient and user-friendly accessory.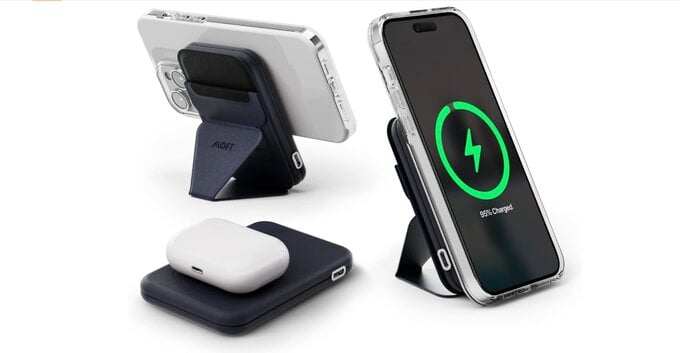 Key Features: MagSafe supported | 3400 mAh battery | Takes around 2 hours to fully charge | Intelligent heat management prevents overheating | Passthrough charging enabled | Modular design to snap off the battery and use it as kickstand only
ESR 25W 3-in-1 MagSafe Charger Stand
The ESR 25W 3-in-1 MagSafe Charger Stand is an innovative product that marries efficiency with convenience. It is designed to consolidate your charging needs into one powerful hub, capable of charging an iPhone, Apple Watch, and AirPods simultaneously, all wirelessly. The stand is equipped with the latest MagSafe technology, providing the fastest charging for iPhone 15 through a 15W Made for MagSafe charger for iPhone 15, a 5W Made for Apple Watch charger, and a MagSafe charger for AirPods.
It includes additional charging ports that set the ESR 3-in-1 Charger Stand apart. Besides the wireless charging capabilities, it also houses two GaN-enabled USB-C ports and one regular USB port, making it versatile and adaptable for various charging needs. This is a major step up from traditional chargers, allowing users to power up multiple devices at once. The inclusion of a detachable Apple Watch charger adds to its user-friendliness, offering flexibility in how and where you charge your devices.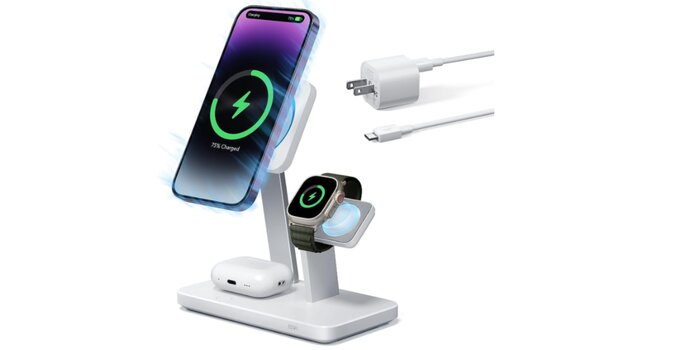 Key Features: MagSafe supported | Charges 3 devices at once – iPhone 15, AirPods and Apple Watch | GaN enabled USB-C dual ports and a USB-A for additional device support | Detachable Apple Watch charger | Can be used as a stand
True Wireless Earbuds for iPhone 15
True wireless earbuds consist of earpieces connecting to your audio source via Bluetooth. Here are some of the best TWS Earbuds compatible with iPhone 15.
Apple AirPods Pro 2nd Gen
The AirPods Pro 2 are Apple's latest iteration of their popular wireless earbuds, further refining their approach to premium audio. These earbuds offer a sleek, compact design that comfortably fits your ears, giving an almost invisible feel. The ANC noise-cancellation feature is impressively robust, filtering out most external noise to provide an immersive audio experience.
Sound quality is top-notch, with the AirPods Pro 2 delivering clear, detailed audio across various genres of music. The bass is rich and deep, while the highs are crisp and well-defined. The Personalized spatial audio feature significantly enhances the listening experience, making it feel like you're in a live concert.
One of the standout features is the Adaptive EQ, which tailors the sound to the shape of your ear, making the audio even more personalized. The battery life is also commendable, providing up to 5 hours of listening time and an additional 24 hours with the charging case.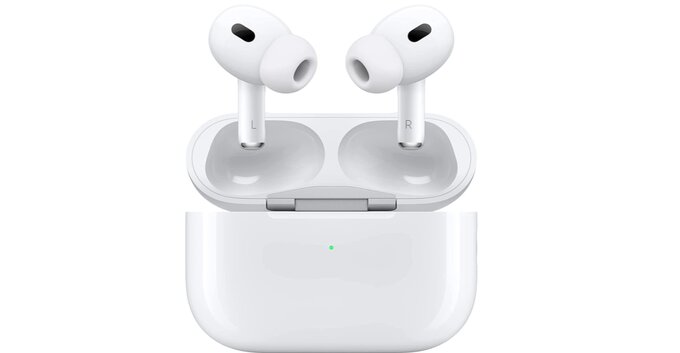 Key Features: Best ANC among TWS earphones | Personalized Spatial Audio | Adaptive EQ adjusts to your ear | 5hrs + 24hrs with charging case | Supports Qi and MagSafe charging
Today's Deal: $63.67 Off
Apple AirPods Max
The Apple AirPods Max is an excellent addition to your iPhone 15, offering superior ANC (active noise-canceling) capabilities and dynamic driver to provide high-fidelity audio that outshines competitors like Sony WH-1000XM5 and Bose Noise Canceling Headphones 700. These headphones come with a luxurious build and design, providing a robust and sturdy feel, though they weigh more than other top-tier noise-canceling headphones. The ear cups are comfortable and customizable, but the lack of folding hinges is a disappointment.
A major drawback is the absence of waterproof or water-resistant features, considering their portable nature. The AirPods Max features the "Hey Siri" function, allowing you to play a song, call, or get directions. However, their usage can be problematic outside the intended Bluetooth due to the lack of a 3.5mm headphone jack. It has some unique features, like Personalized Spatial audio that add a layer of immersion to the listening experience. The Airpods Max has a battery life of up to 30 hours on a single charge.
Key Features: Dynamic Driver for High Fidelity Audio | Great ANC rivaling Sony XM5 and Bose Headphones | Sturdy and Durable Design | Memory Foam Ear Cushion for added comfort | Personalized Spatial Audio | Battery Life of 30hrs on single charge
Today's Deal: $169.81 Off
Power Banks and Chargers for your iPhone 15
Here are some of the best chargers and power banks compatible with iPhone 15. These allow you to top up the charge on your iPhone faster, enabling better portability.
Anker Prime 67W GaN Charger
The Anker Prime 67W GaN Charger is a highly efficient and compact charging solution that redefines what a modern charger should be. The innovative gallium nitride (GaN) technology provides high-speed charging with a power output of 67 watts. This is substantial enough to charge a MacBook Pro, an iPad, and an iPhone 15 simultaneously without any hiccups.
The charger is impressively lightweight and portable, making it an ideal companion for travel. It fits comfortably in the palm of your hand and even in your pocket, which is remarkable given its power output. It has two USB-C ports and one USB-A port.
One of the standout features of this charger is its intelligent power allocation which Anker calls PowerIQ. It efficiently manages the power distribution to your devices, ensuring that each one gets the optimal charge. It also has a built-in ActiveShield 2.0 safety system that protects your devices from overcharging and overheating.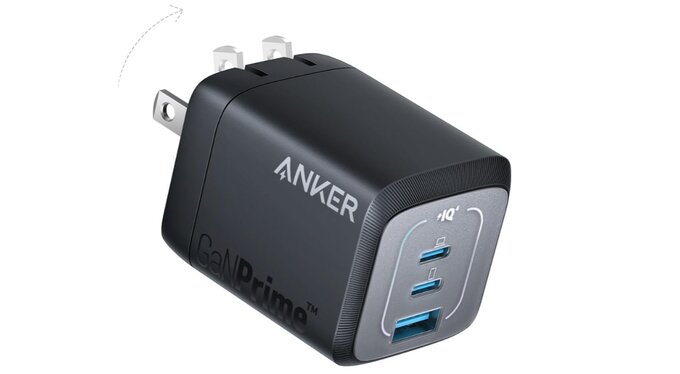 Key Features: 67W Max Power Output supported | Lightweight and Portable to carry around | 2x USB-C Ports and 1x USB-A Port | PowerIQ enables intelligent power distribution | ActiveShield for overheating protection
Today's Deal: $6.14 Off
UGREEN 140W USB C Charger
The UGREEN 140W USB C Charger, also known as the Nexode, is a robust and highly versatile charging device. This three-port GaN charger comes with a fold-up 2-prong US plug and is compact, measuring just 7.6 x 7.6 x 3.5 cm, making it easily portable. It offers multiple power outputs with two USB-C ports and one USB-A port, allowing simultaneous charging of different devices. Its prime feature is its support for Power Delivery 3.1, capable of charging at an impressive 140W maximum power output.
The charger is made with metal to aid heat dissipation and also features Thermal Guard tech to prevent overheating. It is compatible with a wide range of devices, including a 16-inch MacBook Pro, iPhone 15, and iPads. Despite its relatively high price, the UGREEN Nexode's compact size, powerful performance, and versatility make it a worthwhile investment for tech enthusiasts.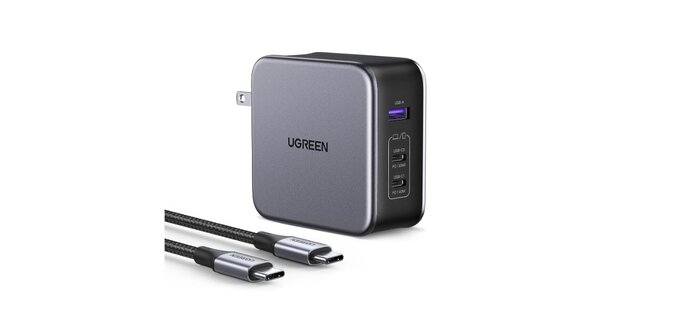 Key Features: 140W Power Output | 2x USB-C Port and 1x USB-A Port | Supports PD3.1 and PPS for adaptive power delivery | Thermal Guard feature prevents overheating | Fodable 2-prong US plug for convenience
Shargeek Storm 2 100W Portable Charger
The Shargeek Storm 2 Power Bank is a high-quality, high-capacity portable charging solution with a massive 25,600mAh battery capacity so you won't run out of power when you need it most. The battery pack features a unique transparent design that not only adds to its aesthetics but also allows users to admire the internal circuitry.
This power bank comes with an impressive array of ports, including two USB Type-C, one USB Type-A, and one DC barrel connector, catering to a wide range of devices. At 579g, it's not the lightest on the market, but considering its capacity and feature set, the weight is justifiable. It supports charging your iPhone 15, MacBook Air, and other devices that support fast charging.
What sets the Shargeek Storm 2 apart is its 1.14-inch LCD screen, which provides real-time performance stats and battery status. On the downside, the transparent design makes it susceptible to scratches and dust. Priced over $200, it's a bit on the higher side, but it often comes at a discounted price during sales. Despite the price tag, its excellent build quality and advanced features make it a worthy investment.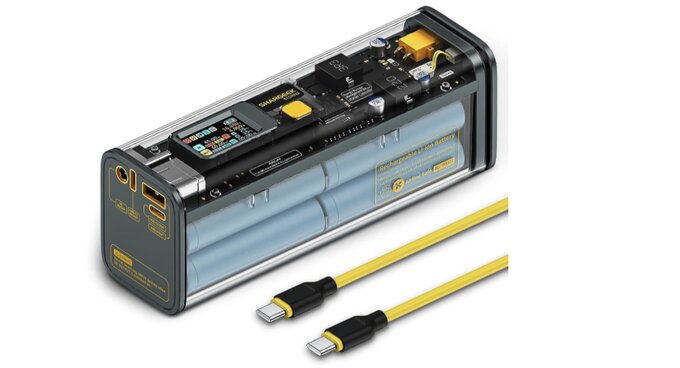 Key Features: Cyberpunk style design | 25600mAh capacity | 2x USB-C Ports, 1x USB-A and DC Barrel Jack | Can be used as Portable Charging Station | 1.14-inch LCD display | Real-time battery and charging status display
Today's Deal: $29.01 Off
USB-C Cables for iPhone 15
The biggest change for iPhone 15 is removing lightning and adding USB-C as the charging port. Here, we have some durable and efficient charging cables that also support fast charging. They work with every device and not just iPhone 15.
Anker 60W USB-C to USB-C Cable
The Anker 60W USB-C to USB-C cable is among the best USB-C cables you can buy for your iPhone 15 now that it comes with a Type-C port. Its compact size is a standout feature, making it an ideal companion for travel or for a clutter-free workspace. The E-Marker chip always ensures consistent and regulated power output of 60W at 3A.
Despite its small size, the cable doesn't skimp on quality. It is robustly built to withstand the rigors of daily use with a braided cable and is assured to last over 12000 bends, giving you peace of mind when using it. Furthermore, it's backed by a warranty, an assurance of Anker's confidence in the product's durability. The USB 2.0 standard guarantees up to 480Mbps data transfer speeds when connected to a MacBook.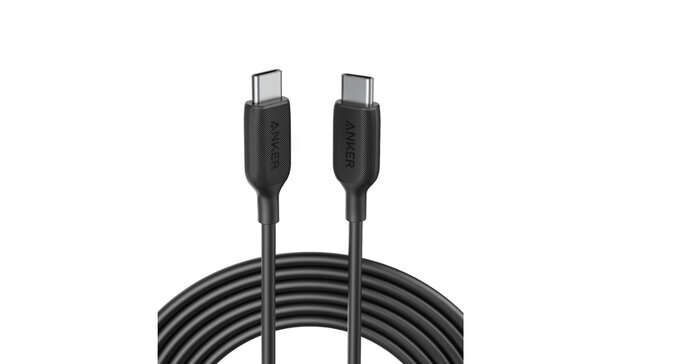 Key Features: Braided cable for durability | 60W Power at 3A | Tested up to 12000 bends | E-Marker chip for consistent voltage and current | USB2.0 standard supports up to 480Mbps file transfer
Ocetea USB C to USB C Cable
The Ocetea USB C to USB C Cable is a highly reliable charging solution that incorporates innovative features such as an LED display for reading power in both directions. This 1ft cable has the ability to deliver power charging and data transfer (USB2.0) between numerous devices, including MacBook Pro, iPad, and iPhone 15, making it highly versatile.
Technically, it supports 100W 5A charging, thus ensuring the fast charging of all your compatible USB-C devices. It also works with a wide range of adapters, giving it a distinct edge over its competitors. However, the cable is somewhat rigid due to its thickness, which is necessary to accommodate high-wattage charging. It supports PD charging and PPS standards for variable intelligent power supply.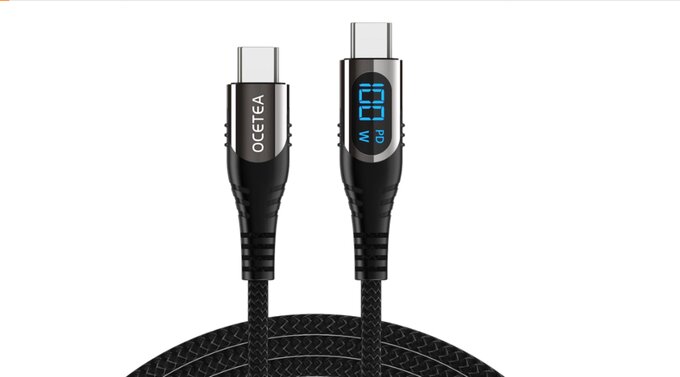 Key Features: LED display to show wattage | USB2.0 standard supported | Max 100W power at 5A supported | Rigid and durable | It supports Power Delivery and PPS standards
In conclusion, the iPhone 15 and its range of accessories are set to revolutionize the mobile phone user experience. With a new action button and USB-C port, the iPhone 15 promises enhanced usability. Furthermore, the shift to a USB-C charging port will align the iPhone with industry standards, providing convenience and faster charging speeds. Whether you're an Apple enthusiast or new to the brand, these enhancements are sure to impress.