RIM is storming with its most wonderful OS, Blackberry 10. RIM introduced 2 phones running on Blackberry 10. One is touch based Z10, which is different from its traditional touch based and the second one Q10 is keypad based. This may be RIM's last attempt to come back to smart phone market.
Let's have a flash look on the OS features along with a comparison Blackberry Z10 Vs Apple iPhone 5.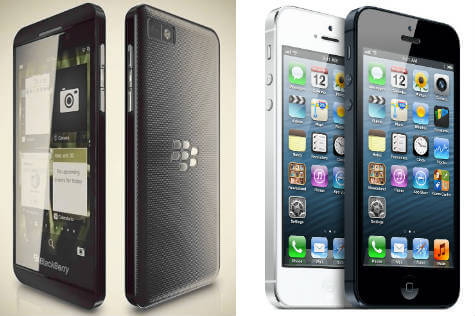 Blackberry Z10
Apple iPhone 5
CPU
Qualcomm 1.5GHz dual core
Dual Core A6 1.3GHz
Voice Command
Voice Control – commands type
Siri – Conversation type
Video recording
1080p HD video
1080P HD video
OS
BlackBerry 10
iOS 6
Display
4.2 inch wide screen multi-touch.
1280by768 pixel.
resolution at 355ppi
4-inch wide screen multi-touch
1136by640 pixel resolution at 326 ppi
New OS features
Blackberry Balance – for office and personal accounts.
Gesture based controls & Flow concept navigation.
Blackberry Hub for social inbox.
BedTime Mode.
Blackberry protect for remote wipe.
Blackberry messenger (BBM) for voice & video chat.
Storymaker apps for integrating voice, video & text.
Supports multiple email, social accounts and calenders.
Time shifted multiplayer gaming, Lightning connector, Passbook, Icloud, FaceTime, AirPlay,
Lost mode.
Video chat
BBM
FaceTime
Wireless
LTE
HSPA+
UMTS/HSDPA/HSUPA
GSM/EDGE.
802.11b/g/n wiFi
Bluetooth 4.0 wireless technology.
NFC.
LTE
HSPA+
UMTS/HSDPA/HSUPA(850, 900, 1900, 2100MHZ)
GSM/EDGE.
802.11b/g/n wiFi
Bluetooth 4.0 wireless technology.
Camera
8 megapixel camera
TimeShift mode for selection of best picture.
Image Editor.
Video recording HD 1080p.
2MP front camera.
8 megapixel camera
3264×2448
Panorama mode
LED flash
Video recording HD 1080p.
HD facetime camera.
Main Apps
Blackberry Maps, Facebook, Twitter, Skype, Kindle and more apps through Blackberry World.
Apple Mapps, Facebook, Twitter and more apps through iStore.
Power and Battery
Talktime: Up to 10 hrs 3G talk time.
Standby time:304 hrs.
Talktime: Up to 8 hrs 3G talk time, Upto 8 hrs of LTE or 3G browsing,
Upto 10 hrs of Wifi browsing.
Standby time: 225 hrs.
Browser
Flash & Webkit support.
HTML 5 support
Safari
Dimensions
height:129.8mm
width:65.5mm
thickness:8.9mm
weight:135gms.
height:123.8mm
width:58.6mm
thickness:7.6mm
weight:112gms
Price
$199 with Contract
$199 for 16 Gb, $200 for 32 GB, $399 for 64 GB. with Contract
The availability is expected from march on wards in US. Let's see the New Blackberry 10 OS will bring back the cheers for RIM.