Apple released the iOS 4 for iPhone and iPod touch, with plenty of features of iOS4. IOS4 packed cool shortcuts that save your time and make easy to operate iPhone. A couple of most important ones are Organize Apps, Create Folder, Rename Folder, Change Background, Close unused Apps and more.
1, You can organize apps into folders with drag-and-drop simplicity. This one is the coolest feature that help you to organise apps into folders and gives easy access to it. See the steps here. See the screen with applications.

Tap and hold any apps that you want to make a folder. Drag and place the application on top of any other icon, now both will create in an icon and you can rename the folder.

Now it will create folder for you and you can rename it on this screen. You can drag and drop more applications to it. Now you have several similar applications on the same folder. You can make number of folders like this and drag and drop to the same screen to organize it more easy way.
If you app freak this is for you. You can easily create app folders on your home screen, just tap and hold any icon on the home screen and drag n drop it above any app to create folder with apps together.
2, Now you can change your background wallpaper on your Home screen or in your Lock screen.
Go to setting, select wall paper, then it will show you collection of pictures in your iPhone/ iPod

Select whatever the picture you like from the screen. Tap on Set button, then the next screen gives you the choice to set in Lock Screen or in Home Screen. Select your choice from the menu.
3, In iOS4 you can easily switch between the applications.
You need to just double-tap the home button for quick app switching. Then you will get all the applications on the bottom bar.
To remove an application from running in the background, double-tap the home button, then tap and hold on an app until you see a red minus sign (-) on the corner of the app's icon. You can tap it to kill the app.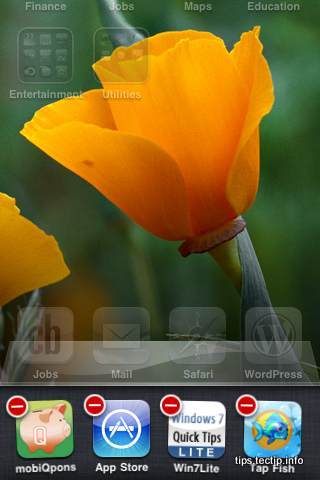 You can double-click the home button to bring up the app switcher, then Swipe to the left in the app drawer for iPod controls.
4, iOS 4 gives another cool feature to see messages from all your accounts in a unified inbox, organize messages by threads, open attachments in third-party apps, and more.
You can download iOS 4 from here. We will be updating the list when we get to know more shortcuts for iOS 4.