Good news for all iOS users, you can hide almost any application from your iPhone or iPad without using any third party apps or rooting. Well, Apple is not kind enough to allow other apps to do a system level access or changes in their operating system.
That means, like Android OS, you won't be able to do any folder locking or hiding unless you go through the iOS tedious rooting process.
But now the things are changing. There is a workout to hide any iOS apps from iPhone with 3 simple steps. Using this workaround, you can hide any unwanted apps that is coming by default with iOS or the app that you installed from iTunes.
I would recommend to try out this trick with a iOS default app like Tips app or Watch app. We are showing this workaround on iPhone 6 with iOS 9 and the app we select to hide is WhatsApp, that most people will like to hide from their family.
Step 1: Create New Folder and Move App into that Folder
First you have to create a folder by moving the 1-2 apps that you want to hide. You can do this into an existing folder, but, we don't want to mess-up with your critical apps.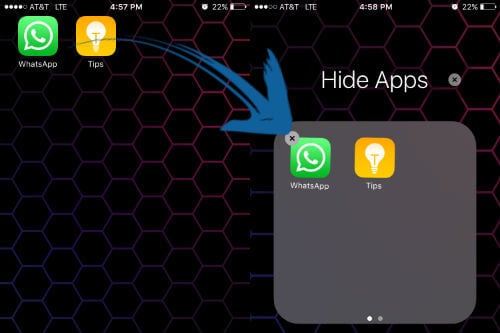 Step 2: Move App into second Page of Folder
Now open the newly created folder, and tap and hold on the app you want to hide until it starts to wiggle. Now tap and drag the app into the next page of the folder and you can see 2 dots on bottom of folder.
Step 3: Move App to end and Hide
Now your app is placed in second page of the folder. Tap and hold the app until the app start to wiggle again. You can see 3 dots bottom of the folder instead 2 now.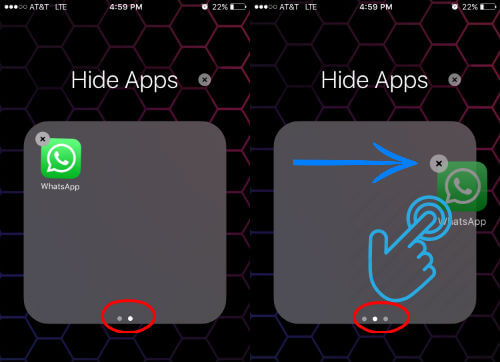 Now drag your app almost to the edge of the folder. By holding the app on the edge, press phone home button with other finger. Now your app that was on the folder edge will disappear.
Step 4: How to open hidden app
Well, if you know the app name, you can do a quick iOS search and your app will display on the search result. Notice that there is no folder name is displaying corresponding to the app location. Tap on the app from the search result to open the hidden app again.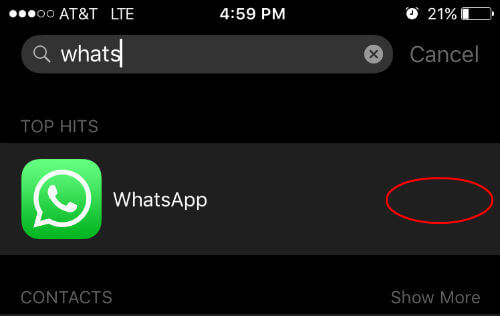 Step 5: How to retrieve back hidden app
This hidden app will be in hidden state until you restart the phone. Once you restart the phone, this app will display back on its last folder or the place where it was before.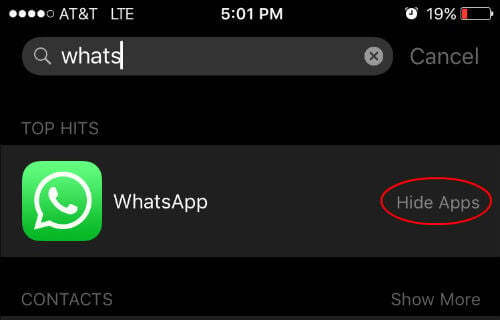 You can see the iOS displaying the app located folder name in search result after restarting the OS. You can open the app directly from this search result here or go to this Hide Apps folder to open the app.
Please be aware that, even though you hide this app, it will display in search result if you try to do a quick search on your phone. You can retrieve back this app again with device restart. If you want to hide it again after restart, you have to follow the procedure again.