What are the security measures on Mac you implemented to keep Mac safe? Maybe Mac Antivirus or sort of antivirus software for Mac. Usually, Apple device owners are not much bothered about Mac virus protection or Mac malware scanner.
Most of the Mac users believe their Mac OS is secured compared to Windows users. This is almost true; Mac is protected up to a certain level with built-in Mac security software.
Mac OS is shipping with a bunch of built-in security features to protect itself. These security features include virus protection for Mac, Firewall, FireVault for Mac, etc. Are these enough to protect Mac from virus and other online attacks? Well, there is no full bulletproof system to protect your OS.
Hackers keep working on new malware and scripts to hack your system. The best way to protect Mac is to keep updated the OS and Apps to the latest patches and releases.
In addition to Mac FireVault and Firewall, Mac OS X is coming with its Anti-Malware (Antivirus). Apple starts to ship this Anti-malware from Mac OS 10.6 and up words.
XProtect: Mac (Anti-Virus) Anti-Malware
Like Windows Defender, Mac OS X has built in Anti-Malware (Antivirus) called XProtect. This Mac Anti-Malware is a File-Quarantine System that compares a suspicious file downloaded from the internet against XProtect file (list of known malware) stored in OS X.
How is XProtect Protecting Mac?
XProtect is extended its protection on OS X through quarantine-aware applications like Safari, Messages, iChat and Mail. When you try to open any downloaded file coming through these guarantee-aware applications match with the malware definition file, XProtect will warn you with a pop-up window.

When XProtcet raises a threat, OS X recommends you to either move the file to Trash or Eject the threatening disk image. You can read the complete guide from Apple at File Quarantine / Known Malware Detection.
How to Open XProtect File Definition?
Use Mac Finder Go > Go to Folder (Command-Shift-G) > Enter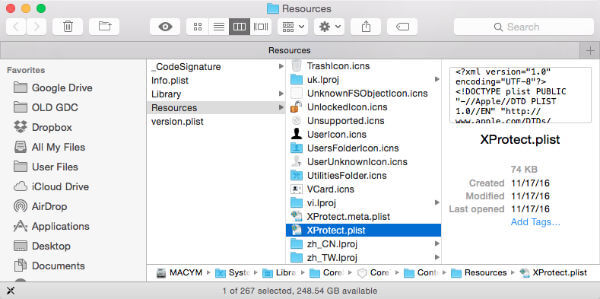 /System/Library/CoreServices/CoreTypes.bundle/Contents/Resources/ > select xprotect.plist to open.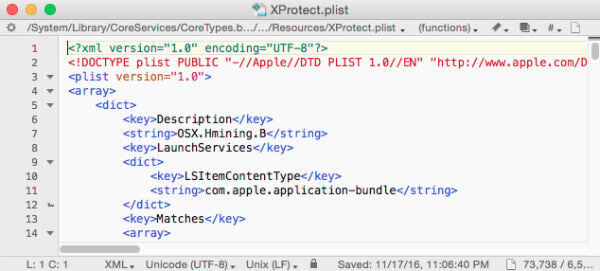 Alternatively, you can enter the URL below into Safari's address bar to reach the file location.
/System/Library/CoreServices/CoreTypes.bundle/Contents/Resources/XProtect.plist
How to Update XProtect?
Mac will release the new malware definition updates with regular OS X updates. Please make sure you enabled Mac Auto-updates. Go to System Preferences > App Store > Make sure checked in update checkboxes.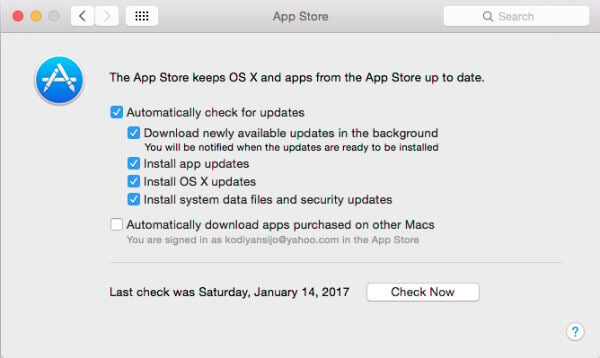 Apple will send notifications when new updates available. Accept the updates from Apple and keep your OS and Apps updates to the latest version.
Built-in Mac Antivirus Alternatives.
How efficient is these built-in malware definitions? Is Mac aggressive to update their malware definitions to keep OS protect always? It is a tough decision and entirely your call.
However, if you doubt something happen to your computer, please see the recommended list of Online Mac Virus Scanner. Those who want to use Mac Antivirus, please refer the list of Lightweight Mac Antivirus Software.
These apps are built to provide the virus protection for Mac and with a bunch of additional benefits. These apps are regularly updating to protect Mac from latest threats and malware definitions, better than Apple. These Mac antivirus apps are coming with friendly user interface to see the update status and threats, better than XProtect.plist