Firefox is a name that has been around long enough that enough people have heard of it. However, unfortunately, it's also a relic of the past now. A lot of people don't even know it still exists. Mozilla's Firefox may have lost its leading market share, but it is still a very relevant web browser. There are plenty of Firefox features that make it, still one of the best browsers around.
Not only is it one of the best, but perhaps, it is also the most important browser around today. Every other major web browser today is based on Chromium. If you didn't know, Chromium is an open-source browser by Google. Much like, Firefox is an open-source web browser from Mozilla.
There are plenty of Firefox forks out on the internet. They basically use Firefox as the base and build a browser on top of it with some additional tweaks. Similarly, Chrome, Edge, Opera, Vivaldi, and any other mainstream browser today are based on Chromium. Google adds its proprietary tech into Chromium to make it Chrome. Microsoft does the same to create Edge out of Chromium.
What makes Firefox Important?
Firefox is the only major web browser out there today that does not use Chromium as the base. As such, it is the only competitor, in whatever capacity, to Chromium's giant monopoly. Sure, Chromium is open-source, but Google maintains it. They get the final say in what goes in, and what does not. Without Firefox, we don't have any alternatives.
One can debate how free Firefox is from the clutches of Google, given it's only alive because Google keeps it alive. But that's a discussion for another time.
Best Firefox Features
For now, let's look at some of the best Firefox features that might make you want to try it.
Firefox Sync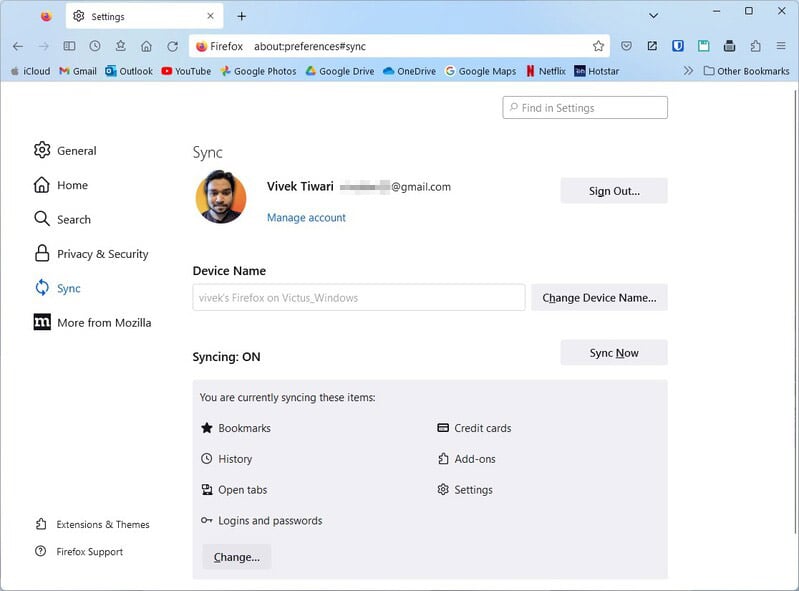 We use so many devices today to access the internet. There's no question that syncing across devices is the most important feature one would want on their browser. And other than brave, most browsers implement this by forcing you to make a user account. When you already have so many accounts, especially both Google and Microsoft accounts, creating another account just for a browser might not seem very appealing.
But, if you choose to create a Firefox account, you don't just get access to Firefox sync functionality but also other useful Firefox products. Of course, a Firefox account does let you sync and access your bookmarks, history, open tabs, logins, passwords, and settings. You can also control what gets synced in Settings > Sync.
Send Tabs to Other Devices
Let's say you're viewing a web page on your phone but realize it's better viewed on a larger screen. Alternatively, imagine that you are reading a long article, and it's getting late, you want to get under the blankets in your bed and read it on your phone. With Firefox sync, you can easily send an open tab from your desktop to your phone or any other device that you have Firefox on.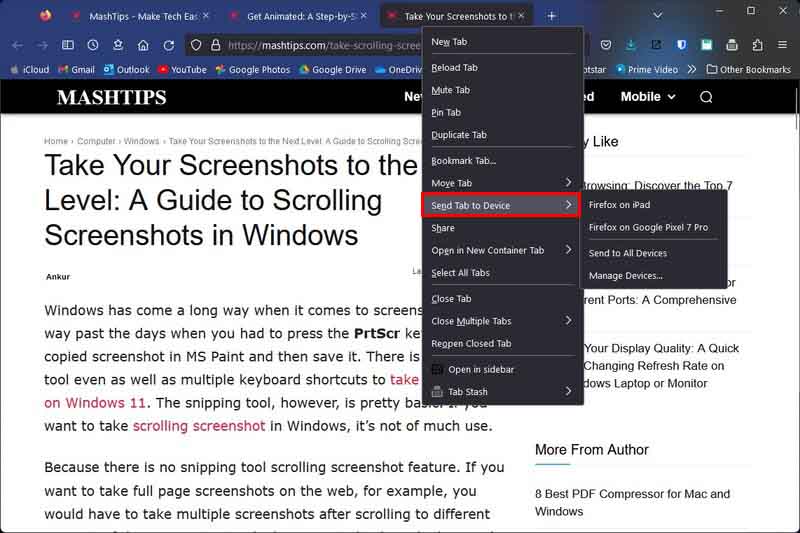 To do this, right-click on a tab.
Go to Send Tab to Device and select the device you want to send the tab to.
Firefox Android Add ons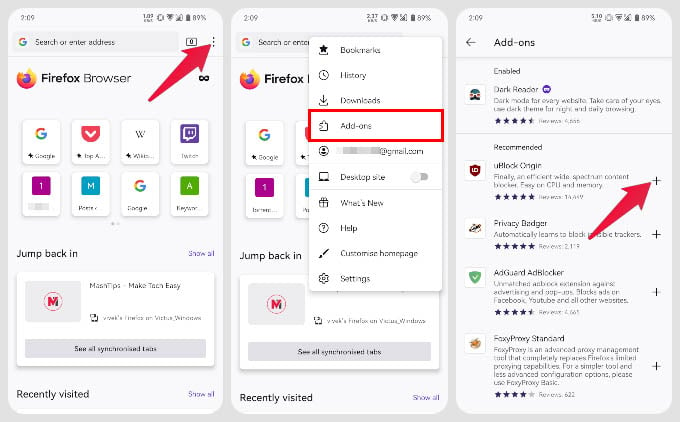 Whatever browser you use, you're probably using is on more than one device. This is necessary in the current scenario. Firefox is the only truly cross-platform browser available on Android that also supports add-ons. Firefox Android add-ons provide you with additional features that you won't find on most other Android browsers. We've already covered the topic in more detail, and you can check it out by following the link below.
Recommended: How to Install Firefox Addons on Android Phones and Tablets
Listen to Articles
Many browsers today have a reading mode, and so does Firefox. If you've never used or heard of it, reading mode essentially does away with distractions. It removes ads and other distractions on a web page. This leaves you with a wall of text, with the ability to make the text bigger or smaller per your preference. Firefox also lets you listen to the text instead of reading it.
Open the web page you want to read.
Click on the reading mode icon in the address bar.
Select the headphone button.
Click on the Play button.
As you can see in the screenshot above, you can adjust the speed as well as pick a preferred voice.
Prevent Email Spam with Firefox Relay
Almost every website these days requires you to sign up to access certain features or services. And almost all of them intend to send you emails that you definitely are not going to find useful. Essentially, it's very difficult to avoid spam emails these days. That is unless you use Firefox relay.
Firefox Relay is a free service you can access with your Firefox account. You will also need the Firefox Relay add-on, officially made by Mozilla. Essentially, Firefox relay gives you a fake email address to use as a mask for your original email address. Any emails sent to this "fake" email mask are redirected to your original email.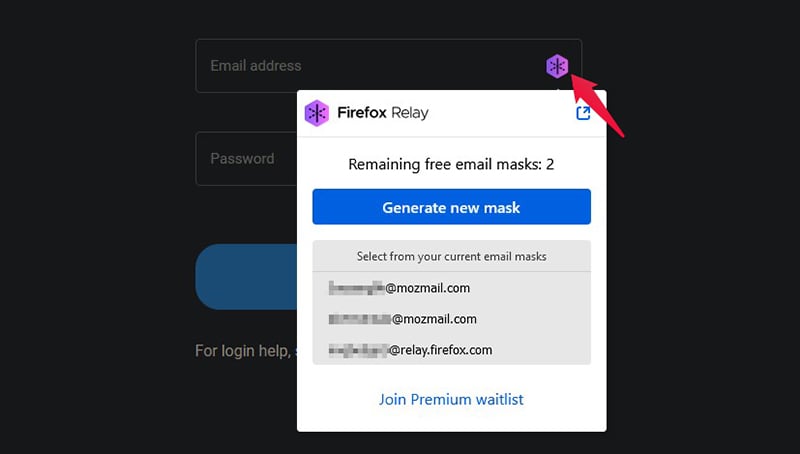 However, you can choose to block those emails anytime you want. This prevents websites from getting your real email as well. If you decide to pay for Relay Premium, you can get more control on which senders to block specifically, among other things. The add-on makes it easy to use your email mask instead of your real email by providing you with a button in the email input fields.
Restore Previous Session
Closing a Window is rather easy, isn't it? You just click on the close button, and poof! Gone in an instant. So, what do you do if you had 10-20 or even more tabs open while working and accidentally closed Firefox? Luckily, Firefox remembers. If you're ever in a situation like this, you can easily restore your previous session.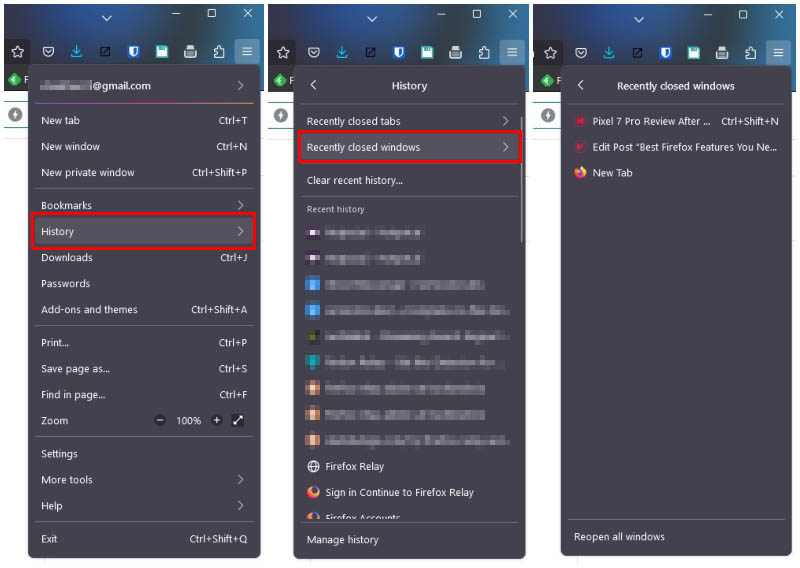 Click on the hamburger menu button.
Select History.
Click on Recently closed windows.
Select the recently closed window you want to open.
Use Picture-in-Picture
Some of us like to multitask and watch a video while working or doing something else. These days, it is rather easy to do, even on the phone, with a feature called Picture-in-Picture. Essentially, it minimizes the video being played in a borderless floating window that stays on top. On your desktop, it isn't that easy, which is ironic.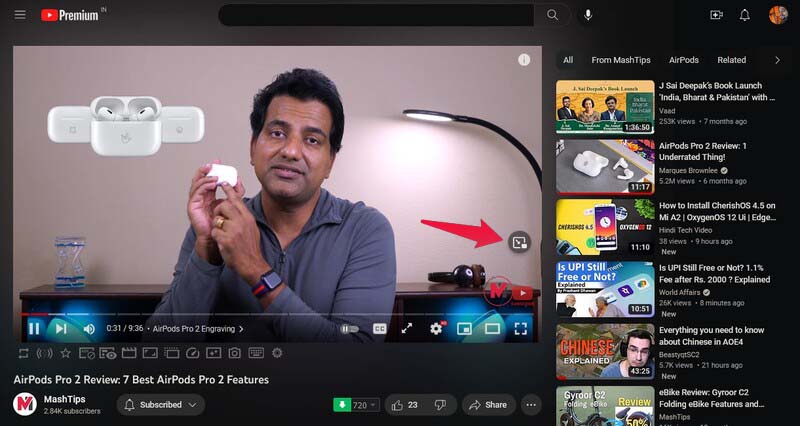 At least, if you're using Firefox, it is. Whenever you're watching a video that you want to keep watching despite switching tabs or something else, just hover the mouse over the video. You should see the PiP button; click on it. Your video immediately pops out of the browser window. You can now switch tabs and do other things.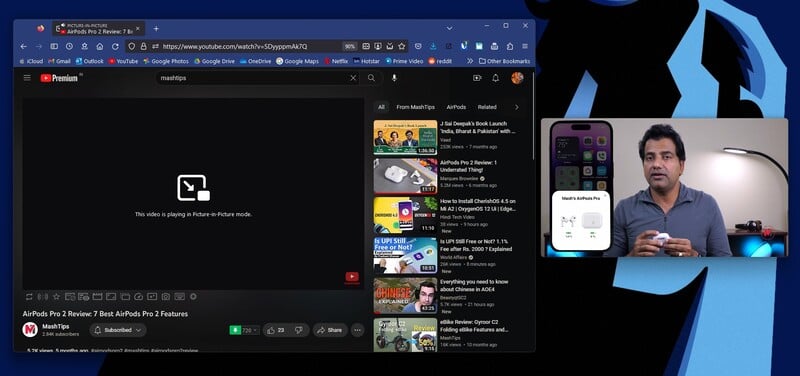 The video stays on top of every other window as well, so you don't have to worry about not being able to see it.
It's not as popular as Chrome or even Edge today. So, many of the features mentioned here are probably unknown to most people. If you're a regular Firefox user, you've probably spent some time discovering all of them. If there are some Firefox features you think everyone should know about that we did not mention, let us and everyone else know in the comments.