Ever since WhatsApp added the WhatsApp Status feature, users have been curious about how to save WhatsApp Status images and videos. WhatsApp lets you upload an image or video that will disappear after 24 hours automatically. This means you won't find proof of your silly self years later as you do on Facebook, but maybe someone else will.
It's easy to save WhatsApp Status images and videos from other user profiles. And remember, your friends can do this too. And thus, they can definitely save your crazy status updates.
WhatsApp Status
Facebook and all the apps owned by it have been quite fond of the Snapchat stories feature. Facebook, Messenger, Instagram, and WhatsApp have all implemented their own versions of that into their respective apps.
WhatsApp included the feature officially back in February 2018 and they call it a status, not a story. The premise is basically the same. Because the image or video you upload disappears after a certain period of time, users feel more secure. Whereas on apps like Instagram or Snapchat, this feature is more privacy-focused, WhatsApp never claimed your photos couldn't be stolen.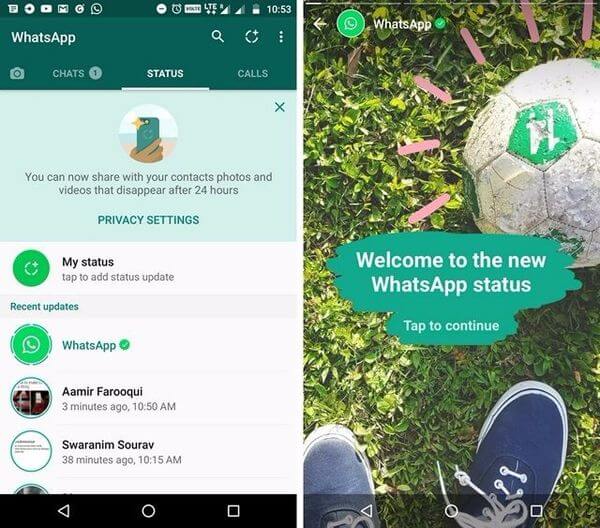 Unlike even other messaging apps, WhatsApp stores all its data on a user's device. This obviously has implications. Any WhatsApp Status that you view is downloaded onto your device. So any WhatsApp Status images or videos that you've seen are right there on your device. You don't even have to try and find a hack to download them. All you need to do is to know where to look.
Also read: How to Use Memoji Stickers on Snapchat Chats
Save WhatsApp Status Images & Videos
There are a couple of ways to permanently save a WhatsApp Status to your device. Both will exploit the same fault (or feature) but the difference lies in one of the methods being manual while another is done by an app.
Solution 1 – Manual, Using a File Explorer
You can use any file explorer that you prefer for this as long as it can show hidden files. Some file explorers have this enabled by default, while on others you'll have to enable the feature. We obviously can't show you how to do that on each and every file explorer app out there. So for this tutorial, we'll use Solid Explorer File Manager, which is what I personally use and love. If you'd like to try it too you can install it as a free trial from the Google Play Store link below.
Download Solid Explorer File Manager from Play Store
Show Hidden Files
On Solid Explorer, just tab on the three-dot menu button in the top-right corner and select Folder options. Next, check the Show hidden files option and that's all.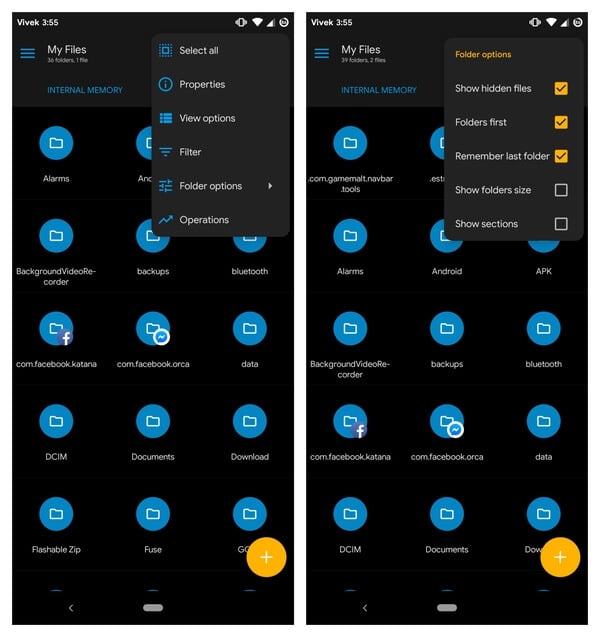 Navigate to WhatsApp Media Folder
Once hidden files are visible, scroll down to the WhatsApp folder on your device's internal storage and tap on it. Inside you'll find a folder named Media, among others.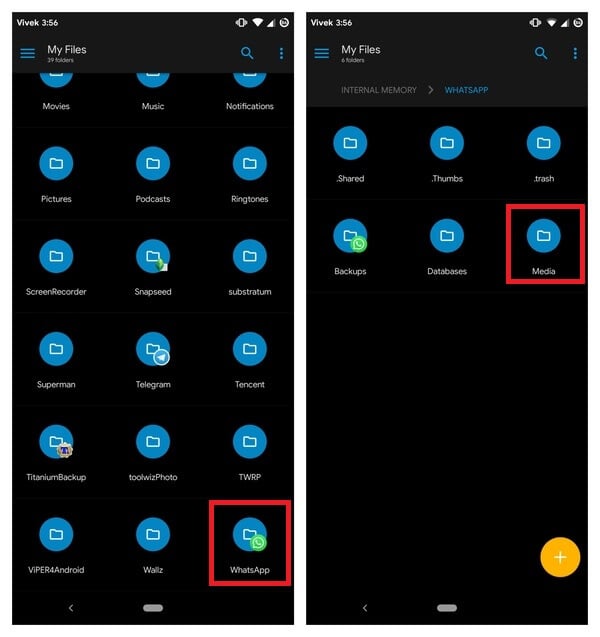 Find and Save WhatsApp Status Images and Videos
Get inside the Media folder and you should see a folder named .Statuses if you have hidden files visible. This is the folder where all the WhatsApp Status images and videos that you've seen are stored.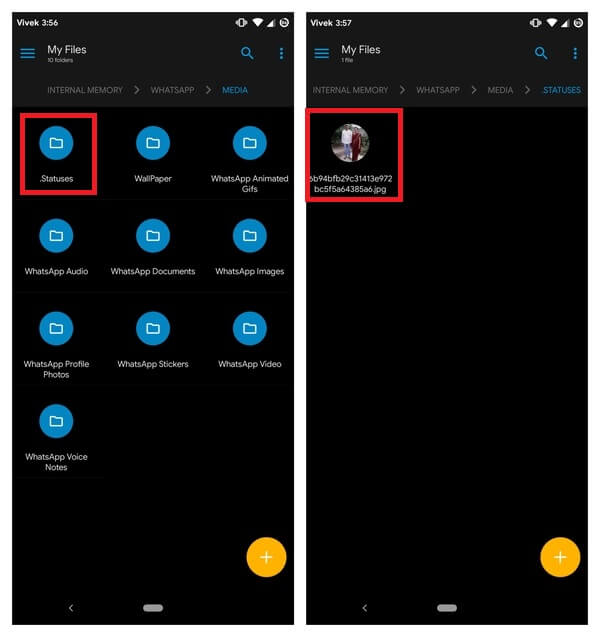 After the given time period, the app will automatically delete the downloaded media file. So if you want to save it permanently to your device, just copy or cut the image or video file to literally any other location outside of the .Statuses folder.
Also read: How to Lock WhatsApp on iPhone without Any Apps?
Solution 2 – Use A Dedicated App
WhatsApp is a very popular app with more than a billion users worldwide. Naturally, it is also very popular amongst developers. There are many apps that aim to provide users with features that the official WhatsApp doesn't. One such app is Status Saver. As you may have guessed, it lets users save WhatsApp Status images and videos. There are many apps on the Play Store that let you do that and it would be hard to tell which came first.
The app we're talking about is quite popular, enjoys a good rating and also has some knock-offs. So make sure you download the correct app from the link below because we can't guarantee whether all those other knock-offs will work.
Download Status Saver from Play Store
Grant Storage Permission
When you first launch the app, it will ask you to grant it Storage access permission. This is essential for the app to monitor the hidden WhatsApp status folder for any new status image or video downloads. Therefore, tap on GRANT and then Allow the app the permission to read and write files on your device's storage.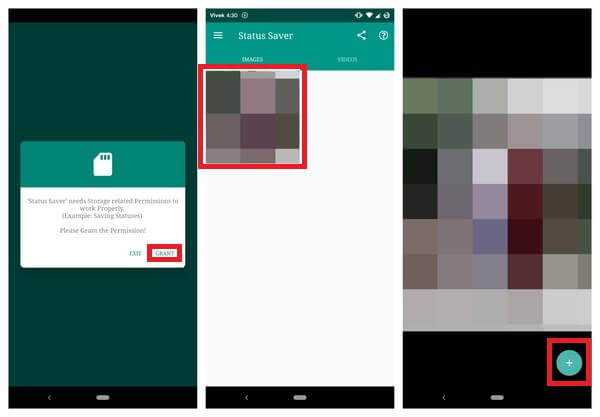 When you do that, you can see all the WhatsApp Status images right on the app's main page. Videos have been given a separate tab so that images and videos are easily differentiated. Tapping on any of the available statuses will let you view it.
Save WhatsApp Status Images and Videos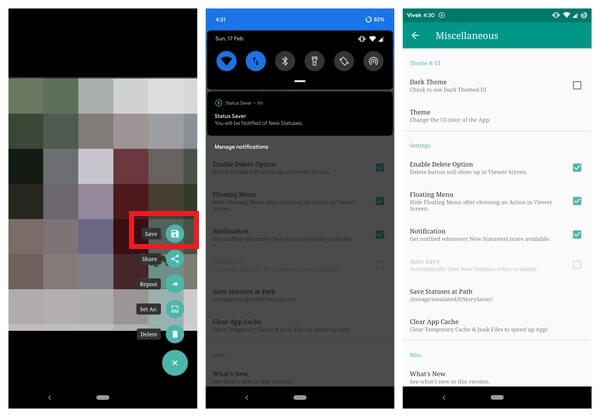 To save a status image or video, tap on the + button in the bottom-right corner when you're viewing it or simply long press on the status in the gallery view. This will bring up the Save option at the top of the app or as a floating action depending on whether you long-pressed the thumbnail in gallery view or touched the + button.
The app also shows a persistent notification letting you know about any new Status images or videos that are available for download. There are also a few things you might want to look at in the Settings.
Bonus Method: Take A Screenshot
In case it wasn't already so obvious, you could always take a screenshot when viewing a WhatsApp status. This isn't as neat as any of the above methods though and you can't really save a video this way. For that, you'll need to screen record which isn't even a built-in feature on many Android smartphones.