We see how different technologies help improve our day-to-day work in this ever-changing world. The same can be said about how 2023 has been going so far. Many AI tools have been beneficial when it comes to getting work done easily and quickly. Google Workspace, a suite of cloud-based productivity tools, has embraced this trend by offering a variety of AI-powered add-ons that can supercharge your efficiency and productivity. Whether you want to optimize your email management, enhance your data analysis, or improve your writing, these AI-powered tools are here to help.
Today, we will look at the best AI-based add-ons you can install and use with a number of Google Workspace Apps.
Best AI Add-Ons For Google Workspace Apps
The most appealing feature of these extensions is that they are simple to install and the majority of them are free to use (although some require a purchase after the free trial). Furthermore, these extensions are only linked to your Google account, so you can use them on any computer if you are logged in with the same account.
Chat GPT For Sheets and Docs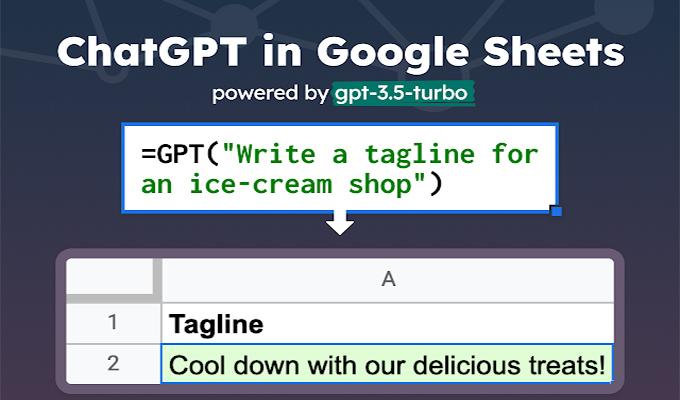 With a lot of people incorporating AI into their work, now, even you can incorporate AI into Google Sheets and Docs to get help from AI. This add-on is based on Open AI's ChatGPT. You can issue prompts and commands to the AI to get tasks such as writing, translating, and summarizing your content in Google Docs. Additionally, you can also use this AI tool in Google Sheets to get your calculations and other mathematical functions that you would use on a regular basis in Google Sheets for your tables and data presentation.
Key Features: Perfect For Google Sheets and Google Docs | Supports Formula Creation and Table Organization | Can Easy Summarize Documents | Arrange and Organize Lists | Easily Expand Written Content | Based on Open IA's CHat GPT | Free To Use
Get: Chat GPT For Sheets and Docs (Free)
SlidesAi.io Create Slides With AI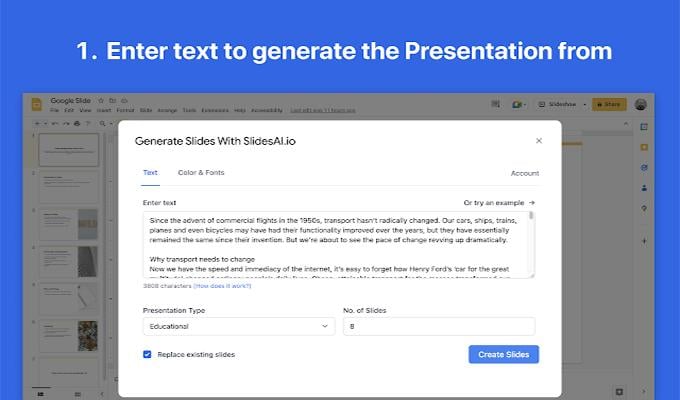 Creating presentations on certain topics can be a hectic task. It only gets worse if the due date for the submission is quite near. Thankfully, there is an AI tool that can help you create presentations faster than you could imagine. No matter what type of presentation style you want, the LSides AI creation tool will get it done for you instantly. The only thing you need to do is provide the content or text to the tool and leave it to do its job. Best of all, anyone who has seven basic or zero ideas about creating slides can easily get their work done with this AI tool for Google Workspace.
Key Features: Create Slides Quickly | Multiple Styles and Template Choices | Customizable Color Palette | Does Not Require Additional or Unwanted Permissions | Keeps Data Secure | Easily Export Presentations For Sharing
Get SlidesAI.io Create Slides With AI (Free)
GPT For Google Docs, Sheets, and Slides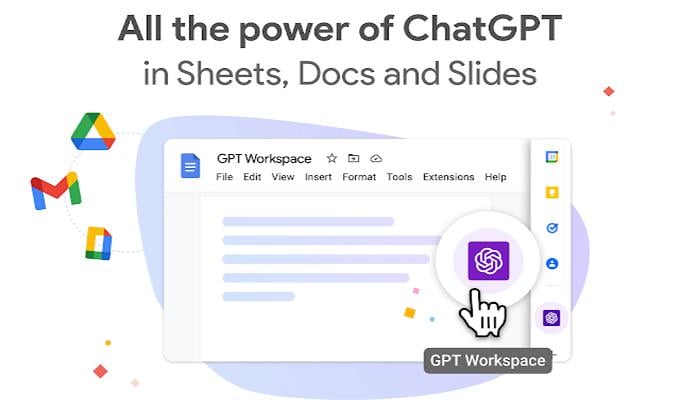 We all know how you can use Chat GPT and other AI chatbots to get your tasks done quickly. Now, how about getting Chat GPT and Goole Bard integration within your favorite Google Workspace apps? With a simple add-on, you can get AI to do your tasks within these Workspace apps right away. There are many functions for you to use based on the app that you are currently working on. It is simply a matter of clicking on the Chat GPT logo and using the many functions that are available for you to use right away.
Key Features: Premium Chat GPT Features | Works With Slides, Docs, and Sheets | Individual Commands and Functions For Different Apps | Simple One Click Use | Premium Unlimited Plans Available | Built on Chat GPT and Google Bard AI Models
Get: GPT For Google Docs, Sheets, and Slides (Freemium)
Reclaim.ai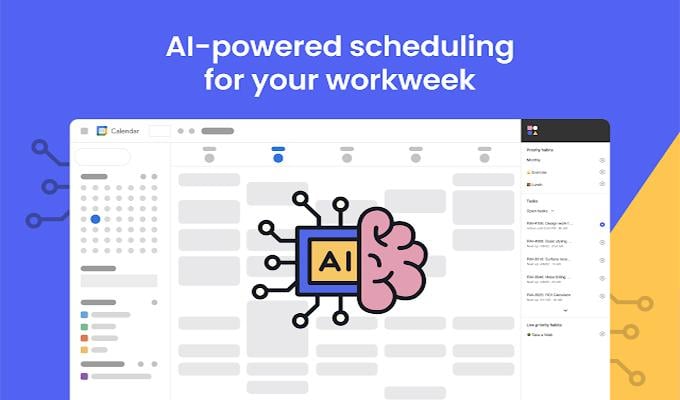 How about having an AI best smart scheduler for your Google Workspace apps? If you're someone that uses Gmail and Google Calendar on a very regular basis and have to deal with a lot of meetings, the Reclaim.ai tool is for you. This AI tool works like your assistant but in a faster and more productive manner. For starters, you can easily fix schedules, and also tell the AI tool how to arrange such meetings and priorities. Now, if your calendar is filled up, Reclaim.ai will automatically rebuild a new schedule for you within a matter of seconds.
Key Features: Auto Schedule Tasks | Block Flexible Times | Quick Sync between Gmail and Calendar | Color Coding Schedules | Quickly Rebuild New Schedules | Integrate Slack Status Into Relcaim.ai | Prevents Adding Meeting To No Meeting Days
Get: Reclaim.ai (Free)
Numerous.ai: Chat GPT For Sheets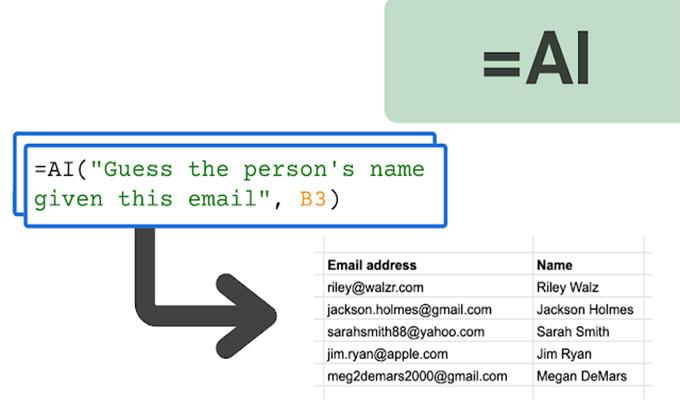 Stop doing repetitive tasks manually in Google Sheets! With the new Numerous.ai add-on for Google Sheets, You can use a number of functions that you would regularly use in Sheets by now adding the AI function. You can ask it to format all the cells in your sheets, categorize multiple rows, and make the AI write certain lines, based on the type of prompts you give it. Best of all, if you cannot understand a complex formula from someone else's Sheets, you can ask this AI add-on to explain it to you.
Key Features: Easily Automate Repetitive Tasks | Formats Cells | Categorize Rows | Perform Analysis | Easy Train The AI Tool | Create Simple Texts Using Prompts | Use Texts Instead Of Formula For Calculations | Ask AI To Explain The Formula
Get: Numerous.ai Chat GPT For Sheets (Freemium)
Docsium GPT AI Writer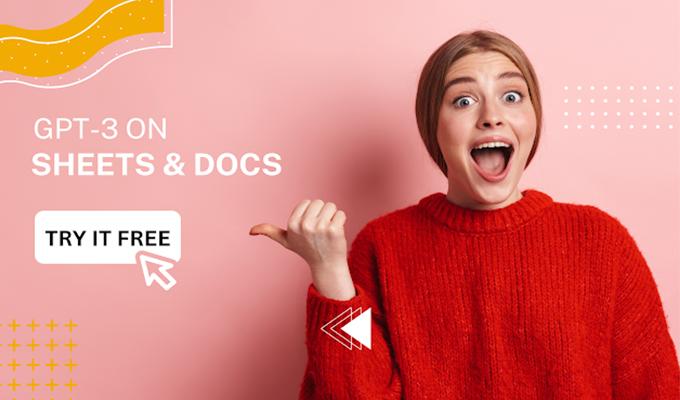 How cool would it be if you could automate certain tasks which would help you save some time? The Docsium AI Writer is your go-to writer for Google Docs, Sheets, and even Slides. You can use Open AI's Chat GPT 3 to perform a lot of your repetitive tasks and other research tasks within the Google Works[ace apps. You can choose to go with the free plan which should be good enough for most users out there. You get a certain number of free credits that lets you use the AI chatbot tool within these apps.
Key Features: AI Assistant Writer | Supports Google Docs, Sheets, and Slides | Free Plan With Credits | Summarize and Re-Write Text | Perform Claucations | Organize Data | Automate Repetitive Calculations
Get: Docsium GPT AI Writer (Freemium)
ReplAI- Chat GPT For Gmail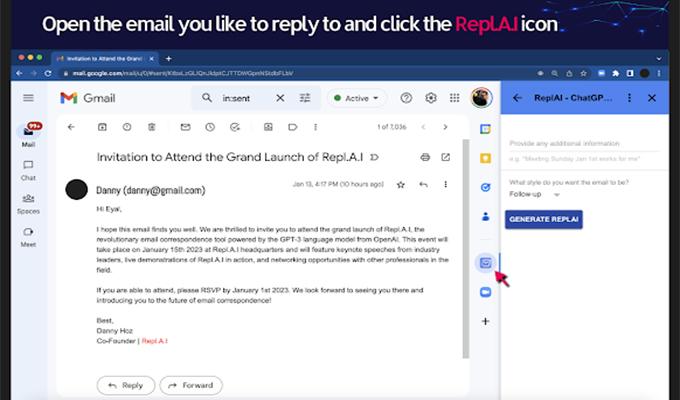 ReplAI is a simple and easy-to-use add-on to Gmail. All it does is observe the email sent by the sender and then help you formulate a reply based on the sent message. This happens quickly and you do not have to waste time formatting or proofreading your reply a hundred times before ending the email. Repl.AI will help organize all your emails, help you stay efficient and always be assured that corresponding via email is always at its best levels.
Key Features: Smart Assistant For Gamil | Free Trial Available | Based on Chat GPT | Create Sensible Replies To Emails | Easily Organize Emails | Helps Avoid Proofreading and Editing
Get: ReplAI- Chat GPT For Gmail (Freemium)
Writi,io AI ChatGPT For Gmail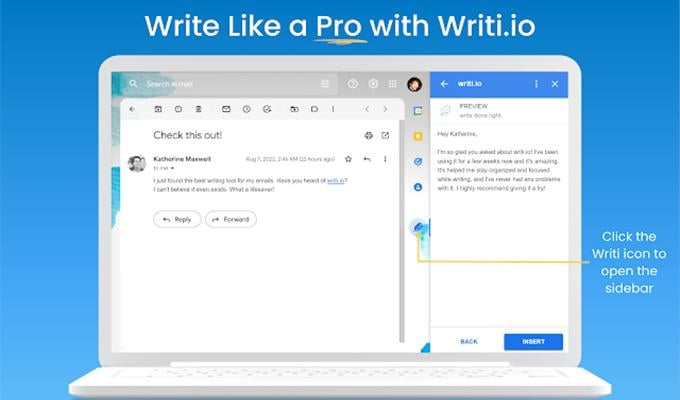 Writi.io is your go-to AI add-on for Gmail when you want to send and reply to emails as quickly as possible. You can now draft and automate your emails with this IA add-on. You get to choose in what tone the AI tool is going to write. You can also add certain keywords to the AI which will help it to create a message based on the words you provide. Writi.io can also generate responses automatically and even send them if you want to quickly reply to emails.
Key Features: Manages Grammar and Proofreading | Simple Interface | Manages Emails | Creates Replies | Provides Quick Suggestions | Works On PC and Mobile | Supports Windows, ioS Android and macOS | Free Three Day Trial
Get: Writi.io AI ChatGPT For Gmail (Freemium)
WriteMate- AI Writing Assistant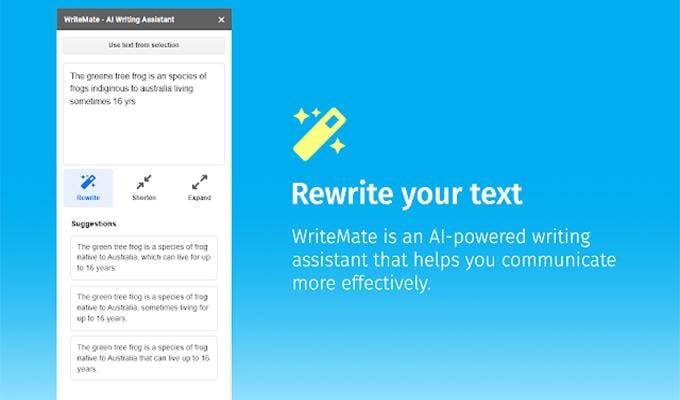 For those who use Google Docs to write out content, you can now use AI to help with writing out content. With the WriteMate AI add-on for Google Docs, you can easily ask the AI to write or complete your paragraphs, change the tone of your writing, ensure correct spelling and proper grammar as well as be able to generate various writing ideas. The tool also has its built-in thesaurus that you can use to switch or swap words to make your writing sound for the audience it's meant to
Key Features: Easily Write Content With Select Prompts | Rewrite and Shorten Content | Easily Change Writing Tone | Choose Different Author Styles | Get Ideas and Suggestions For Various More Topics To Write About | Built-in Thesaurus | Free Trial Available
Get: WriteMate- AI Writing Assistant (Freemium)
Actable AI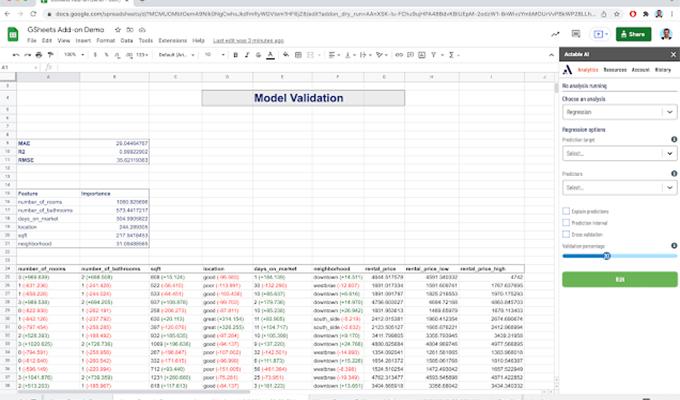 Here is an AI tool that is perfect for those who have to deal with Google Sheets on a daily basis. The Actable AI is your add-on for Google Sheets that lets you analyze all types of data with proper insights, unbiased and accurate data. This is a great tool for those who are Data Scientists and Data Collectors You can easily view all your data that has been organized and arranged by the add-on within Google Sheets.
Key Features: Correlational Analysis | Predictive Analysis | Time Series Forecasting | Data Cleaner | Helps In Clustering and Segmentation Data | Causal Inference
Get: Actable AI (Freemium)
These are the best AI-based add-ons that you can use with Google Workspace apps. Sure, the list is small, but it is slowly and surely going to start increasing once a lot of users get the hang of AI tools and realize how beneficial these tools are which not only saves time but also helps you to become even more productive. The AI tool that works perfectly for your task is always the best AI tool there is when talking about Google Workspace apps.