While technically, browser extensions existed even with Internet Explorer in the form of "explorer bars," Firefox popularized them. And today, Firefox is the only major browser on Android that supports extensions or add-ons.
While the selection isn't as huge as on a desktop, you can install a decent number of Firefox Android Addons. If you're willing to dive and get a taste of Firefox Android add-ons, here's how you can install them.
How to Install Firefox Android Addons
Firefox Add-ons, for those who don't know, are essentially browser extensions that we're so used to today on every desktop browser. Firefox was the browser that showed us how powerful and useful browser extensions can be. On Android, Firefox has struggled, however, mostly because of itself. There are only a handful of extensions that Firefox supports on Android. And the situation has not improved much in nearly half a decade, if not more.
First, you will need to have Firefox on your Android device. If you don't already have it, you can download it free from the Play Store.
Download: Firefox Fast & Private Browser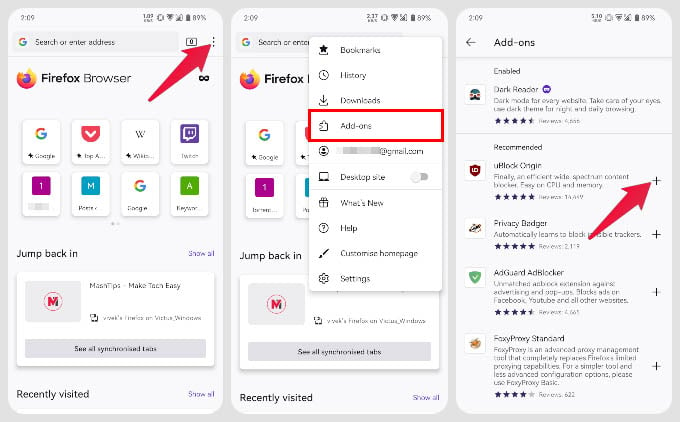 Open Firefox on your Android device.
Tap on the three-dot overflow menu button to open the menu.
Select Add-ons.
Scroll down to find an add-on you like and tap on the + icon next to it.
Tap on the Add button to install the Firefox Android add-on.
Next, check to Allow private browsing if you want, and tap Okay, Got it.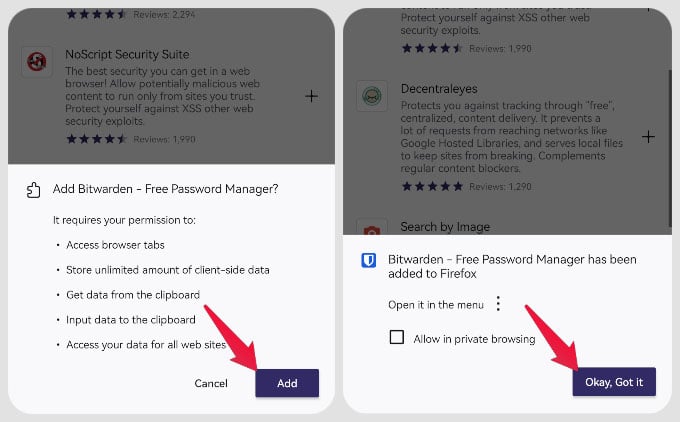 At present, there are a total of 18 Firefox Android add-ons. This number pales in comparison to the thousands available on the desktop version of Firefox. Then again, this is infinite times the number of add-ons or extensions supported by other major browsers on Android, such as Chrome, Edge, Opera, etc.
Useful Firefox Add-ons to Try on Android
While Firefox has a few good things going for it, the reality of the web today is Chrome dominated. Whether desktop or mobile, every major browser is based on Chromium, except Firefox. For the uninitiated, Chromium is the open-source codebase maintained by Google, on top of which it builds Chrome.
As a result, most web developers code for Chrome, not Firefox. Especially Google, which deliberately ensures that its websites and services are better optimized for Chrome. Thankfully, some third-party Firefox Android add-ons can help this situation and others.
Google Search Fixer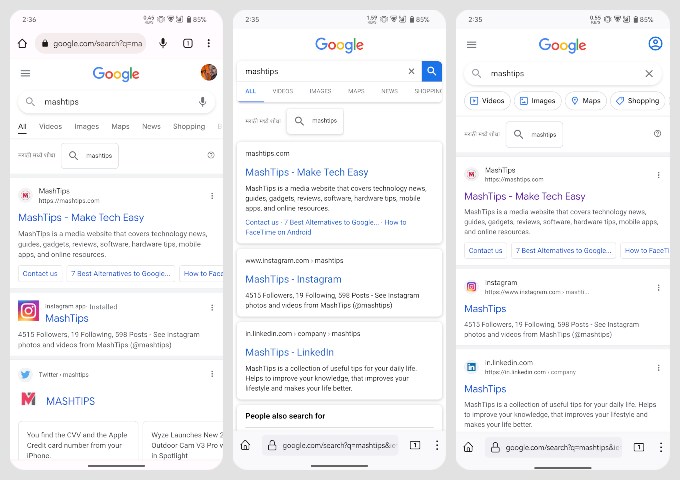 As you will notice in the screenshots above, Google search results look weird on Firefox. They lack the website favicons and follow the older card style display. With the Google Search Fixer add-on, things aren't the same as on Chrome, but they're better than before.
YouTube High Definition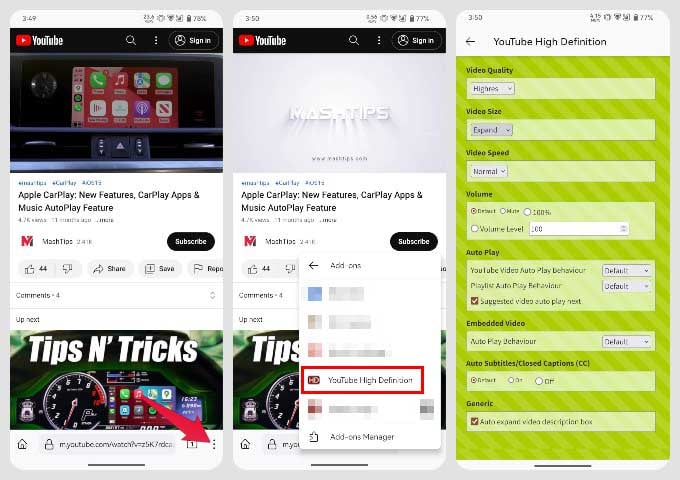 If for some reason, you want to watch YouTube videos on a browser on your phone, it can be frustrating to select HD quality every time. YouTube keeps defaulting to the "Auto" setting, which sometimes is not as smart as Google thinks.
YouTube High Definition makes sure YouTube is always playing in HD. The add-on also gives you some other configuration options, which can come in handy.
Search by Image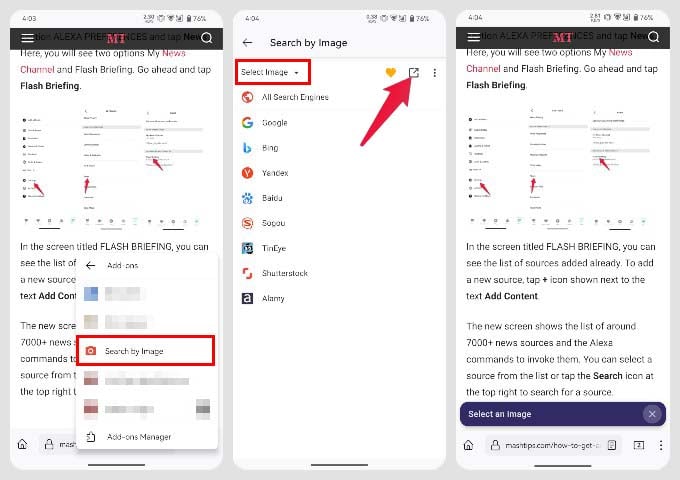 Search by Image is a Firefox add-on that most people should have, even on the desktop version. It allows you to do a quick reverse image search on any image on a page, which is something Chrome or Edge can do easily, being Google and Microsoft products, respectively. Both these companies have their search engines capable of reverse image search. Mozilla does not have its search engine, however, so the functionality isn't baked into Firefox.
You can find many other Firefox Android add-ons on the Add-ons manager page. The good thing is, due to the limited number of add-ons, you don't have to browse around different pages like you would on the desktop. Every available add-on is listed in the Add-ons manager. This wasn't always the case.
There are more add-on we covered and if you want to do more add-ons, you can see more Firefox Add-ons for Android here.
FAQ: Can I add extensions to Firefox on Android?
Can I add extensions to Firefox on Android?
You can find and install extensions to Firefox on Android in the Add-ons manager. Currently, you cannot install every extension available for Firefox on the desktop. Developers must port them for the Android version before they are listed in the Add-ons manager.
Does Firefox mobile have add-ons?
Firefox supports add-ons on Android. However, the iOS version of Firefox does not support add-ons due to platform limitations.