Gmail provides multiple configuration options while configuring in Thunderbird. It can be configured as POP3 format in default and IMAP format also. You can configure your email as POP3 account if you don't want to manipulate your INBOX from your email client. You can read your incoming mails and you won't be able to delete your mails in your email Inbox with the email client.

IMAP offers complete administration of your INBOX from your email client. If you delete a mail in your email client, the mail will be deleted from your email account unless you are reconfiguring it in another way. POP3 configuration of Gmail account is default in Thunderbird. To configure as IMAP account it just needs a small change from the default procedure and that we will discuss here.
Open Thunderbird and Click on Tools—> Account Settings. You will get the account configuration options window with your existing accounts. In that window, Click on "Account options" and then click on "Add Account". New Account configuration window will appear. In that window, enter your name, email address and password in the respective fields.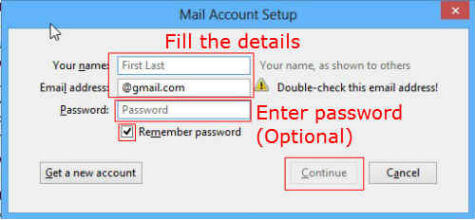 After entering the details, click on "Continue". Thunderbird will look the configuration in their server and after that it will prompt with the available configurations. The default selection may be POP3 and IMAP will be optional. Here we have to select "IMAP".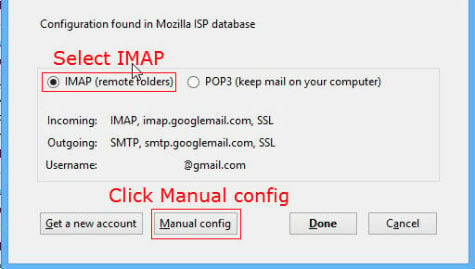 Now the account is ready to configure as IMAP in your PC/Laptop. If we want to configure any advanced options, we can click on to the "Manual config" Button. It will show the port details and server addresses. If we want to configure manually or the automatic configuration fails to detect settings, then we need to enter this configuration settings manually. Also if we are using any other email client other than Thunderbird, we can enter these settings manually to configure the account.

After verification of the manual settings or change of the configuration, you can test the settings with the "Re-Test" button provided before setting up the account. Finally you can Click on "Done" button to complete the configuration.
Now the mail configuration is completed and it will show in the accounts list. To start syncing of this account, just click on the account and it will start syncing immediately. If you have installed "Lightning" with Thunderbird, then your calendars will also start syncing. If you want to know the Lightning installation, see this article. Sync your calendars with Thunderbird. It is also possible to add the same account as POP and IMAP accounts separately with Thunderbird and you access both types at same time. Similarly you can add your chat accounts with Thunderbird like Facebook chat etc. by selecting "Add Chat Account" from the account configuration window.