BSNL is introduced new App for the Android and Windows Phone users to pay their bills. Now there is no need to reach out to the PC/ Laptop to pay your BSNL bills.
You can pay your bills from your Android and Windows Phone Mobiles and Tablets using the new bill payment app. The procedure is simple and similar to the web portal procedure without registration.
To begin with Install the app from the Google Play Store or Windows Store. After installation, open the application.
In the first time, it will ask for the mobile number and email id for the alerts. Enter your mobile number and email id to continue. You can also skip this step if you want and it will ask again while you are paying your bills. Then you will reach into the home page.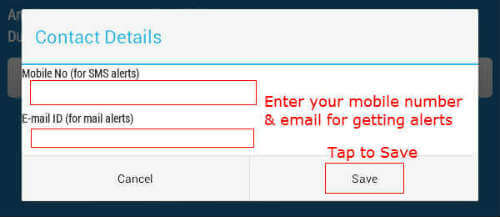 In the next screen, you have to select the type of bills to be paid like Landline/Mobile/CDMA etc.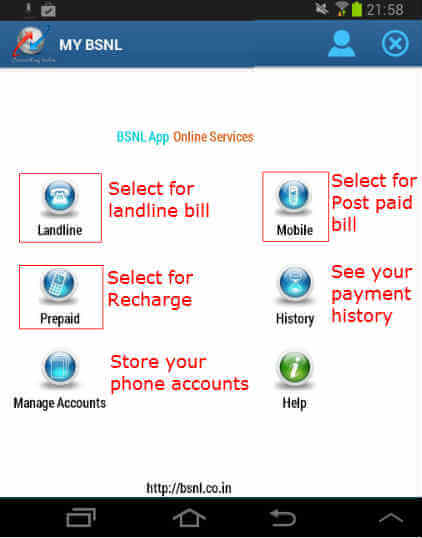 Now enter your Landline/Mobile/CDMA number in the given fields. Also carefully enter your Account number from any of the previous bills in the respective field. Then Tap on "Submit".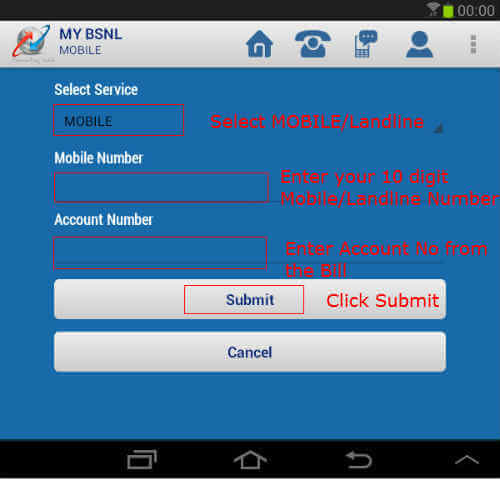 Now the BSNL App will fetch your bill details from the server and display for you. Verify the bill details and if you ready to pay the  Tap on "Pay Now".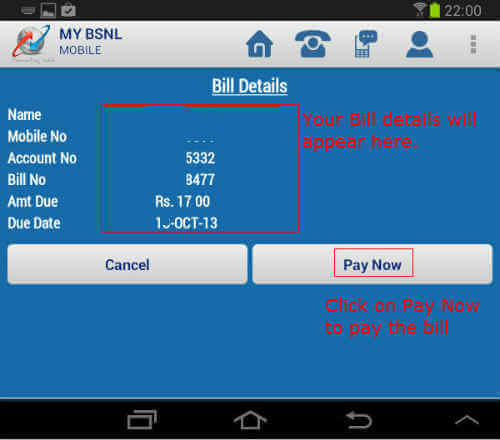 If you are not entered the mobile number and email id for alerts before then it will prompt here again. You may enter the required details in this screen also.
Now you will be taken to the payment gateway portal where you have to select the mode of payment like Credit Cards, Debit Cards, Internet Banking etc. If you are selecting Internet Banking, then it will show the available banks in another window. After selecting your bank, it will come back to the previous menu. Now you can Tap on "Submit" and you will enter into your bank site and you can proceed to payment.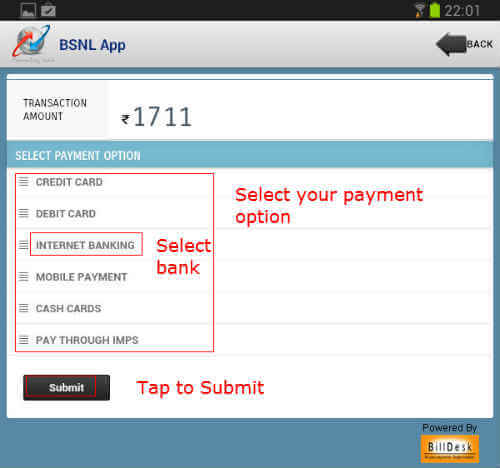 The BSNL Mobile App can also be used for recharging or Topping up of BSNL prepaid mobile connection. Go to the Prepaid menu and enter your mobile number and the required amount and then proceed for payment. This App simplifies the payment procedures and all things you can perform from your mobile device on the go. It makes much convenience to most of the users if the iOS version is also released.