As any smartphone or other digital devices, there are several reasons you should reset your Apple Watch. The device can go wrong or stuck at some screens during the normal daily operation, which leaves you no other option but to reset. There are several ways you can reset your Apple Watch.
Read further to know how to hard reset Apple Watch, on any series.
Why Do You Want to Reset Apple Watch?
Apple Watch is currently one of the best smartwatches you can get from the market. It has gained much popularity with tons of features, and the best compatibility with iPhone, and well known for its reliability. However, sometimes, it can also go wrong. You may not do anything else, but to reset or restart your Apple Watch. Here are some occasions you should want to reset or restart your Apple Watch in order to get it to the fine working condition.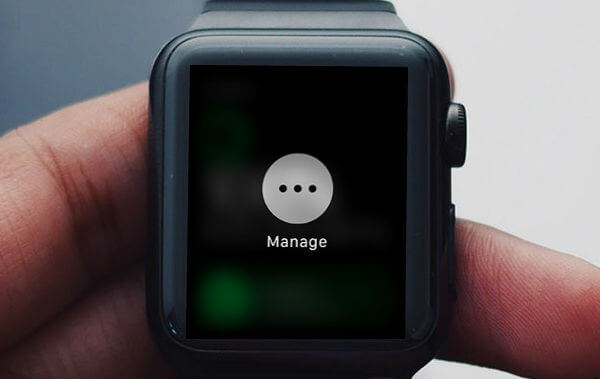 Manage Screen: You will start to see the Manage screen with three dots on your Apple Watch when it breaks itself. It can happen due to over usage or can cause because of too much hot or cold. You cannot go further when this screen appears. So, the only way left is to update firmware, restart, or reset Apple Watch.
Apple Logo on Screen:  Older iPhone users may be familiar with the Apple logo stuck issue, which only shows the Apple Logo on the screen while booting. Several Apple Watch user also reported the same, and a hard reset can fix it.
Forgot Password: Yu can reset your Apple Watch using iPhone if you forgot Apple Watch password.
Freezing/Crashing of Apps: If you feel the Watch stuck on any Application screen or crashed it, try a reset.
Touch issues: When you find the touch not properly working, or a malfunction.
Not Syncing: When connected to the iPhone, Apple Watch should sync the data either ways. Otherwise, try resetting your Apple Watch.
Connectivity Issues: Check if your GPS or Cellular connectivity features work properly on WatchOS.
In case you find any of the issues persist on your Apple Watch, you should consider about resetting your Apple Watch.
Related: How to Fix Apple Watch Stuck on Apple Logo
How to Restart Apple Watch?
Before thinking about factory resetting your Apple Watch, you have the option to turn it off an then switch on. Follow this method to restart Apple Watch when it is not responding or stuck on any application window.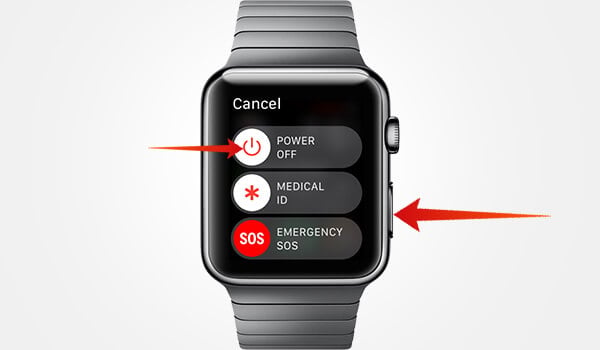 Press and hold the side button on the right side of your Apple Watch.
Release the button when you see the power menu.
Drag the power off slider to turn your Apple Watch off.
When it switches off, press and hold the side button again.
Your Apple Watch will then reboot and show you the Watch Face. Also, make sure your Watch is not docked to the magnetic charger. It would not restart if otherwise.
How to Force Restart Apple Watch?
Sometimes, the manual restart method will not work. In case you find your Apple Watch unresponsive to any of the actions, touch or other actions, you have to force restart the watch. This method is not recommended unless you have no other options. There are several reports that Apple Watch goes to the Manage screen after a force restart, therefore it may follow a reset as well. Here is how to force restart your Apple Watch.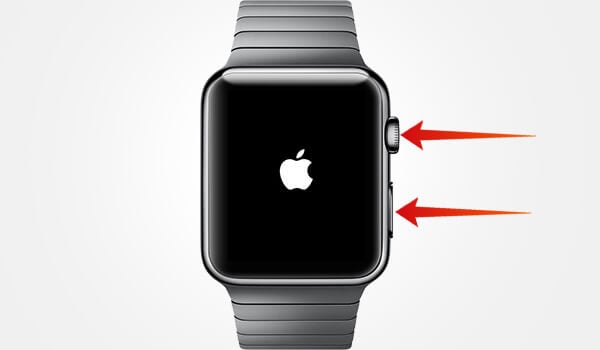 Press and hold down the digital crown and the side button simultaneously.
Release after 10 seconds or when the screen shows the Apple logo.
Remember to put this workaround only as your pis aller.
How to Unpair and Hard Reset Apple Watch?
In most cases, just a restart could fix the issues you face on an Apple Watch. However, sometimes you will have to go through resettings an Apple Watch, which could lose your data and Settings. You can reset Apple Watch and erase all contents right from the device itself. However, you will have to unlock the Apple Watch and remember the lock passcode to reset.
Before resettings, you will have to unpair Apple Watch from your iPhone if you are not using it further. Here is how.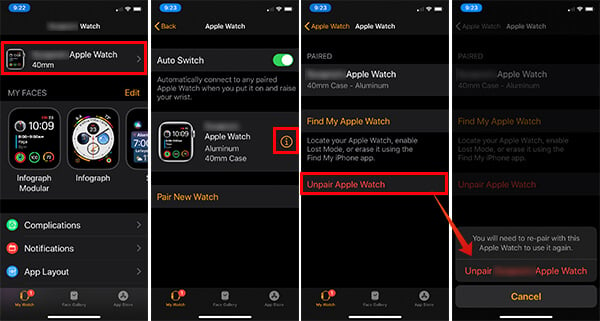 Keep the iPhone and Apple Watch close together.
Open Apple Watch app on iPhone.
Touch your Apple Watch at the top from My Watch tab.
Tap the "i" icon against your Watch listen on the next window.
Tap "Unpair Apple Watch."
Choose to keep or remove the cellular plans.
Now, you successfully removed your Apple Watch from the iPhone. Move on to resetting the Apple Watch.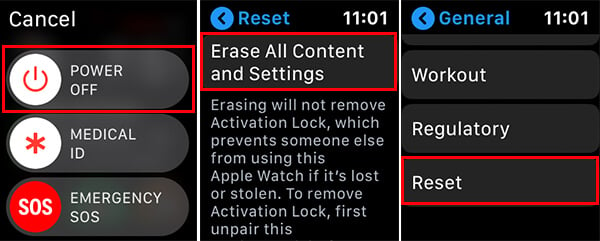 Place your Apple Watch to the charging dock.
Unlock your Apple Watch.
Press and hold the side button on the Apple Watch until the power menu appears.
Long-tap in the Power off menu firmly and then release the finger.
Tap "Erase All Contents and Settings."
Wait until the Apple Watch restarts.
After booting, you can pair the watch with your iPhone and use it like before.
Related: How to Check Battery on Apple Watch
How to Reset Apple Watch from iPhone?
Resetting an Apple Watch from the Watch itself needs you to unlock using the passcode. What if you forgot the Apple Watch passcode? Well, you can still reset from the Apple Watch's power menu. However, if you paired the device with your iPhone, the process is easier. Follow the steps to reset Apple Watch from iPhone.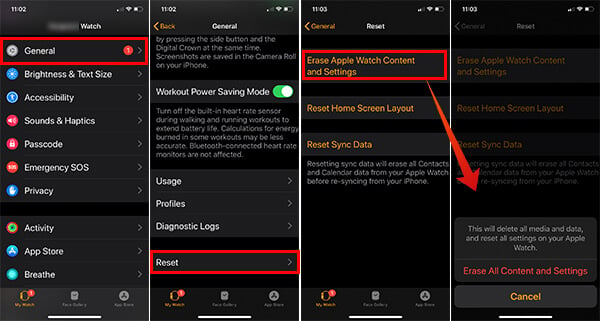 Make sure your Apple Watch pairs with your iPhone.
Take your iPhone and open Apple Watch app.
Go to My Watch tab.
Tap General.
Choose Reset.
Tap Erase Apple Watch Content and Settings and confirm to reset your Apple Watch.
If you are using an Apple Watch Series 3 or 4 with eSIM, you can also opt to keep or remove the cellular plans.
After resetting the Apple Watch to its factory settings, you can connect it back to the iPhone and use the backup data to sync.