The app situation on Wear OS smartwatches is tight. It doesn't help that many apps are not even available on the Play Store anymore. The good thing is, that Wear OS is still just Android. And you can sideload apps on your Android phone or tablet. That means you can install apps using APK on smartwatches, too.
Although, the tiny screen is not ideal for browsing the web. Moreover, Wear OS 4 no longer allows apps to access the file system. But if you have a Wear OS smartwatch, you likely also have an Android smartphone. So, you can technically still download the APK file on your phone. Then, using ADB, you can wirelessly install APK on the smartwatch.
How to Install APK on Smartwatch
To sideload apps on Wear OS or install APK on your smartwatch, make sure your watch is connected to your phone first. Also, make sure that your phone and smartwatch are connected to the same Wi-Fi network. You'll also need to install an app on your phone called Easy Fire Tools, available on the Play Store for free.
Download: Easy Fire Tools from the Play Store

On your watch, navigate to Settings > About > Software info.
Tap on the Software version repeatedly until you see a toast message.
Go back to Settings and select Developer options, which should now be visible at the bottom of the page.
Enable ADB Debugging, then scroll down and select Wireless Debugging.
Turn the toggle on.
Note the IP address displayed on the watch, for example, 192.168.x.xx.
Open Easy Fire Tools on your phone, and tap on the hamburger menu icon in the top-left.
Select Settings.
Tap on IP address and type in the IP address displayed on your watch.
Tap OK when done.
Next, go back and tap on the plug icon in the top-right corner.
On your watch, tap OK to allow USB debugging on your watch.
On your phone, tap Continue, and you should see the plug icon turn green.
Head to the Custom APK tab and select the APK file you want to install on the watch.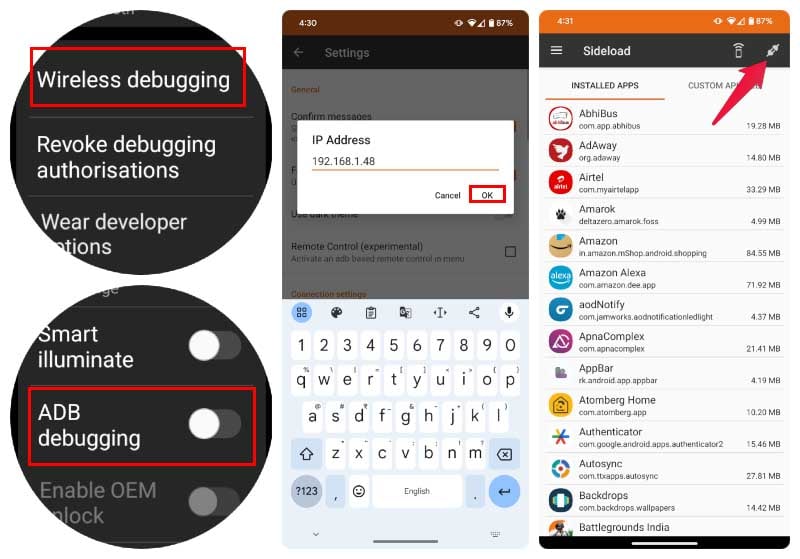 Tap Yes when asked, and you will soon have the apk on the smartwatch as an app. You can also select any apps you already have installed on your phone from the Installed Apps tab. The app must have a watch component, however, for that to be installed on the watch. Because obviously, a full-fledged phone app would not be very useable on a watch.

When you're done sideloading APK on your smartwatch, it would be wise to turn off Wireless debugging as well as ADB Debugging again. However, as long as you don't allow debugging access to someone or something or don't let them have physical access to your watch, you should still be fine with those options turned on. One can never be too safe.
With the right knowledge and guidance, you can transform your smartwatch into a versatile and personalized device that perfectly suits your needs. Whether you want to add new apps, watch faces, or other features, the process is within your reach. By following the steps outlined in our guide and exploring the exciting world of APKs, you can elevate your smartwatch experience and unlock its full potential. Embrace the power of APK installation and watch as your smartwatch becomes a true reflection of your preferences and lifestyle.