Smartwatches have become quite popular these days, including smartwatches running on the Wear OS platform by Google. While there are tons of smartwatches, the only true smartwatches available in most places run either Apple's watchOS or Google's Wear OS. Some of the most popular Wear OS watches are, of course, made by Samsung. If you've recently bought one, here's how you can install apps on Wear OS Galaxy Watch.
Just as you do on your other Android devices, you get the Google Play Store, where you can find and install apps from. No matter how big, though, a watch will always have a small screen, and it's not ideal for browsing. That's why Google also lets you install apps on your watch from the Play Store on your phone. Furthermore, you can even use the Google Play Store website.
Install Apps on Wear OS Galaxy Watch from built-in Play Store App
To install apps on Wear OS powered Galaxy Watch, your smartwatch should be connected to a Wi-Fi network, or should have an LTE connection. If not, you can still download and install apps using the Bluetooth connection with your phone.

Swipe up from the bottom to bring up the app drawer.
Scroll through the app list and select Google Play Store.
In the Play Store, you can find an app by tapping the search icon and typing its name.
Alternatively, you can navigate through the categories to find something.
Once you've found the app you want, tap on it.
On the app listing page, tap on the Install button.

On your phone, where you can track the download progress from the notifications panel. That is not the case for your watch. However, you do get a notification once an app has been installed. You can find it in the app drawer with other apps.
Install Apps From Another Android Device
If you don't have your phone around, you can install apps on Wear OS directly on your watch. But, a tiny screen that may even be circular is not the best type of screen to get things done. So, if you do have your Android phone or tablet, you can install apps on your Wear OS watch from the device with a larger display as well.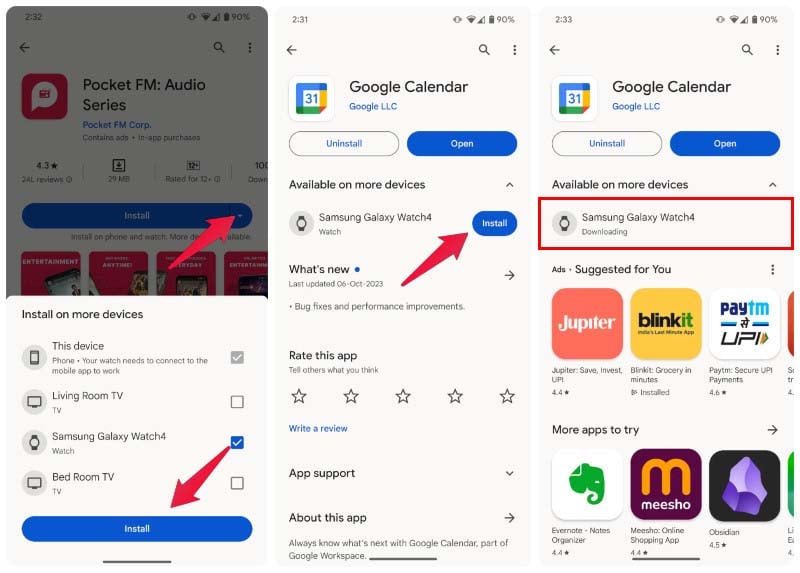 Open Play Store on your phone or tablet.
Find the app you want to install.
If you already have the app installed on your Android device, you will see an Install button for your Wear OS watch.
If not, tap on the drop-down button next to the Install button.
Select your Wear OS device and tap Install.
How to Uninstall Apps on Galaxy Watch
When you want to uninstall an app, you can do so rather easily from the Wear OS device itself. Since you're removing something from your device, you don't necessarily need to be connected to your phone, Wi-Fi, or LTE.

Swipe up from the bottom to get to the app drawer.
Scroll and find the app you want to uninstall.
Long press on the app icon.
Select Uninstall.
The app selection on Wear OS isn't quite as wide as on Android, unfortunately. Of course, most apps don't make much sense on a small watch screen anyway. However, some apps that can offer limited and helpful features are not there either. A popular example is Uber, which pulled the plug on its apps for watchOS and Wear OS. There are still quite a few must have apps to have on your Wear OS powered Galaxy watch, more than what was available on the Samsung watches running Tizen.