Unlike Android devices, Apple's iOS doesn't allow you too much personalization on your iPhone as you like. Of course, things have been better since iOS 14, as Apple started allowing the users to change app icons or modify the look of their home screen. Plus, you can also set up a custom charging animation on your iPhone with the help of a third-party app, like on Android phones.
Here, let us see how to set up iPhone charging animation easily as you see on other Android phones.
Get Charging Animation on iPhone
If you ever noticed, Apple iPhones do not have fancy animations for when the charger is plugged in, unlike Android phones. There are no inbuilt options for iPhones to change the charging animation as well. Still, you can get it by using the third-party apps, with the help of Shortcut Automation on iPhone.
Step 1: Download and Install App from Appstore
To set up charging animation on your iPhone, you need to download and install a third-party app. If you search "charging animation" on App Store, you will find tons of both free and paid apps.
In this example, we are using a free app named Charging Snow. (Download: Charging Snow). Either you can download and install the above app or you can use any app you like. Here are some more apps that can give you charging animations on your iPhone.
Related: 10 Best Wallpaper Apps for iPhone to Set Beautiful Wallpapers Every Day
Step 2: Select Animation Style on the Third-Party App
After installing the charging animation app, you need to select the animation style that should appear when your iPhone is charged. Depending on the app you use, you can find tons of designs.
In this example, we have selected the animation style from the app named Charging Snow.
On your iPhone, open the Charging Snow app. If you tap Animation on the Home screen, you can see different animation designs. Once you tap on any design, you will see a preview of it with options for customizing the style, music, etc.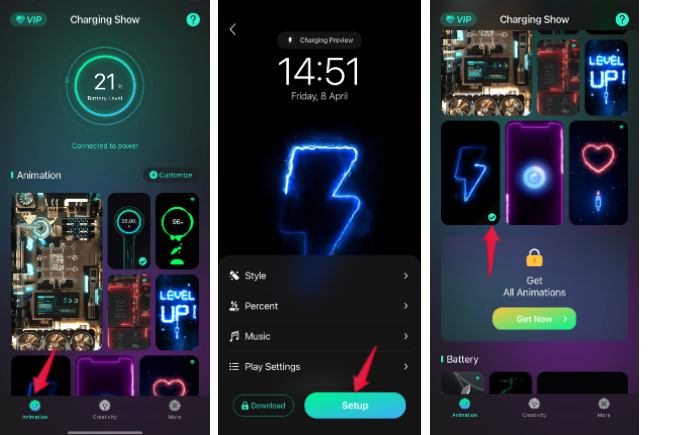 To select a particular design, tap Setup. Then, that design will be selected and you can see a green tick mark to indicate that.
Step 3: Set Up Charging Animation on iPhone Using Shortcuts App
Let's assume that every time you connect your iPhone to the charger, you want to see the animation design you had selected on your screen. To automate this, you need to use the Shortcuts App on your iPhone. Let's see how to do that.
Launch the Shortcuts app on your device and tap Automation located at the bottom of the screen.
In the Automation screen, tap Create Personal Automation. Then, tap Charger on the new screen titled New Automation.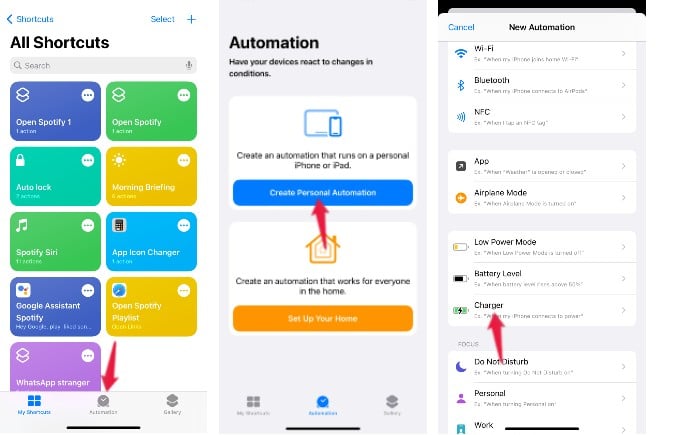 Since we want to see a charging animation whenever your device is charging, select the check box Is Connected on the new screen and tap Next on the top right.
Here, in the Actions screen, tap Add Action. Now, you will see two tabs namely Categories and Apps. When you tap Apps, you will see the list of all apps on your iPhone. Go ahead and select the charging animation app you had installed earlier.
On the next screen, you will see Run [Appname] indicate that the app will be launched when the charger is connected. Then, tap Next.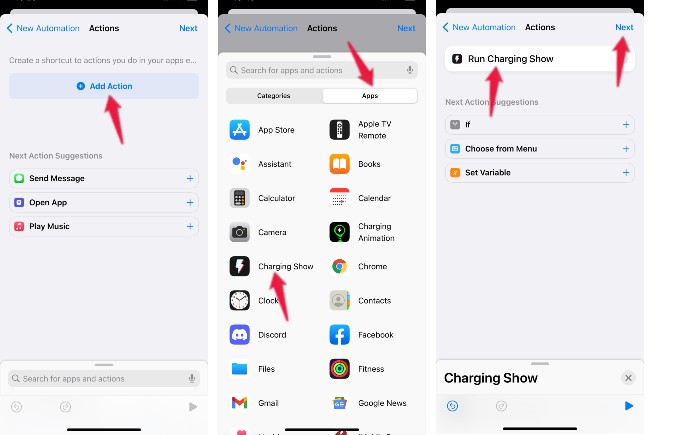 Here, in the screen titled New Automation, toggle the field Ask Before Running to OFF. Then, tap Don't Ask in the confirmation pop-up window.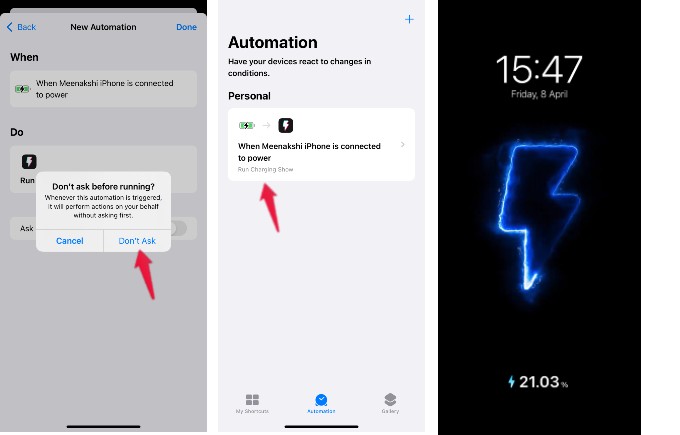 That's it. From now on, whenever your iPhone is connected to the charger, you will see the charging animation on your screen. At any point in time, if you wish to change the animation style, you can do that on the app.
FAQ: iPhone Charging Animation
How do I change the charging animation on my iPhone?
Apple iPhone does not have an inbuilt option to change the charging animation. You can change the charging animation by using third-party apps and automating them using the Shortcuts app.
Is charging animation free?
There are many free-to-use charging animations apps available on iPhone to show you the stunning charging animations at zero cost.