Many of us would love to watch our favorite movies on big screens in theatres along with friends/family. If you are someone who couldn't find spare time for that, still you can enjoy movie time with your loved ones by hosting a watch party on Amazon Prime.
Let us find out how to start a watch party on Amazon Prime and watch together with your loved ones.
What Is Amazon Watch Party?
Amazon Watch Party is a fun feature that allows you to watch your favorite movies/TV shows and chat with your friends at the same time. You can enjoy chatting with up to 100 friends while watching your favorite content.
Since the titles on Prime Video will vary depending on the location, you can do the watch party with your friends residing in your country. Plus, your friends/family member should have an Amazon Prime Membership to join the watch party.
How to Start Amazon Watch Party from Your Browser
Expect Internet Explorer and Safari, you can use any browser on your computer to start a Watch Party on Amazon Prime. You can choose any title from the Amazon Prime Video library for watch parties. If you are buying/renting a title, then every participant should also buy/rent the same title to join the Watch Party.
Now, let's see how to start the Amazon Watch Party from your computer.
On any browser, log in to your Amazon account and navigate to Prime Video section or you can use the direct URL of Prime Video.
From the Prime Video home page, browse the titles and click on the desired one. Here, you will see the description of the movie/TV show and a bunch of icons. In that, click the Watch Party (cracker) icon.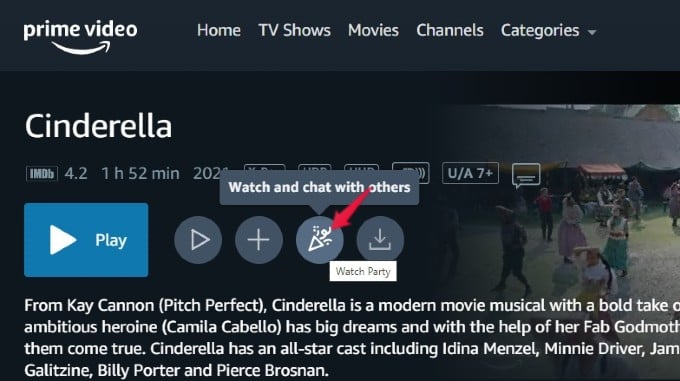 In the new screen, type your desired name in the box provided under Chat as and click the button Create Watch Party.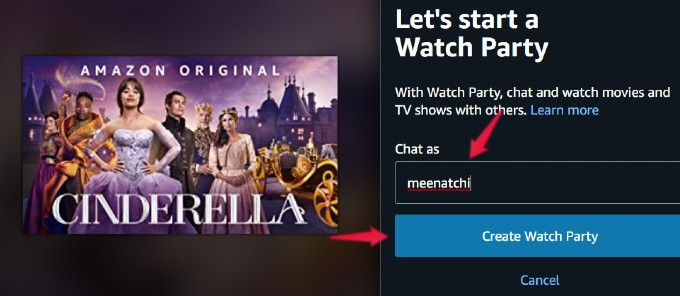 Now, you will see a new screen divided into two sections. On the left side, you will find the movie player with controls for subtitles, volume etc. On the right side, you will see two tabs titled Chat and Settings. From the Settings tab, you can share the link to join Watch Party. To do that, either click Copy Link to get the link and share that with your friends via your desired option. Or you can click Share to share the link via Facebook, Twitter, or Email.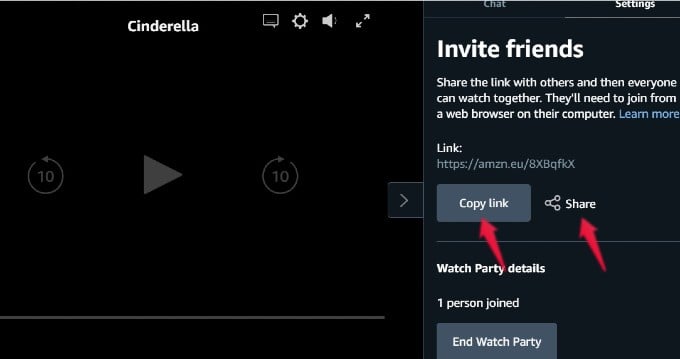 Once your contacts receive the link, they can join the watch party to start watching the title along with you. To start a conversation with your friends, click Chat tab and type your message. Besides text messages, you can also send stickers and emojis as well.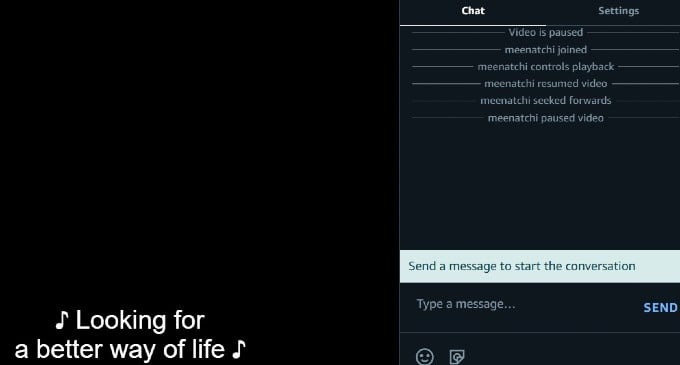 Related: 8 Best Things You Get for FREE with Amazon Prime Student Membership
How to Start Amazon Watch Party on Your Mobile
Do you watch movies on your iPhone or Android? You can start an Amazon watch party from your smartphone as well. Let's see how to do that.
Open the Prime Video app on your iPhone and tap the title you want to watch. Tap the three-dot icon located below the title.
In the pop-up menu that appears, tap Watch Party.
In the new screen, type your desired name on the provided box below Chat as and tap on Create button.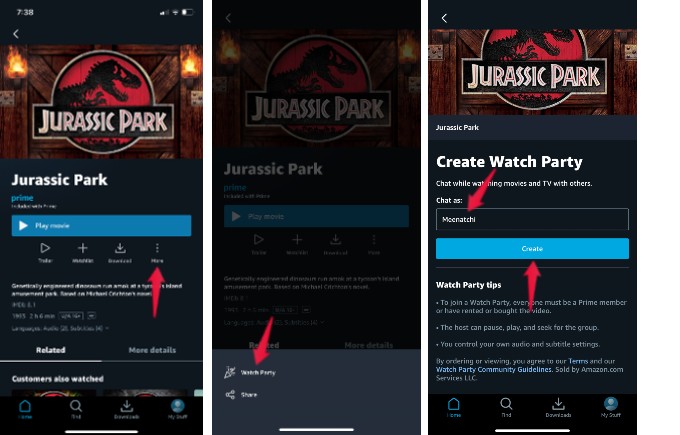 Here, you will be shown the Invite link at the bottom of the screen. Below that, you can see the Share option. Tap on that to share the watch party link with your friends via email, WhatsApp, or other messaging platforms.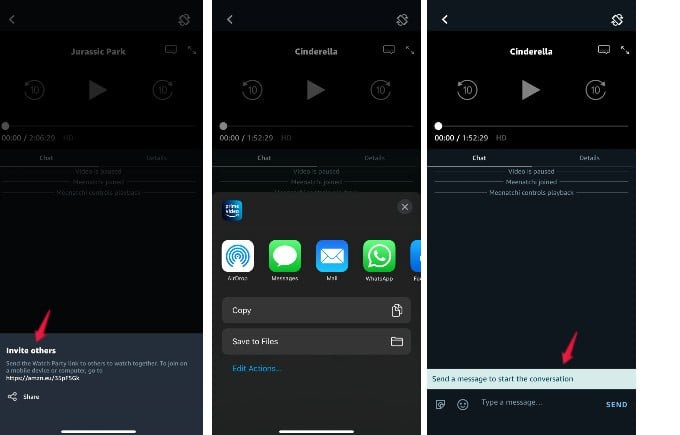 Like in the browser, your screen will be divided into two sections for watching and chatting respectively.
Related: Here Are the Best Netflix Alternatives to Watch More TV Shows and Movies
How to Start Amazon Watch Party from Fire TV
Amazon Fire TV doesn't provide a direct option to start a Watch Party. It just provides a link and QR code for the title. And, you need your mobile phone to share that link and invite others to join the party.
After launching Fire TV, select your desired title and click Watch Party button.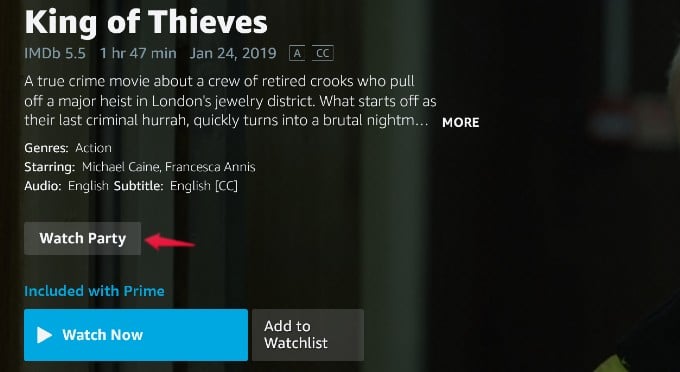 Then, you will be redirected to a screen that shows the QR code and link for the title. You can scan the QR code with your smartphone or make a note of the link to invite others.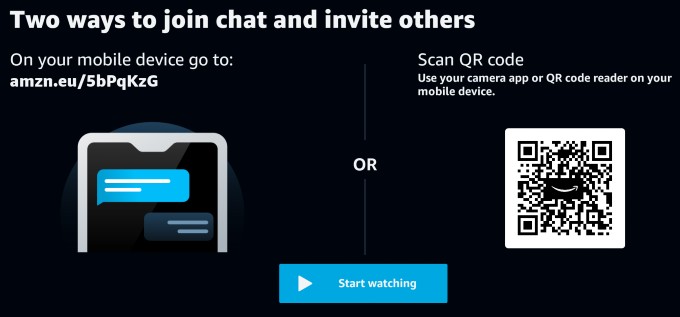 How to Join Amazon Watch Party
If you are not the host and have received the invite from someone, then you can join the watch party from your computer browser or on your smartphone.
Open the link you have received on a browser and enter your name in the box provided below Chat as. Then, click Join Watch Party.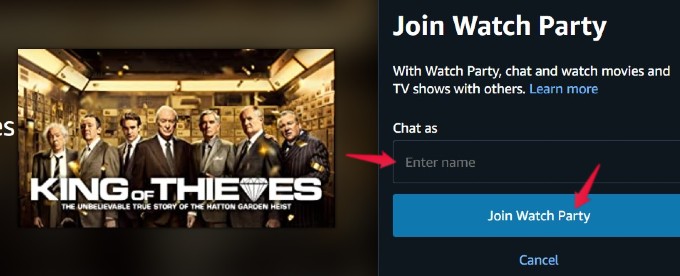 If you are using a smartphone to join the party, you will be prompted to open the Prime Video app after navigating to the link on your browser.
Related: How to Watch Downloaded Movies on Fire TV
FAQ: Amazon Watch Party
Does everyone need prime for watch party?
Both the host and the participants need an Amazon Prime Membership to join the watch party for watching prime eligible content. If the host has rented/bought a title, then the participants should also rent/buy the title to join the watch party.
Can you start Amazon watch party on TV?
If you are having a smart TV like Samsung, then there is no option to host/join a watch party. For Fire TVs, you can start the watch party, but you need a mobile device to invite others.
Can I join Amazon watch party from my phone?
Yes. You can host/join Amazon watch party using the Prime Video app on your smartphone.