Facebook has released its newest product called Messenger Rooms. It is a group video calling app that will be going neck to neck with the likes of Skype, Duo, and Zoom among others. So, how does it work? What features does it offer? How do you use it? And most importantly, why use Facebook Messenger Rooms when there are so many others?
Also, there is a fine distinction between a video calling app and a video conferencing app. One is meant for consumers while the other is meant for teams and enterprise users. For example, Microsoft Teams is for businesses, Zoom lies somewhere in the middle, and Duo is for consumers.
Let's find out how it works and why you should or shouldn't use it over the competition.
Who Can Use
Rooms is part of the Messenger app that you may or may not be already using on your smartphone. There is no need to download a dedicated or even Facebook app. You just need the Messenger app. You do need a Facebook account to create a Messenger room though. I believe you already have one. If not, download Facebook and sign up. It's easy and free.
It is worth noting that you only need an account to create and share a room. Anyone with a link can join Messenger Rooms without signing in or even signing up for Facebook. This makes the on-boarding process that much easier.
Also Read: 10 Cool Tricks and Secret Tips for Facebook Messenger Users
How to Access
Messenger is available on the web and has apps for Android and iOS. There is no desktop app as Facebook is aiming for a mobile-first experience with all its apps. That includes WhatsApp and Instagram. Rooms is available on Messenger but Facebook has announced that it will soon come to WhatsApp, Instagram, and Portal making it platform and app agnostic. Together, Rooms will reach billions of users.
Create Messenger Room
Open the Messenger app and tap on the People tab at the bottom of the screen. You will then find Create a Room option at the top under the Active tab. Tap on it to create a room instantly.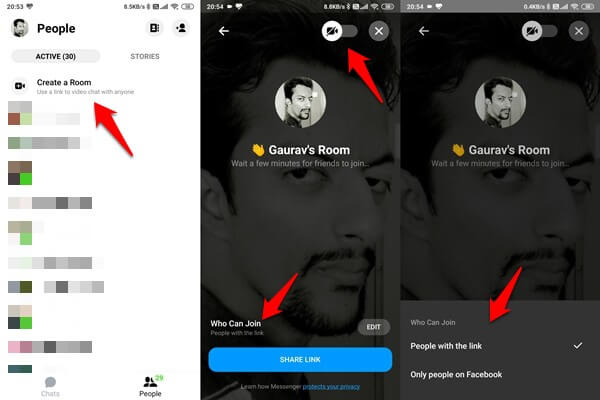 A room will be created instantly. You can then choose to turn off video at the top of the screen to make it an audio-only call. That will also save a lot of bandwidth in case you are facing connectivity issues. Tap on Who Can Join at the bottom to choose whether anyone with a link can join the room or do they need to have a Facebook account. It lacks a waiting room feature that acts like a doorman.
You can use live AR effects and filters once more people join the call. Only available when you sign in with Facebook. The options are limited at the moment but I am sure more will be added as days pass by.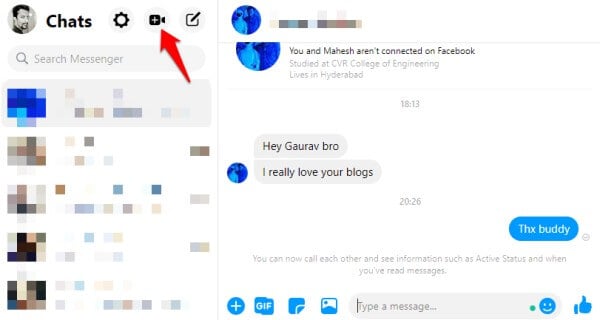 Here is how to web app interface looks in case, you need a bigger screen to view more participants in the room. I believe it is capped at 16. A mobile screen can be limiting when it comes to video calling and conferencing. You can share the Messenger Rooms link now that you have set the invitation method.
Facebook says that users can also create open rooms that will be accessible to users' Facebook friends at all times. That way, friends could just drop by at any time. Fun or annoying, you decide!
Also Read: Deleting Facebook Messages: Everything You Need to Know
Share Messenger Room
Continuing with our example on the mobile app, tap on the big blue Share Link button at the bottom of the screen to reveal sharing options.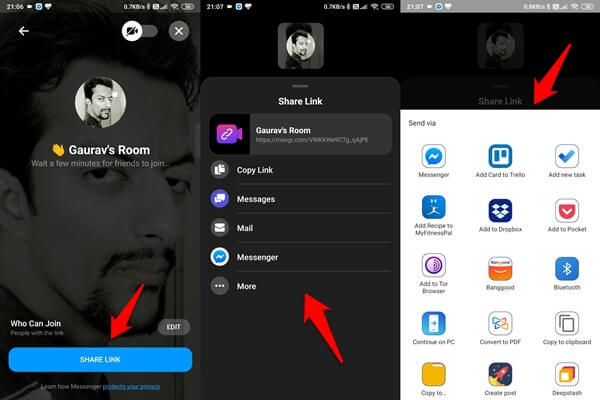 You can copy the link to share it on other messaging apps like WhatsApp or web. You can send a message, email, there is a direct link to the Messenger app, and tapping on the More button will reveal even more options.
No more than 50 people can join a room at any given moment. And you can't join more than one room at a time. This number will surely increase in the future as Facebook brings WhatsApp, Instagram, and Portal into the fold. For now, this should be enough for most users and groups.
You can share your phone or computer screen in Messenger Rooms once other users have joined the room. You will find the screen share icon at the bottom of the screen.
Related: All in One Manager for Your Upcoming Virtual Meetings
Security and Privacy
I am disappointed that there is no meeting ID or password involved. While you do need an email ID and have to go through the verification process for creating a Facebook account, anyone with an account can join your room if he/she has the link. Facebook verification involves email ID, 2FA, and smartphone number. Well, that's not very safe. There is also no waiting room concept like in Zoom where you need to approve a participant before he/she could join the room. The only safe point is room lock. You can lock a room after which no one can join. If you forget to lock the room and have shared the room link publicly, things can get messy.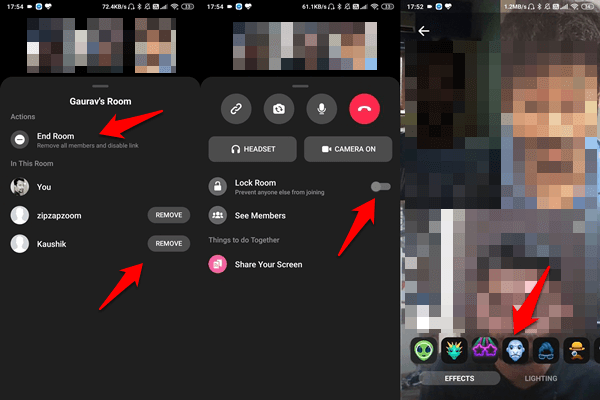 Unlike WhatsApp, calls made via Messenger Rooms are not end-to-end encrypted either.
Well, I am not impressed and believe there is a lot more work that could be done. Facebook says that the administrator of the room can block or remove any participant at any time, but that's after he/she has joined the room. An ideal approach would have been to keep a 'gatekeeper' of sorts that would decide who is allowed in. Facebook's reputation when it comes to privacy and security of the users is not exactly stellar, but I guess most people are going to use Messenger Rooms anyway. It's so convenient!
Related: Best Facebook Messenger Games to Play with Facebook Friends
Facebook Messenger Rooms
Messenger Rooms is going to work and millions will be using the service, thanks to the large combined userbase of Facebook, Instagram, and WhatsApp. I am expecting more features, both fun, and privacy/security, to be added in the coming months. Messenger Rooms is going to face stiff competition from the likes of Duo. Right now, it looks like Facebook is targeting casual users rather than business users who need advanced features like call recording, third-party cloud apps integration, whiteboard, and screen sharing. All of which are offered by video conferencing apps like Meet, Zoom, and Teams. These are still early days but now you know how to use Facebook Messenger Rooms.