Though Safari is the default browser on my iPhone, I also use Chrome and Microsoft Edge. While doing any transaction that contains personal information, I always use the private browsing mode on Safari or Chrome to protect my privacy. Recently, I came across an interesting feature on Chrome that allows you to lock the incognito tab with a Face ID.
In this article, we'll guide you through the steps required to set up Face ID to lock Chrome's private browsing mode on your iPhone.
How to Lock Chrome Incognito Tab on iPhone Using Face ID
With the rise of online privacy concerns, it's more important than ever to take steps to safeguard your personal data. One effective way to do this is by using private browsing on your iPhone's Chrome browser. However, simply using private browsing is not always enough. You may want to add an extra layer of security to ensure that your private browsing remains truly private. Fortunately, you can easily lock Chrome's private browsing mode using Face ID, adding a biometric authentication layer that keeps your browsing history secure from prying eyes.
Most of us use private browsing sessions if we don't want the browser to remember our activity and store that in the search history. Google has added an extra layer of protection to its private browsing mode by allowing users to protect the incognito tab with Face ID. Let's see how to enable that feature.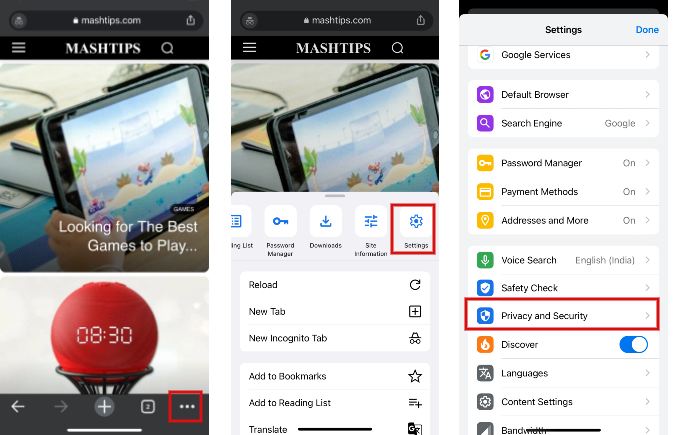 Launch Chrome on your iPhone and tap the three-dot icon on the bottom right.
In the pop-up menu, swipe left and tap Settings.
In the Settings screen, scroll down and tap Privacy and Security.
In the new screen, toggle the field Lock Incognito Tabs When You Close Chrome.
For the first time, you need to authorize Chrome to use Face ID. Go ahead and tap OK in the pop-up that shows on your screen.
Tap Done on the top right to save the settings.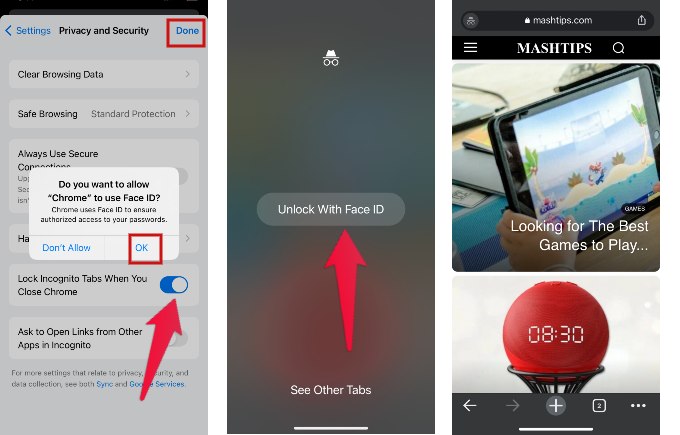 From now on, the incognito tabs will automatically lock when you exit chrome. And you need to tap Unlock with Face ID button and authenticate with your Face ID to unlock the incognito tab on Chrome.
Can You Lock Safari Tabs With Face ID?
At the time of writing, there is no option to lock the private or other tabs on Safari with your Face ID. I agree that Apple's inbuilt browser doesn't support FaceID lock while you can secure with a third party browser. At this time, the only available option is to use ScreenTime and set a time limit to lock apps.
Locking of apps with Face ID depends on the individual app. For example, you can lock WhatsApp with a Face ID. To check which apps allow locking with Face ID, navigate to Settings->Face ID & Passcode->Other Apps.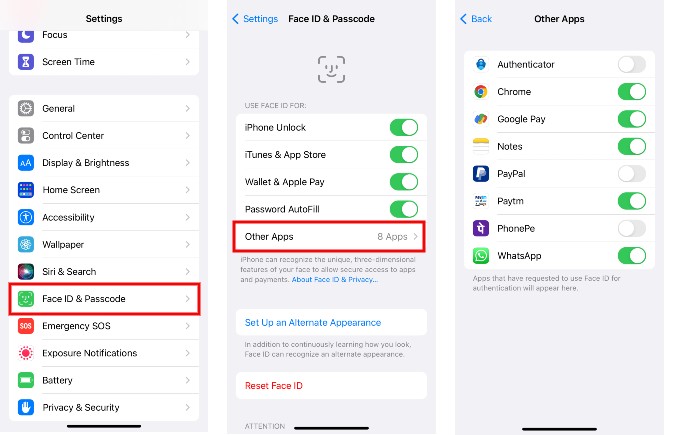 Here, you can see the list of apps that use Face ID for authentication. If it is toggled to green, then it uses Face ID. Or if it is greyed out, you have not enabled the Face ID authentication for the app.
Securing your private browsing with Face ID on your iPhone is a simple and effective way to protect your personal data from unwanted eyes. By following the steps outlined in this guide, you can easily add an extra layer of security to your private browsing in Chrome. With Face ID, you can rest assured that your browsing history is only accessible to you, providing peace of mind in today's data-driven world.
Take a few minutes to set up Face ID to lock Chrome's private browsing mode and enjoy the added security it provides. It will be handy, especially if you are sharing your iPhone with your kids and you don't want them to sneak into your private browsing activity.