Though browser extensions are mostly used on Windows or Mac, they can be handy on your iPhone as well. You can install a good ad blocker extension on your iPhone to get rid of annoying ads. With iOS 16, you can also sync and share the Safari extensions across other Apple devices like iPad and Mac.
Let's see how you can share and use the same Safari extensions across your iPhone, iPad, and Mac.
How to Share Safari Extensions Across Apple Devices
Apple first introduced the feature of installing extensions on the Safari browser in its iOS 15 release. If you are new to Safari extensions, you can check our post on How to Get Safari Extensions on iPhone.
Now, let's see how to Share Safari extensions between two Apple devices, say iPhone and iPad. Make sure you use the same Apple ID on both devices. Otherwise, syncing won't work.
On your iPhone, go to Settings > Safari. Scroll down and tap Extensions.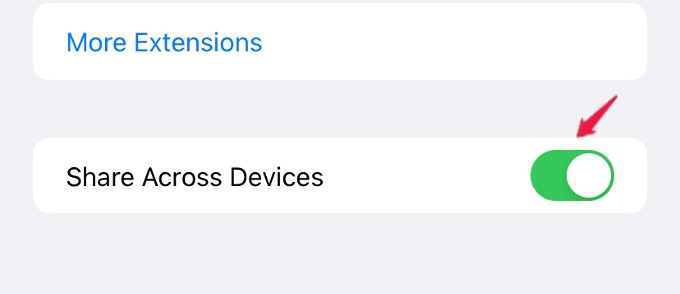 In the Extensions screen, make sure the field Share Across Devices is toggled to green or on.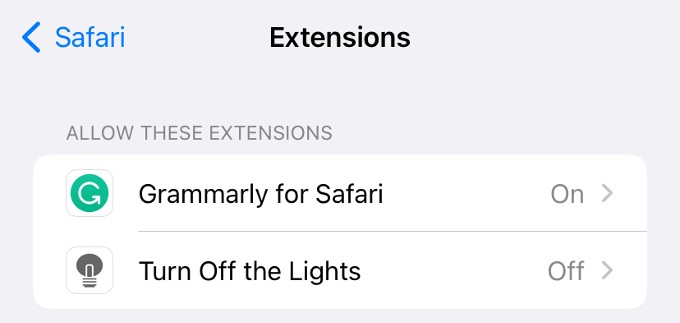 On the same screen, you can also view the list of all Safari extensions shared and installed on your iPhone or iPad. Do remember that, you need to turn on the individual extension that needs to be shared. If it is disabled, you will not be able to see the extension on other apple devices.

Likewise, open Settings on your iPad and go to the Safari settings to enable Shared Extensions. You can share browser extensions between iPhone and iPad only if the option is enabled on both devices.
Related: How to Move Safari Address Bar to Top on iPhone
How to Download Shared Safari Extensions
Once you have enabled the setting Shared Across Devices on your iPhone and iPad, you can easily view and download the extensions used by other Apple devices. Let's see how to do that.
On your iPhone/iPad, go to Settings > Safari > Extensions. Under the section, ON OTHER DEVICES, you can see the list of all extensions installed on other devices.

To get the shared extension on your device, just tap Get button to install it.
How to Delete Safari Extensions on iPhone/iPad
Are you not interested in keeping a Safari extension anymore on your iPhone or iPad? It is not as easy as deleting a browser extension on your computer.
To disable a Safari extension, navigate to Settings > Safari > Extensions. Under the section ALLOW THESE EXTENSIONS, tap the extension that you want to disable. Then, on the next screen, toggle its value off.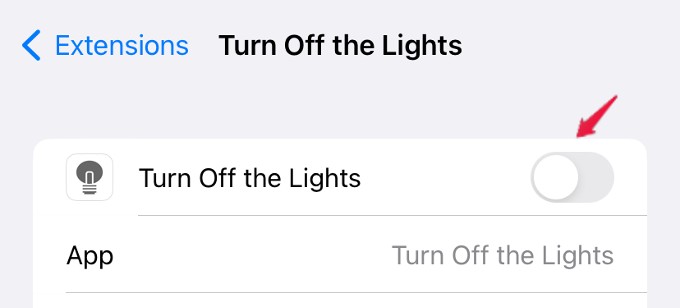 To permanently delete a Safari extension, go to App Library on your iPhone or iPad. Next, locate the extension icon and long press on that. Then, tap Delete App and tap Delete in the confirmation window that pops up.

That's it. Now, the Safari extension has been removed from your device. Unlike Chrome browser extensions, the Safari extensions are added to the App Library like a normal app.
Related: Safari Can Tell If Your Password Is Strong Enough; Here's How to Get It
FAQ: Sharing Safari Extensions
Do Safari Extensions work on iOS?
Yes. If your iPhone is running iOS 15 and later, you can install Safari extensions on your device.
How do I uninstall Safari Extensions?
You can get rid of a Safari extension by deleting that from the App Library on your device. You can also disable the extension temporarily from Settings > Extensions > Safari menu.