Smart digital scales are built to sync with your iPhone or Android to keep a record of your body weight. The body fat scales are getting smarter with the integration with Smartphones. The smart weighing scales comes handy when you plan to track your fitness goals. In addition to the LCD display, the smart body scales are coming with Bluetooth to sync data with your phone. Most of the apps are compatible with other fitness apps such as Fitbit, Apple Health, and Google Fit too.
Its time you take a peek into our list of the best smart weighing scales and make sure you get a decent one to keep a record of your health data on your phone.
MashTips's Top Picks:
Etekcity WiFi Smart Body Fat Scale
One of the best WiFi smart scale with four high tech sensors to make sure the maximum accuracy. The Etekcity smart scale is compatible with iPhone and Android and also connect with Bluetooth or WiFi. The VeSync app can sync the data with the scale and keep track of your progress for weeks or months.
The scale is compatible with Apple Health, Google Fit, and Fitbit. You don't need to have the phone with you to measure and sync the data. The Smart Body Scale calculates 12 body metrics including Weight, Body Fat, Body Water, Muscle Mass, Bone Mass, Protein, BMR, etc.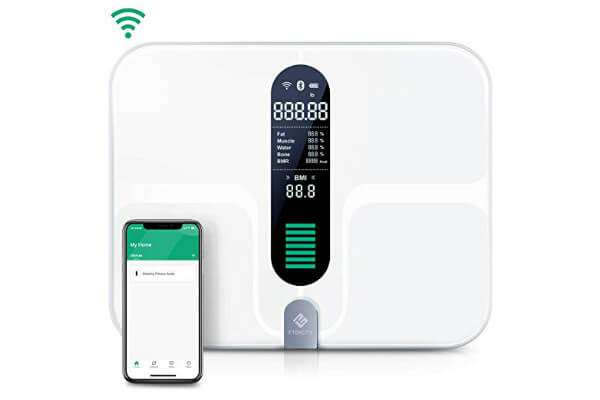 In addition to the body weight, the clear LCD can display other body metrics too. The body scale platform builds with 8mm tempered glass to make sure the portability and long life. The Etekcity body scale sensors can provide an accuracy of 0.2lb/50gms with a maximum capacity of 400lb/180kg. The batteries are rechargeable with USB, which can work for 6 months with one charge.
Pros:
Bluetooth & Wi-Fi Connectivity
6-month battery life
Key Features: USB Rechargeable Battery | Work with Apple Health, Google Fit, and Fitbit | Android and iPhone App | 12 body metrics | 0.2lb/50gms Accuracy | Maximum Capacity: 400lb/180kg
Etekcity WiFi Smart Scale: Check on Amazon
Renpho Smart Scale
The Renpho smart home scale nothing like your old fat analog scales. It's thin and compact and has everything that a home-body fat scale requires. Like all digital scales, it has a measurement panel on top of where you stand. Renpho smart body fat scale processes your body mass and displays the data within seconds. The data is far more accurate than the analog ones cause it reads weights of even 0.05kg range.
What makes it a home scale is the ability to connect with your Android or iPhones. Renpho fitness app connects with smart body scale Bluetooth and keeps information on your phone. This smart body scale app displays the BMI data, keeps a history of your fitness routine, and interacts with Renpho smart body scale to update the information.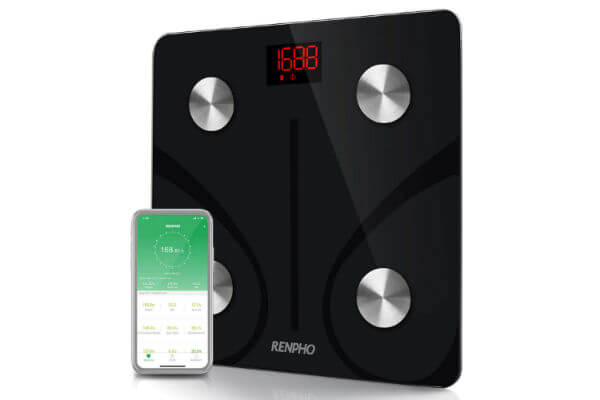 The Renpho smart body scale connects to most of the fitness app including Google Fit and Fitbit app. The Renpho home scale can show you 13 fitness-related measurements. This includes your Body Weight, BMI Data, Body Fat Percentage and many more. You can even use the scale when your phones not connected.
The data gets synced when you connect it back to the scale. A thing to remember is that it can support a maximum of 180kg. The high sensitivity sensors are so calibrated to give you the best results each time you use. As it's a modern weighing scale, you can get it working with 3 AAA batteries.
Buy from Amazon: Renpho Smart Scale
Related: 8 Best Health Apps for Apple Watch to Track Your Health
Fitindex Smart Weight Scale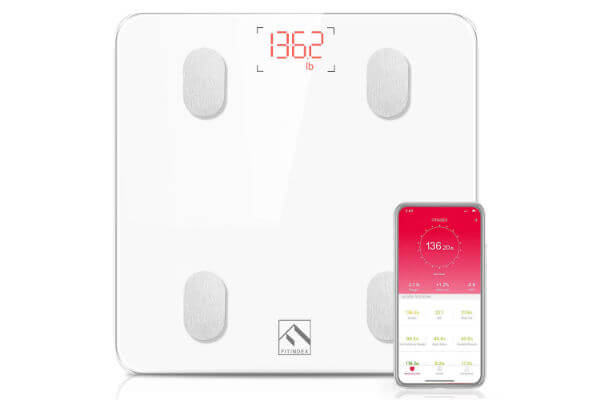 The Fitindex smart weight scale more than just a bathroom scale. It's quite good when it comes to performance and design. It features 4 sensitive electrode sensors for accurate measurements. Fitindex smart bathroom weight scale has the least count of 0.05kg and can weigh a maximum of 180kg.
This smart weight scale can communicate with smartphone apps to track your weight patterns. The body scale app can generate a detailed report with your phone. The app can project 13 key metrics of your body. These include the BMI, Fat Ratio, Muscle Mass and many more. The Fitindex home scale can work with other smartphone fitness app available and works fine with the Android and iOS devices.
With the body scale app, you can compare the results, share data with your doctor or friends and much more. This is one of those smart body fat scales that work well with many users (thanks to the app that saves individual data). The bathroom scale is waterproof and made of the tempered glass top, works on 3 AAA batteries.
Buy from Amazon: Fitindex Smart Weight Scale
Related: 12 Best Health Monitoring Devices for Android
Yunmai Smart Scale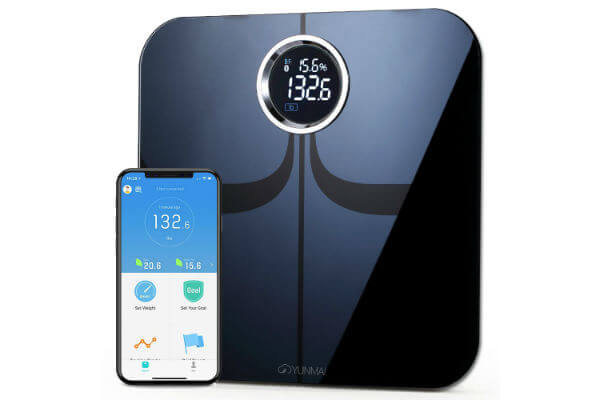 The Yunmai smart digital scale is one of the thinnest body weight scale available online. Its 17mm edges and a curved design gives a good aesthetic look. Unlike other digital scales, this home scale comes with complete surface integrated sensors. These sensors are sensitive enough and give accurate body weight data. The pothole shaped display panel is to make sure the user sees the data on the screen for more easily than any other basic displays.
You can connect the Yunmai body fat scale with iPhone or Android through the Bluetooth. The smartphone app keeps an eye on your weight gain and loss and helps you compare previous data. Apart from weight measurements, you get access to other body measurements such as BMI, and muscle mass. You can either use the Yunmai fitness app or any of your favorite fitness app to track your progress. We are not emphasizing a particular app as that's a personal preference. This thinnest body scale requires 4 AAA batteries for working.
Buy from Amazon: Yunmai smart scale
Arboleaf Smart Scale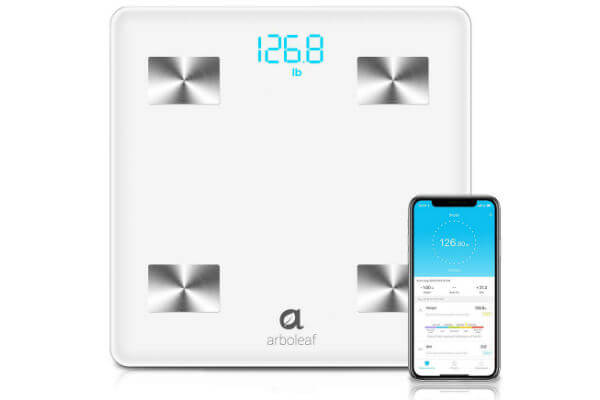 The Arboleaf home scale lets you get optimized weight measurements on your Android and iPhones. This home body scale is a regular bathroom weight scale for your personal needs. Apart from weight measurements, you can access to 10 essential body measurements like Bone Mass, BMI, etc. To get into the real business, you need to get a fitness app on your phone and pair with scale. The scale is compatible with Google Fit and Apple Health.
With the fitness app installed, you get access to all essential measurements within the app itself. You can compare data, send weight gain results to friends anytime. The Arboleaf home scale has 4 high sensitive electrodes. It calculates your weight within seconds and syncs them with your app. Apart from that, there are auto calibration and auto on/of trigger also. The Auto on/off functions saves battery power when it's in idle state. You can work this device with the help of 3 AAA batteries.
Buy from Amazon: Arboleaf smart scale
Related: 12 Best Health Monitoring Devices to Work with iPhone & iPad
1byone Smart Scale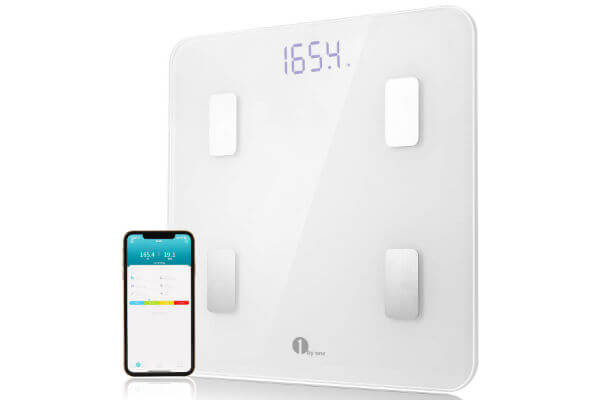 The next one we've got is the 1byone digital scale. With its smartphone compatibility, you get live measurements on the smartphone through any fitness app. You can either use the 1Byone Health app or any of your favorite fitness app. The bathroom smart body fat scale connects to the phone through Bluetooth. The 1byone scale app works with most of the Android and iOS devices.
Apart from weight measurements, you get access to other things like Body Fat, Water, Muscle Mass, BMI, BMR, Bone Mass, and Visceral Fat. Coming to the design part, this body fat scale has a 3.3 inch LED display with 4 high sensitive sensors. With this, you can weigh up to 400 pounds with an accuracy of 0.2lbs.
Buy from Amazon:1byone Smart Scale
Greater Goods Smart Scale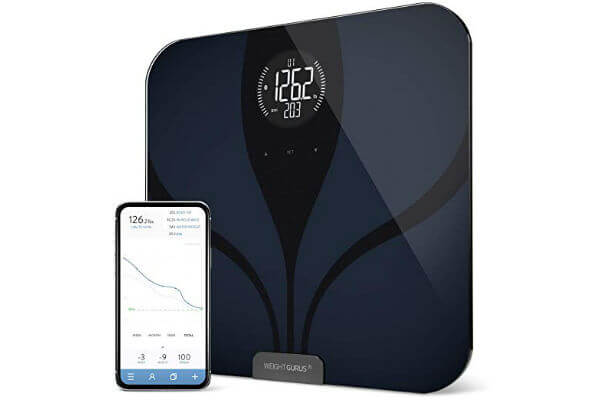 The Greater Goods digital scale is a personal home scale that's capable of syncing all your measurements with your iPhone or Android. This home scale is designed in a way to give accurate results within seconds of use. A least count of 0.01kg makes it accurate enough to track your weight gain.
You can use the "Greater Goods Fitness Pro" app or any of your favorite app to track your health progress. In fact, it can measure BMI, body fat and other useful details and syncs them with your phone through the app. The large tempered glass design and the integrated screen makes it good for your personal use. The 4 weighing sensors and the strong tempered glass can hold up to a mass of 400lbs. This smart fat scale need to equip 4 AAA batteries when you get the product.
Buy from Amazon: Greater Goods Smart Scale
Withings Smart Scale
The Withings smart scale is yet another weight scale that's can sync with your smartphone. This fat scale can check your body mass with an accuracy of even 100 grams. This bathroom scale can sync all your data into your smartphone via a fitness app. The WIFi connectivity helps you to connect the scale with your phone for this purpose. With this digital scale, you get every data within your phone even when you don't have the phone with you. The iOS and Android compatibility makes it easier to access the Google Fit (Android) and the Apple Health (iOS).
This bath scale is made for multiple users, that can access up to 8 members. The presence of the baby mode helps you track your kid's weight gain and weight loss. Unlike other home body fat scales, the Withings comes with a nutrition tracker. Withings body scale also offers you live weather forecast, yes you heard me right, weather forecast. Seriously, how cool is that? Moreover, this digital scale can recognize Alexa commands. You can check and schedule or track your weight data by asking Alexa to do it for you.
Buy from Amazon: Withings Smart Scale
EnerPlex Smart Scale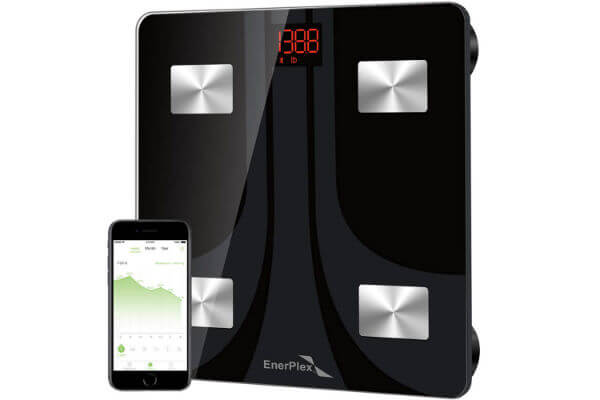 The EnerPlex bathroom body scale is a bit heavy and rough compared to the above ones. It's not that compact but can be your personal weight scale. with this digital scale, you can connect your iPhone or Android through the Bluetooth. You can access any of your favorite fitness apps and get synced data on your app itself. Apart from mere weight calculation, it can give you access to 13 essential body measurements too.
From body mass to Basal metabolism rates, EnerPlex body scale can provide every bit of useful info about your body. This body fat scale has a clean and simple design. The black glossy tempered glass design with 4 electrode sensors. Unlike other devices, the display panel is kinda hidden within the glass panel. The led display pops up only when you stand on the scale. The LED soon turns off and saves battery charge. If you've failed to note down your weight, don't worry because this digital scale syncs previous data to your fitness app when it gets connected.
Buy from Amazon: EnerPlex smart scale
Letsfit Digital Scale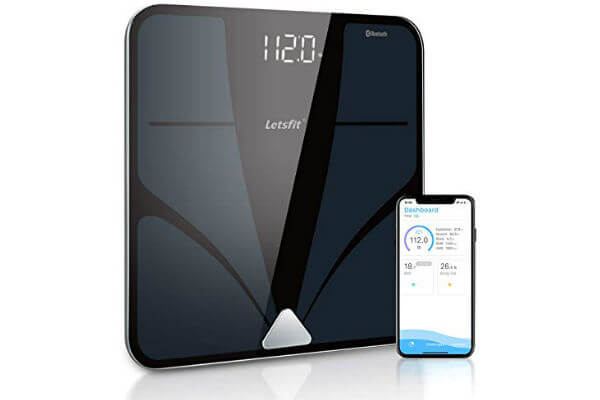 The Letsfit digital scale yet another cool weight scale that does a decent job. It can measure 8 important body measurements such as your body Fat Ratio, BMI, etc. This bathroom home body fat scale can measure weights of up to 180kgs with a least count of 0.1kg. its made of good quality glass with a rather big screen to display measurements.
Being smartphone compatible makes it easy to track your weight gain details. It can connect to any of your fitness apps through the Bluetooth. Hence it's compatible with the Andriod as well as the iPhones. We are not going deep into this one as we've described every feature these smart scales possess.
Buy from Amazon: Letsfit Digital Scale
The analog weighing scales are out of the league. It is time you upgrade into the new smart weighing scales. These devices feature LCD displays and have sophisticated circuits. The LCD display shows you accurate results within a seconds delay. Also, with improved weighing converters, you get an accurate result with a range of 0.01kg.
What makes them popular is that these devices are compatible with the Android and iOS devices. These digital scale apps can track various metric data and stores them for you. You might feel that there aren't any notable differences when it comes to smart weighing scales. But it's important to analyze your use and your budget before jumping into a conclusion soon.