PDF files or Portable Document Format is the most widely used file format for documents.PDF files not only contain texts, but also images and clickable links. You can easily share PDF files to and from any platform out there. The best part of all- every device out there supports reading PDF files provided you have the right app or program.
Here is a list of the best free PDF readers available for Windows 11 PCs.
Best PDF Readers for Windows 11
Adobe Acrobat Reader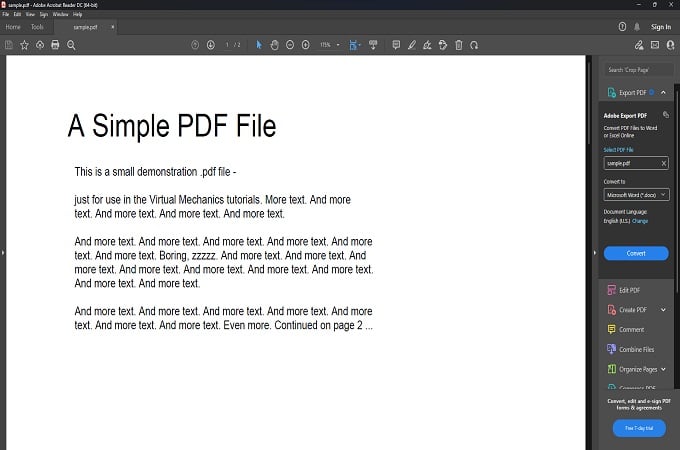 The creators of the PDF file format, Adobe has its own PDF reader that is free to use. It's safe to say that this is the most popular and trusted PDF reader. Acrobat Reader lets you open, print, and read PDF files. It shows you the total number of pages as well as lets you find particular words present in the document file.
Acrobat Reader also lets you create new PDF files, fill out forms, and add signatures to them. The Pro version of Acrobat Reader unlocks even more features such as the ability to edit PDF files and even convert a document to a PDF file. The Pro version also lets you add passwords to protect the PDF files.
Pros:
Can edit scanned text via OCR
Split PDF Pages
Cons:
Many features are locked behind a paywall.
Difficult to navigate for first-time users
Key Features: Add text boxes and sticky notes | Highlight texts | Upload and share PDF files via Document Cloud
Download: Adobe Acrobat Reader (Freemium)
Related: 20 Best Free Adobe Alternatives to Replace Photoshop, Premiere Pro, and More for PC and Mac
Foxit PDF Reader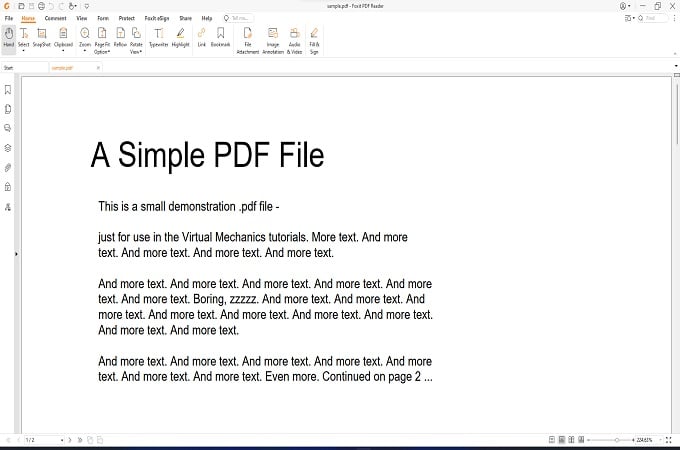 Just want to read a PDF file on your Windows 11 PC? No Problem! Foxit PDF Reader does exactly that. Foxit PDF Reader is light for your system and uses minimal resources As you wuld expect, the Reader lets you read, fill and print PDF files on various platforms supported by the reader. Foxit PDF Reader also allows you to fill out forms that can be later exported to a database.
Apart from just reading files, you can add comments, make drawings and share the PDF document easily. Foxit reader is fast, secure, and feature-rich. The user interface is simple and easy to navigate around.
Pros:
Insert audio, video, and image files
Easily add files as attachments
Add signatures to documents
Cons:
Requires Foxit PDF Editor to edit files
Key Features: similar UI to MS Office | Easily collaboration | Share documents | Variety of annotation tools.
Download: Foxit PDF Reader (Freemium)
Icecream PDF Editor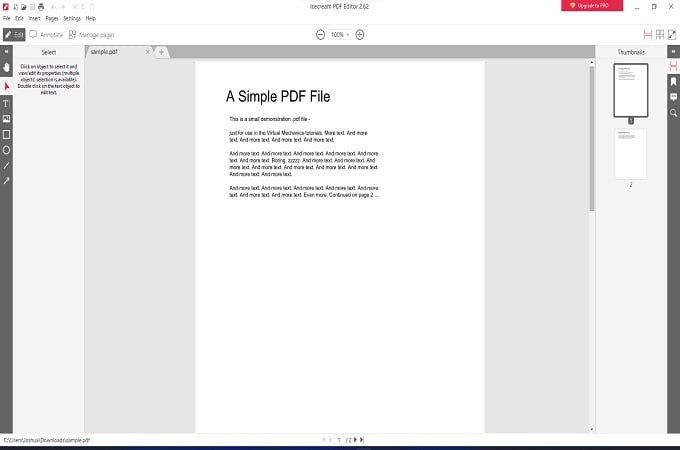 Not a name you would expect for software. Given that everyone likes ice cream, you the user will also be liking the feature of Icecream PDF Editor. While it lets you read and view PDF files, you can also make edits to any type of text in your PDF document. Want to add different types of shapes and lines to the PDF? Icecream PDF Editor lets you do it all for free.
Editing, moving, and resizing objects within the PDF is also possible when using Icecream PDF Editor. The program also lets you create a new PDF file as well as search within the document. If you get the Pro version of Icecream PDF Editor you can use it commercially, get priority support and also combine PDF files. All the Pro features are available for a one-time fee of $49.95
Pros:
Fill in PDF forms
Insert multiple image formats like JPG, PNG, and SVGs
Extract pages to a new PDF file
Cons:
Unable to remove watermarks
Cannot convert PDF files to other formats
Key Features: Protect PDF with passwords| Add annotation and comments | Create and add custom stamps | Reorder pages
Download: Icecream PDF Editor (Freemium)
Related: How to Convert Google Forms to PDF on PC, Mac, Android, iPhone, iPad
Javelin PDF Reader
Javelin PDF Editor is a simple and easy-to-use PDF Reader. The simple interface makes the go-to PDF reader for users who simply want to read, zoom, and print PDF files. As it's a simple PDF reader, do not expect the program to have features that are present in other PDF Readers. This basic PDF Reader as you wuld expect is free to use and supports Windows 7 and above. Javelin PDF Reader is also available for mac, Linux, ChromeOS as well as Android and iOS devices.
Pros:
Open and print DRM-protected PDF files
Clutter-free UI
Lightweight
Cons:
Needs more basic features
Key Features: Insert Annotations | Full-screen mode | Side-by-side mode
Download: Javelin PDF Reader (Freemium)
LibreOffice Draw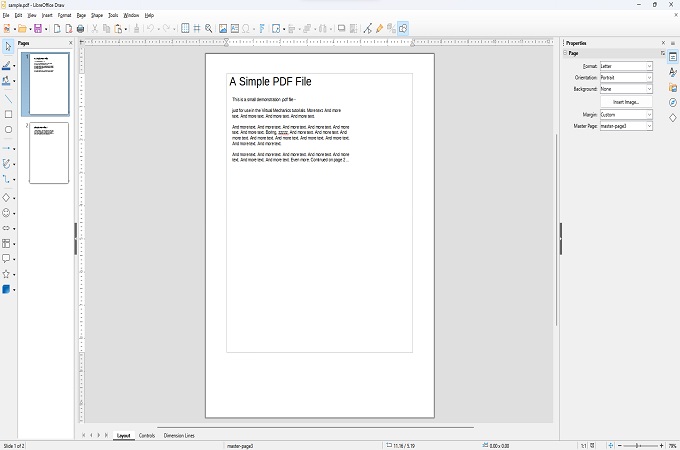 This one's a bit odd, but, LibreOffice lDraw lets you open and read PDF files LibreOffice Draw is more of a designing program, but it acts as PDF Editor. To read PDF files, you will have to open them through LibreOffice Draw. Apart from just reading PDF files, you can also edit your file by replacing and adding new text, and adjusting text positions
LibreOffice Draw lets you insert images, fill out forms and even create new PDF files. You can also run multiple instances of Draw and edit scanned images easily. Having all these features with an Office program suite reduces the need for you to download a separate PDF reader and editor.
Pros:
Create Forms
Merge multiple PDF files
Completely free and open source
Cons:
Not ideal if you just want to read PDF files
Can be difficult for a beginner
Key Features: Add Digital Signatures | Export file as PDF, HTML JPEG, GIF| Secure file with passwords| Add watermarks
Download: LibreOffice (Free)
Related: 10 Best PDF Readers for Windows and Mac Users
Nitro Free PDF Reader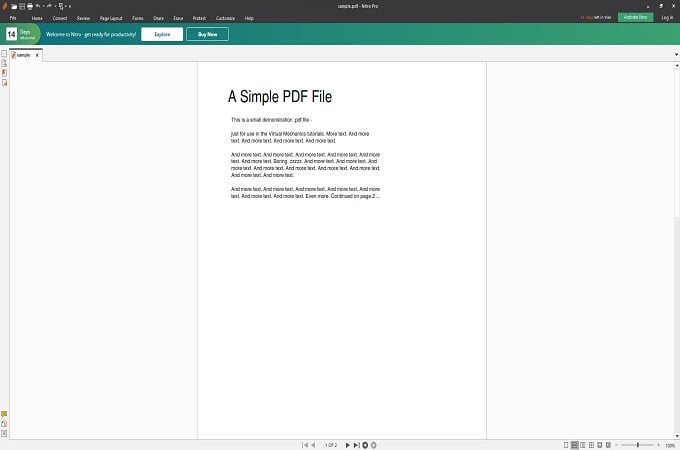 Nitro's Free PDF Reader is a popular PDF reader. The user interface is similar to the one found in Microsoft Office. Because the UI is familiar, users tend to prefer Nitro PDF Reader over other PDF readers out there.
This DF Reader allows you to read and print files right away. You can also export the PDF files into images that allow you to easily share them. If you want to get all the benefits such as the ability to edit, add signatures, or even search for texts, you will have to purchase Nitro PDF Pro
Cons:
Basic features locked behind the Pro version
Key Features: Convert various files to PDF | Free Pro Trial to create unlimited PDFs | Convert MS-Office files into PDF
Download: Nitro Free PDF Reader (Freemium)
Slim PDF Reader 2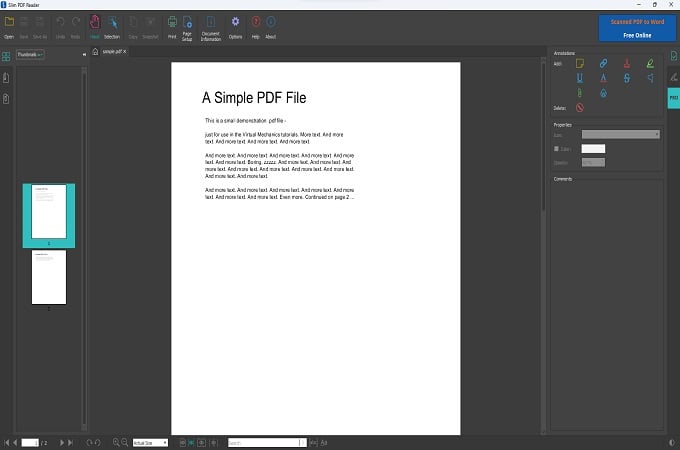 Slim PDF Reader is the more advanced version of Slim PDF Reader. The new version incorporates a good number of features and is now faster than the previous version. You can read, and view PDF pages side by side and also search for a particular word in the document file. There is a dedicated Print button that allows you to print the current PDF right away.
Slim PDF Reader 2 allows you to add annotations and even film forms right away. If you like to change the theme of your PDF reader, you can now switch between the Light and Dark modes. The new user interface for Slim PDF Reader 2 now has a new start screen that lets you access files that were recently opened.
Pros:
Scalable interface
Smooth scroll using the Hand tool
Cons:
Cannot create or edit PDF file
Unable to edit scanned images
Key Features: Easily create images with the Snapshot tool | Ability to insert Sticky Notes and Stamps | Underline, Highlight and draw Squiggly lines on text | Add watermarks to documents
Download: Slim PDF Reader 2 (Freemium)
Related: 8 Best PDF Compressor for Mac and Windows
Sumatra PDF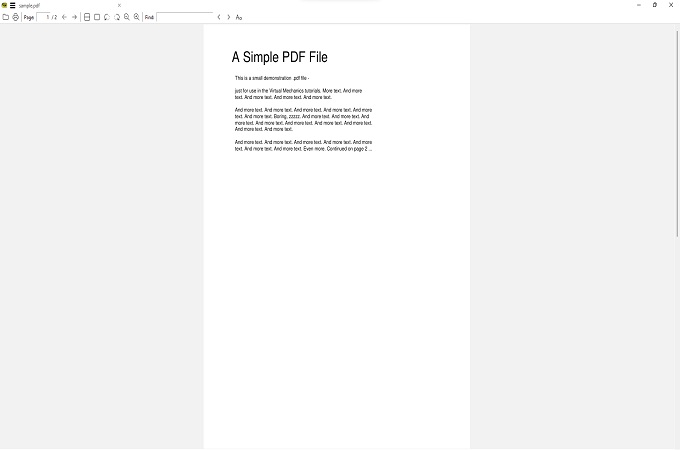 Here's a dedicated PDF reader that does it perfectly. Its got no fancy features like the ability to merge, split or even annotate your PDFs. This is a great reader for those who just want to read their PDFs without any distractions. So, saying that it's missing a lot of features as a disadvantage is simply not justified. Sumatra PDF can also read various other eBook formats such as epub, mobi, cbz, and cbr. It also acts as an Image Viewer and an XPS reader.
Pros:
Completely Free
Open source
Cons:
No option to highlight text
Key Features: Custom Key bindings | Lightweight| Responsive | Quick loading times
Download: Sumatra PDF (Free)
Microsoft Edge Browser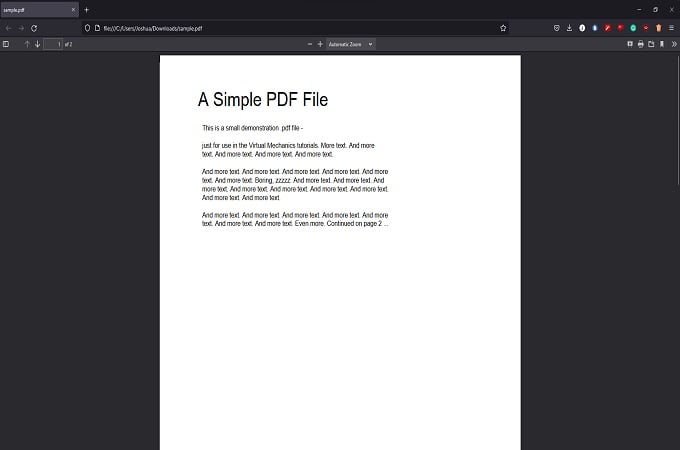 Microsoft Edge is the Windows 11's default PDF reader if you ever tried to open a file before. Even if you did not like the looks of it, take a closer look and you will notice a handful of tools to manage a PDF file their as well. It includes highlights, marking, and lots.
Apart from Edge, you can try pretty much any web browser on Windows 11. Given that web browsers are free and everyone has some sort of a web browser installed on their Windows 11 PC, there is no need for you to get a dedicated PDF reader if all you are going to do is read document files. Whatever browser you choose, be it Google Chrome, Firefox, Microsoft Edge, Opera, or even Brave browser, they all support reading PDF files. 
Key Features: Switch between thumbnail and document outline | Easily go to document page number | Search for words | View PDF in full-screen in Presentation mode | Print directly from the browser | Switch between vertical or horizontal scrolling | Rotate the document clockwise or anti-clockwise
Related: 15 Best Microsoft Edge Tips and Tricks You Should Know
These are the best PDF Readers that you can install on your Windows 11 PC. Now, you can choose what PDF reader works the best for you. Whether you like a dedicated reader like PDF Sumatra or you like something feature rich like Adobe's Acrobat or Foxit Reader. LibreOffice Draw is a better option if you want to have all the benefits of having an Office suite along with a PDF reader that lets you do everything with a PDF.