Living healthy and a better lifestyle is the ultimate goal of every human being. There are a lot of devices that lets you track your calories, diet, health, or even sleep. In this article, we will look at the best health apps for Apple Watch. The Apple Watch is indeed a great companion when it comes to staying healthy and fit life.
In this post, we have compiled a list of apps that would have plenty to offer in health and fitness. let us look at them one-by-one;
1. Lifesum
Lifesum is a nice and the best diet and nutrition tracking health app for Apple Watch. Moreover, it is the most accurate app. You can track diet, calorie, and learn healthy food recipes, all at one place. This health app has the best diet plans and tips according to your needs. Other features include a barcode scanner that helps you track the calorie count of your food. It also features a Micro tracker that tracks the daily nutrition and calorie intake.

Besides, you can create a food journal where you can add your food and track your diet with ease. There are several diet and weight loss plan to cater to your needs. However, you need to buy a subscription in order to integrate with other fitness apps such as Moves, Nokia Health, Fitbit, Jawbone, Endomondo, and Runkeeper.
Download from App Store: Lifesum
2. Lark – 24/7 Health Coach
Another health app for Apple watch is the Lark app. This app like any other app in this list does its job pretty well. Lark is a personal coach that helps you to track your diet, exercise, sleep, medication, and weight. Moreover, it gives you a text motivation daily to keep you motivated for achieving your health goal. The health coach features Artificial Intelligence to help you assist with leading chronic diseases.

You can connect the Lark app with other health monitors to provide real-time, personalized, 24/7 support and counseling. Lark also features Lark Diabetes Prevention Program (DPP). It has exercises that are fully covered by many insurance plans. You get Lark Diabetes Care glucose and monitoring and feedback. You also get tracking for Lark Hypertension Care and Larke Wellness that includes personalized health plan, nutrition coaching, and more.
Download from App Store: Lark – 24/7 Health Coach

Also Read: 8 Best Smart Body-Fat Scales to Sync with iPhone & Android
3. Headspace: Guided Meditation
If you are stressed at work or something is bothering you very much, Headspace is the app for you. It is your guide to health and a calm mind. This health app for Apple Watch guides you with meditation and other techniques to calm and relax your mind. Moreover, there are other hundreds of meditations on subjects like focus, and exercise as well. You get daily meditation on a new topic, and mindful moments to keep you motivated throughout the day.

This app also has a 2-3 minute quick stress relief meditation and 'SOS' for tackling panic, anxiety, and stress. You can connect with your friend to meditate with you. Besides, get yourself a trained expert Andy Puddicombe. There is also a free Basics course that will teach you the essentials of meditation and mindfulness.
Download from App Store: Headspace
4. Pocket Yoga
Pocket Yoga for Apple Watch is your yoga companion. This health app lets you perform yoga at the comfort of your home with guided yoga sessions. There are a total of 27 different sessions, which varies in duration as well as intensity. Pocket Yoga also helps you to correct and maintain your posture, alignment and the benefits of that particular yoga. The voice instructor guides you with every detail including your breathing. Moreover, over 200 yoga posture images add to the features of the app.

With this app, you will unlock different environments, preview your practice, maintain a log of your yoga, or ask Siri to start your practice. You can even play music via iTunes and also practice yoga through Apple TV.
Download from App Store: Pocket Yoga
5. Hello Heart
The Hello Heart app is a blood pressure tracking app for Apple Watch. It lets you understand your heart risks and manage them yourselves. This health app gives you explanations and insights on your heart condition. Moreover, it is based on the AMA guidelines and it synchronizes your blood pressure readings with the Apple health app. Once you begin tracking your heart, you will eventually change the bad habits for a good long term. This app lets you to personally track your heart and feel good about yourself.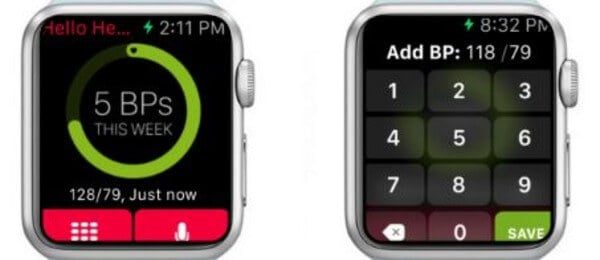 One thing to note is that this app lets you track your blood pressure and not measure it. It gives you weekly BP report, daily heart health insights, weight/BMI tracker, and medication reminders to stay healthy. Besides, it is HIPAA compliant so that your data is secured.
Download from App Store: Hello Heart
6. RunKeeper
If you a fitness enthusiast and run for keeping yourself healthy then, RunKeeper app is the one for you. With this app, you can record running, walking, biking, etc. You can even set goals like weight loss goals, run faster, or anything. This app motivates you with its 6 supported voices which is available in English only. There are in-app challenges, daily rewards and more to keep you up and running.

Moreover, with the premium version, you can take advantage of the racing-training plans from the ASICS Institute of Sport Science. You get detailed insights as well as comparison and weather data. One point to note is that it constantly uses GPS, so that would affect your battery consumption.
Download from App Store: RunKeeper
Related: 12 Best Health Monitoring Devices to Work with iPhone & iPad
7. Pedometer++
With the Pedometer ++ app, you can use your Apple iPhone as your step counter. And, with the help of your Apple watch, you can track your daily or weekly steps without much battery consumption. Moreover, this app lets you count over 10,000 steps daily. Your daily steps are shown on the watch face directly and this way you can achieve your set goal.

You need to add this app on the watch face and you are done. This app will show your activity progress, as well as step counts as well.
Download from App Store: Pedometer++
8. Workouts++
Workouts++ app lets you customize the way you want to track your progress. You can display on your watch face, whatever data you want to look at. It has a 6 metric display packed with info to a focused single metric display. You can customize the metrics based on colors, haptic alerts, and more. Moreover, this app lets you watch the graphs on your Apple Watch.

This app lets you view your historical insights of workouts you have performed even not from the Workout++ app itself. You can view your lifetime stats to see whether you have reached your goal or not. Listen to podcasts during your workouts.
Download from App Store: Workouts++
Best Health Apps for Apple Watch
Health and fitness demand your mental stability and a change in your daily routine. Apple watch is really a small computer the rests on your wrist. There is so much you can do with this device. You just have to install the apps that can help you progress towards living a better and healthy lifestyle and leave everything else to your Apple Watch.
This device will track and monitor every detail and provide you insights on it. However, the main thing is you have to dedicate yourself to transform yourself because the app and the Apple Watch itself will not do anything unless you put in the efforts.