The Apple Watch Series 9 is the latest addition to Apple's impressive line of smartwatches. This advanced wearable technology stands out with its brighter screen and an innovative new chip that supports Siri's device function. An intriguing double-tap feature adds to its appeal. Like its predecessor, the Series 9 is available in two sizes – 41mm and 45mm- catering to various user preferences. These are some of the best Accessories and Cases for the Apple Watch Series 9.
amBand M1 Sport Series Rugged Case and Watch Band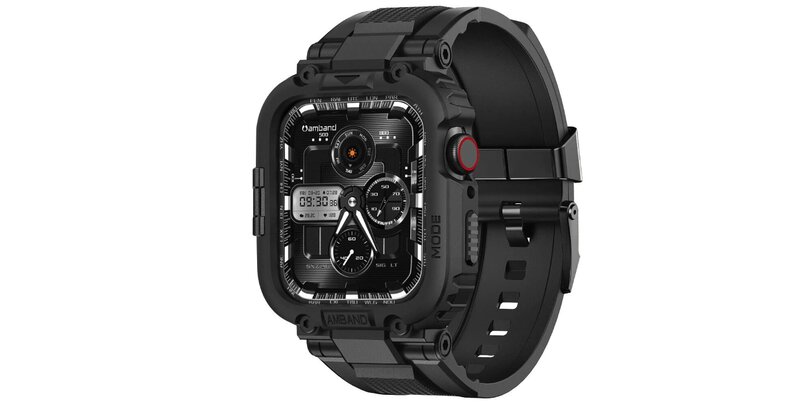 amBand M1 Sport Series Rugged Case provides an excellent blend of style and utility, making it an ideal accessory for the Apple Watch Series 9. The design is sleek and modern, fitting perfectly on any wrist with the ability to adjust the band length. The case is made from lightweight, military-grade TPU, offering a high level of protection without compromising comfort or appearance. The shock-resistant structure and unibody integrated band ensure reliability and durability, capable of withstanding daily wear and tear.
The easy installation and removal process is another plus, allowing users to switch between styles easily. The buckle, made from 316L stainless steel, is another testament to the quality of amBand's product. It guarantees longevity, promising never to chip or rust, which is a much-appreciated feature for those who lead active lifestyles. Perhaps one of the most appealing aspects of the M1 Sport Series Apple Watch Case by amBand is its customization – you can customize it with different watch bands.
Key Features: Military-grade TPU | Shock-resistant protection | 316 Stainless Steel build | Customizable watch band support | Easy to install and remove | Withstand heavy usage
elago W2 Charger Stand Compatible with Apple Watch Series 9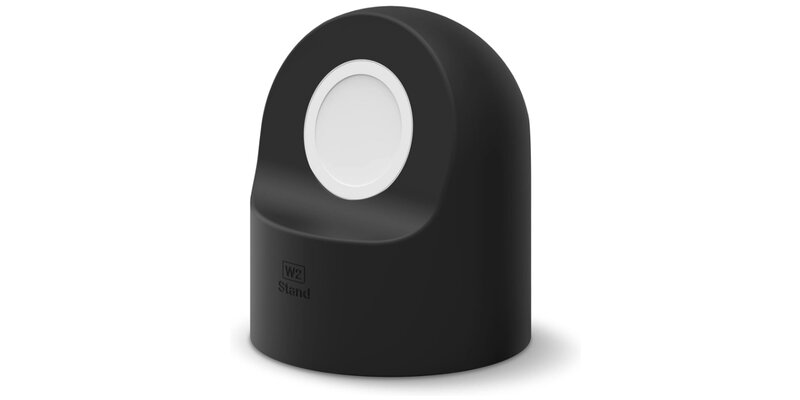 The elago W2 Charger Stand is an excellent accessory for Apple Watch users, offering a perfect mix of design, functionality, and affordability. The stand features a precise cut-out that snugly fits your Apple Watch charger, ensuring a stable and secure charging experience. It is made from scratch-free silicone material, which protects your watch from any potential damage and ensures the stand remains sturdy.
It holds your Apple Watch at an ideal viewing angle, letting you easily see notifications and time. The clutter-free and straightforward design makes cable management a breeze, contributing to a tidy setup. Though it may not offer built-in power bank capabilities, the elago W2 Charger Stand stands out for its simplicity, user-friendly design, and value for money.
Key Features: Precise cut-out for the Apple Watch charger | Scratch-free silicone build | Cable management hole | User-friendly design | Use Apple Watch in Nightstand mode
SUPCASE Unicorn Beetle Pro Case with Band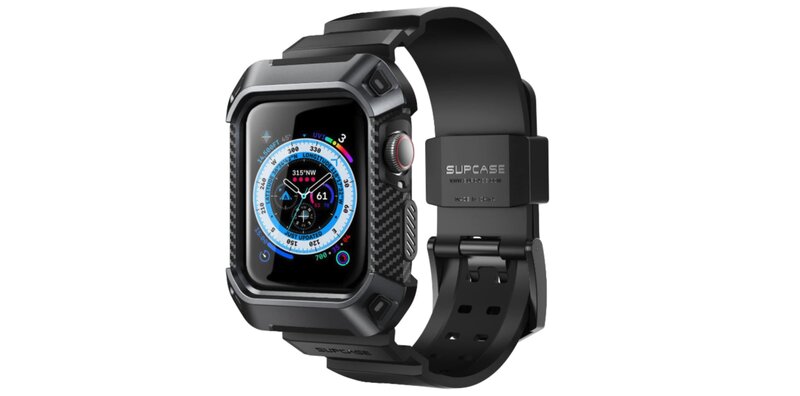 The SUPCASE Unicorn Beetle Pro Case with Band for Apple Watch Series 9 is an impressive protective accessory with style and function. Its rugged design, courtesy of the UB Pro bumper, ensures robust shock absorption, enhancing your Apple Watch's durability. This bumper also features a raised bezel, which protects the screen from damage, helping maintain your device's pristine condition.
It includes a fully adjustable built-in TPU band, which allows users to achieve the perfect fit for their wrist size. This feature and the case's scratch-resistant properties guarantee a long-lasting, high-quality appearance. In terms of installation, the SUPCASE Unicorn Beetle Pro Case is user-friendly, making the process of attaching and removing the snap-on PU case hassle-free. The case's aesthetics are appealing too, offering a sleek and sophisticated look that complements the Apple Watch perfectly.
Key Features: Adjustable TPU band | Rugged design with shock absorption | Snap-on PU Case | Scratch resistant | Raised bezel for enhanced protection
GELISHI Bumper Case with Watch Band for Apple Watch Series 9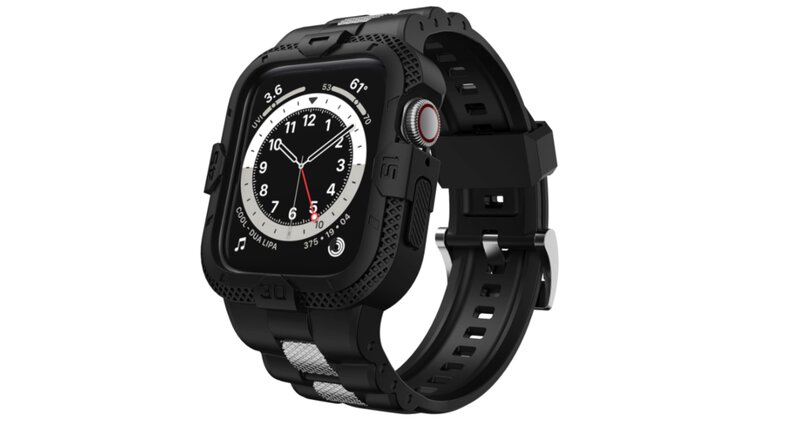 The GELISHI Compatible Apple Watch Band is a remarkable accessory that perfectly complements the Apple Watch Series 9. The flexibility and durability of the band make it a comfortable fit, allowing for prolonged usage without any discomfort. The standout feature of this accessory is the bumper case that comes with the band.
The case, made from high-quality TPU provides excellent protection for the watch. It's designed to absorb shocks, safeguarding your watch from accidental drops. The precise cutouts ensure easy access to all functions and buttons. The band and the bumper case installation is straightforward, needing no extra tools, which adds to the overall user experience. Moreover, the band and case combination are available in various colors, allowing users to personalize their Apple Watch to their liking.
Key Features: High-quality TPU material used in making | Durable Bumper Case | Precise cutouts for easy access | Personalize with different watch bands | Easy to install
JOYROOM Portable 2000mAh Wireless Charger for Apple Watch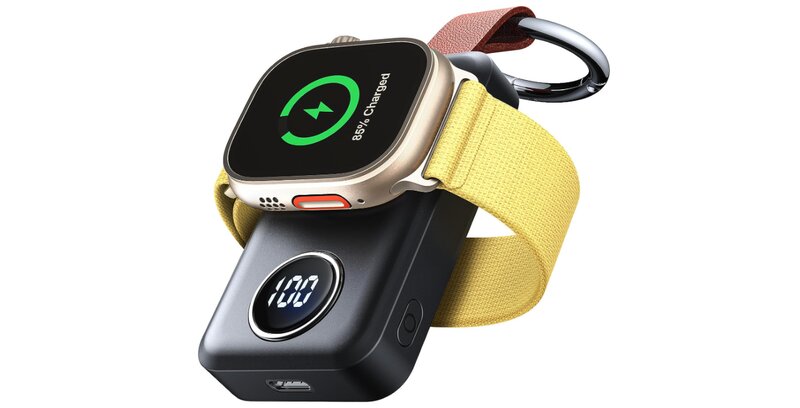 The JOYROOM Portable 2000mAh Wireless Charger is a great accessory for Apple Watch Series 9 users. This portable charger boasts a compact and sleek design, making it perfect for travel, workouts, or everyday use. The 2000mAh capacity is impressive, ensuring multiple full charges for your Apple Watch before needing a recharge itself. The charger also incorporates a magnetic charging module, providing a solid connection and efficient charging to your device.
With its LED display, you can easily monitor the charging status and remaining power level. This charger also shines with its built-in safety features, offering protection against overcharging, overheating, and short-circuiting, ensuring both your device and the charger itself are safe. The durability of this charger is commendable. It is made with high-quality materials to withstand the wear and tear of regular use. The included keychain makes it easy to hang on your travel bag.
Key Features: 2000mAh battery for portable charging | Magnetic Charging Pad | LED Charge info display | Buit-in overcharge and short-circuit protection | Included keychain loop for easy carrying
Goton Waterproof Privacy Case for Apple Watch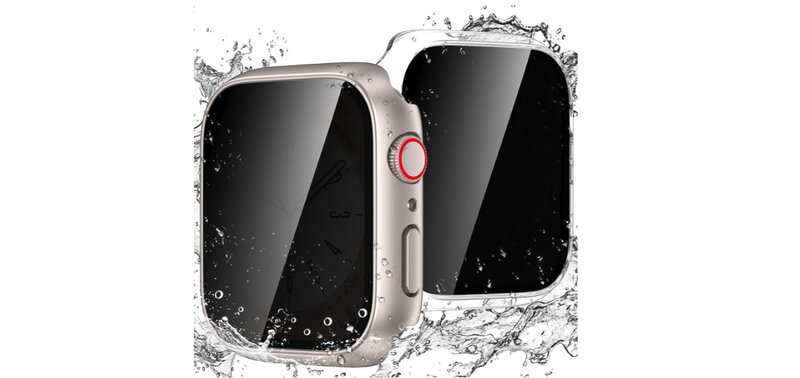 The Goton Waterproof Privacy Case for Apple Watch boasts a waterproof design, making it an ideal companion for outdoor activities, swimming, and daily usage. The snap-on case provides comprehensive coverage to the Apple Watch Series 9, ensuring maximum protection against scratches, impacts, and dust. Its privacy screen protector is one unique feature that sets it apart from many other cases. The semi-transparent screen protects your watch and offers a degree of privacy by limiting the viewing angle.
This makes it harder for people nearby to see your watch's screen, adding an extra layer of security to your personal information. The case is crafted from premium quality TPU, contributing to its durability and longevity. It fits seamlessly onto the Apple Watch, maintaining the device's sleek appearance while giving it a robust shield. Despite its rugged build, the case allows easy access to all watch functions, ensuring your user experience remains great.
Key Features: Premium TPU build | Waterproof design | Privacy screen protection | Durable and scratch resistant | Precise cutouts for easy button access
HUOTO Portable Charger for Apple Watch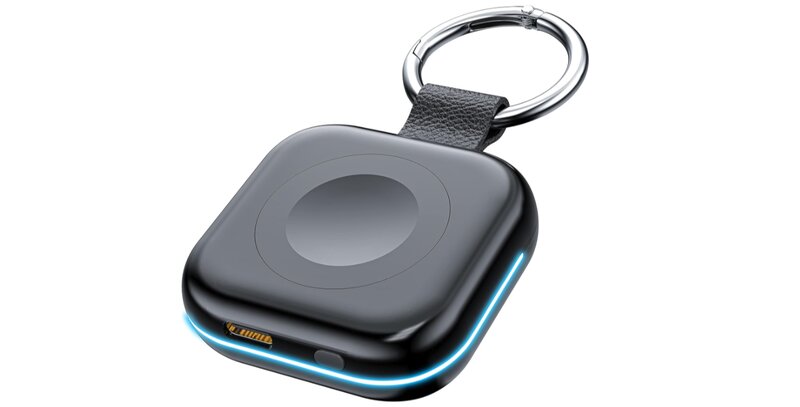 The HUOTO Portable Charger for Apple Watch is an absolute game-changer for Apple Watch users. This charger boasts a compact and lightweight design, making it incredibly easy to carry around, perfect for those who are always on the go. Made with high-quality ABS and PC material, the charger is durable and robust, ensuring it can withstand daily use. It provides an impressive 1200mAh capacity, enough to recharge your Apple Watch multiple times, maximizing convenience.
It has a magnetic charging module, which easily clasps your watch, ensuring secure and efficient charging. It also supports simultaneous charging of the Apple Watch and iPhone, a feature that's a boon for Apple users. The LED indicators are a nice touch, providing a clear visual of the charging status. The charger also provides over-current, over-voltage, short circuit, and over-temperature protection, ensuring the safety of your Apple Watch Series 9.
Key Features: Made with ABS and PC material | 1200mAh battery capacity | LED charge indicator light | Over-current protection | Lightweight and easy to carry
Today's Deal: $6.00 Off
Spigen Apple Watch Charger MFi Certified for Apple Watch Series 9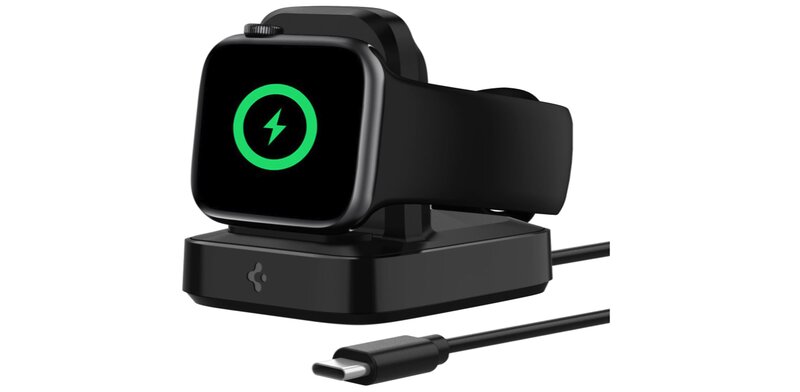 The Spigen Apple Watch Charger Stand is MFi certified, ensuring seamless compatibility and robust charging performance. The stand is designed for convenience, allowing users to charge their devices in either flat or nightstand mode. One of the standout features is its sturdy build quality. The stand's compact and minimalist design is a perfect fit for any desk or bedside table, adding a touch of sophistication without taking up much space.
The Spigen stand ensures safe charging, with its precise cutout securely holding the Apple Watch Series 9 charger. This prevents unnecessary movement and potential damage to the device. Moreover, the charger stand ensures a clutter-free environment by effectively managing your cable. The anti-slip pads allow the charger to rest firm on a desk. Included 6.6ft USB-C cable ensures better compatibility with power outlets.
Key Features: MFi Certified by Apple | Can be used in Flat or Nightstand mode | Precise charger cutouts | Safe charging with over-current protection | Anti-slip pads for increased grip | USB-C Cable included
Today's Deal: $14.01 Off
Wristitani Apple Watch Band with Shockproof Rugged Case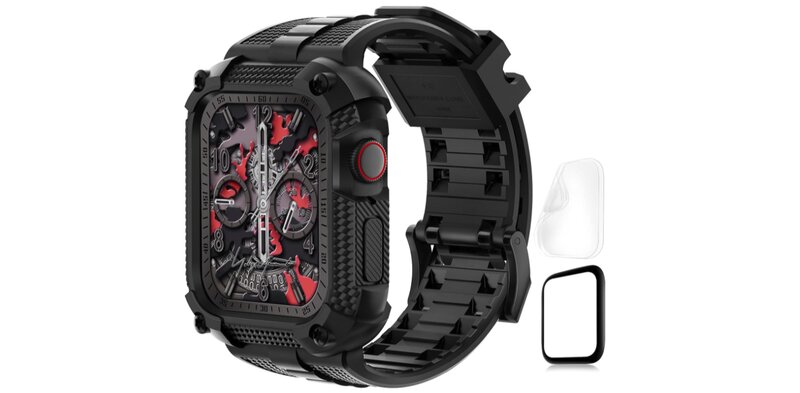 The Wristitani Apple Watch Band with a Shockproof Rugged Case offers both style and functionality. The band's entire construction is crafted from TPU (soft silicone), allowing optimal wrist comfort. This non-toxic and durable material makes it an excellent choice for daily wear. The band's design is inspired by a military style, featuring rugged edges and a uni-body build. This gives it a robust and versatile look that many Apple Watch users could appreciate. The band also has a stainless steel buckle, adding to its overall sturdiness and longevity.
One of the prime features of this band is the 360-degree uni-body protection it provides for your Apple Watch. The 1.8mm raised edge shockproof design further enhances the safety of your device. This product truly shines in its ability to offer high-level protection without compromising on style or comfort.
Key Features: Made with TPU material | 360-degree unibody protection | 1.8mm rasied bezel for protecting display | Rugged and durable casing | Stainless steel buckle
MioHHR Stainless Steel Watch Band with Case for Apple Watch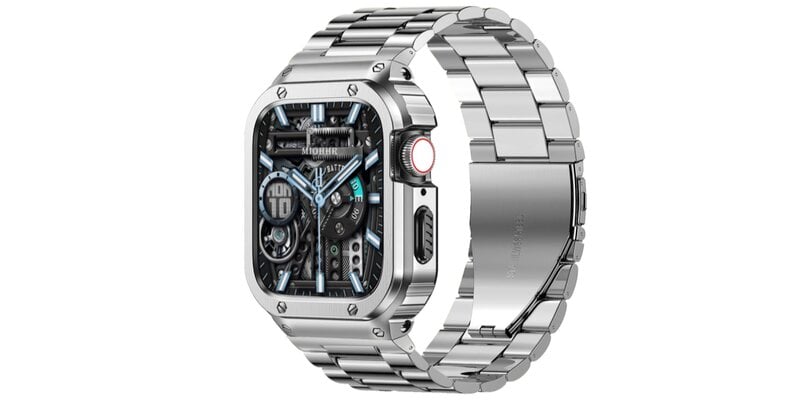 The MioHHR Stainless Steel Watch Band with Case for Apple Watch Series 9 protects and offers a premium look to your watch. Crafted from high-quality 316 stainless steel, the band offers an impressive combination of strength and elegance. Its refined, metallic finish gives it a classy, upscale look, while the material ensures longevity and wear and tear resistance. The band feels comfortable on the wrist, with a smooth texture that doesn't scratch or irritate the skin.
The case that comes with this band is yet another selling point. It provides optimum protection for the Apple Watch, shielding it from accidental drops and scratches. The precision cut-outs assure full access to all buttons and features. Adjustability is a breeze with the MioHHR band, thanks to its flexible links allowing resizing. This ensures a perfect fit for any wrist size, enhancing comfort and protection.
Key Features: 316 Stainless steel build | Flexible Link adjustable bands | Precision cutouts for the case | Premium finish that looks great | Does not cause skin irritations
Whether it's stylish bands for personalization, protective cases for durability, or innovative chargers for convenience, these accessories are designed to complement the watch's features. Regardless of the user's lifestyle or needs, there's an accessory to match and make the most out of the Apple Watch Series 9's technological prowess.