Embrace the full potential of your MacBook Air with the latest M2 chip by pairing it with some of the best accessories available in the market. From charging adapters to sleek peripherals and from versatile USB-C and Thunderbolt hubs to rugged external storage devices, the world of Apple accessories holds a plethora of options to enhance your user experience.
This article will guide you through a curated selection of top-tier add-ons that not only complement your MacBook Air's capabilities but also provide additional convenience and functionality.
Anker PowerExpand 6-in-1 USB-C Hub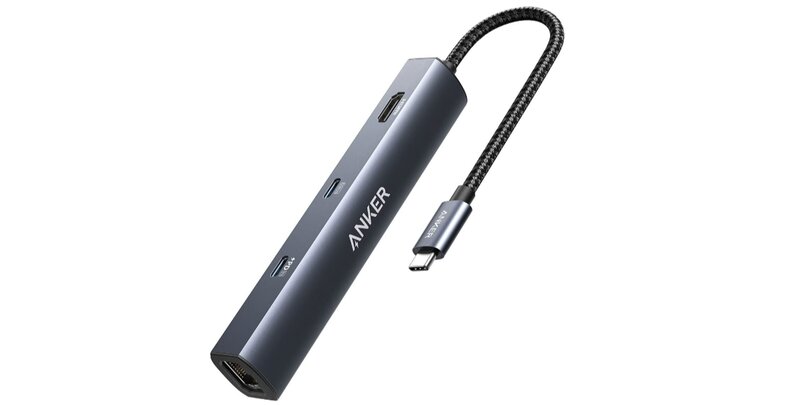 The Anker PowerExpand 6-in-1 Hub is a compact accessory that offers vast functionality. The hub integrates two USB 3.0 ports, an HDMI port, a power delivery USB-C port, an SD card slot, and a microSD card slot. It allows for the simultaneous connection of multiple devices, making it a perfect companion for professionals.
Its HDMI port supports up to 4K resolution, ensuring high-quality video output for the MacBook Air 15. The device is also equipped with high-speed data transfer ports. The design is sleek and portable, making it easy to carry around. However, it does heat up a bit during heavy usage. Overall, the Anker PowerExpand 6-in-1 Hub is a versatile, high-quality hub that offers excellent value for its price. The added 65W PD feature can ensure you can charge and use simultaneously.
What We Like: 6-in-1 Port selection | Support 4K display out | 65W PD charging | microSD slot | Supports faster data speeds
Today's Deal: $26.99 Off
CalDigit TS4 Thunderbolt 4 Dock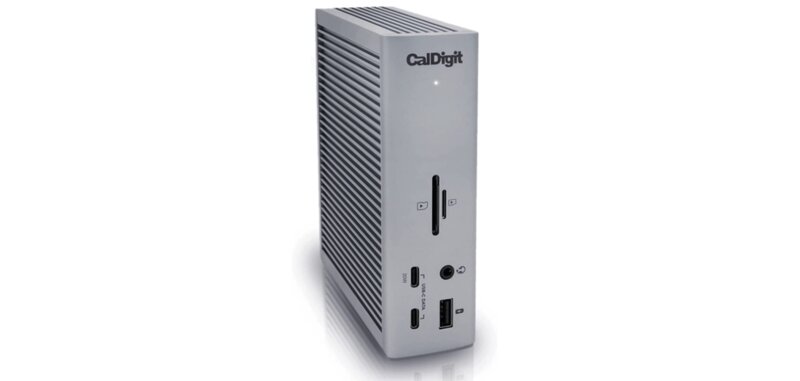 The CalDigit TS4 Thunderbolt 4 Dock is an impressive piece of technology that enhances your connectivity options. It excels in both design and functionality with its sleek, compact form, but it has 18 ports, making it an excellent addition to any workspace. The TS4 supports up to 98W laptop charging and offers a plethora of ports, including 5x USB-A, 3x USB-C Thunderbolt 4, Ethernet, SD Card slot, and more, catering to all your peripheral needs.
It supports dual 6K or single 8K displays, ensuring top-notch visual quality. Despite its hefty price tag, the dock's performance and convenience make it a worthy investment. The only minor drawback is its requirement for Thunderbolt 4 compatible devices, which may not suit everyone's needs. Overall, the CalDigit TS4 is a top-tier dock that vastly improves productivity and connectivity.
What We Like: Thunderbolt 4 enabled | 98W fast charging | Supports up to 8K displays | 3x USB-C and 3x USB-A | 18 ports
Today's Deal: $50.00 Off
Tomtoc 360° Protective Laptop Sleeve for 15-inch MacBook Air M2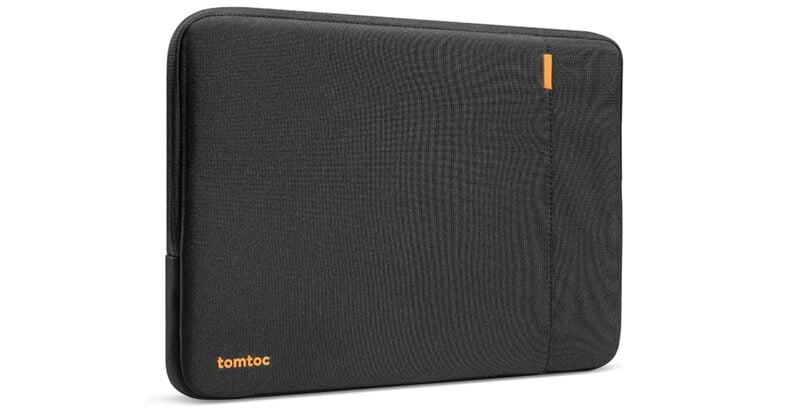 With CornerArmor Technology, high resilience edges, and high-density soft cushioning, the laptop sleeve designed by Tomtoc provides 360 degrees of protection against drops, shocks, and vibrations. It was drop-tested to military standards while yet looking elegant.
The high-quality recycled materials, YKK zippers, interline-designed soft lining, and expert construction make this MacBook sleeve the best on the market. It's feasible to travel light because of the handy extra front pocket. There's also a key loop and AirTag holder on this strap. The 15-inch MacBook Air fits perfectly with this sleeve.
What We Like: High-density cushioning | YKK Zippers | Soft inner lining | Airtag Holder | Best for MacBook Air 15-inch | Drop tested by military standards
Today's Deal: $7.50 Off
UGREEN Nexode 100W USB-C Charger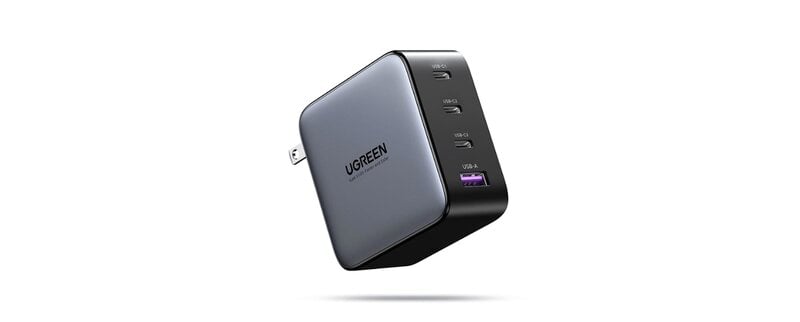 The UGREEN Nexode 100W USB-C Charger is a compact, smart power-sharing device that is highly versatile and portable. It features three USB-C ports and one USB-A port, making it perfect for users with multiple devices that need charging on the go. The charger's utilization of the latest Gallium Nitride technology and a Power-X power delivery system allows it to adjust power output, adding an extra layer of protection for your devices. It can charge an iPhone 13 to 60% in just 30 minutes and a 16-inch MacBook Pro in 1.5 hours, demonstrating its impressive power.
Despite its size, the build quality is robust, and it comes with a 6.6-foot power cord for convenience. However, it lacks an LED power light and doesn't have a USB-C to USB-C cable. It protects your devices using a set of Dynamic Temperature Sensors that track heat and a smart PMW chip that modulates electricity. Overnight charging is risk-free thanks to the UL94-V0-certified exterior and heat-dissipating design.
What We Like: 100W is fast | 3xUSB-C port and one USB-A | GaN and PowerX are intelligent features | Dynamic temperature guard | Heat dissipating design
Belkin iPhone MagSafe Continuity Camera Mount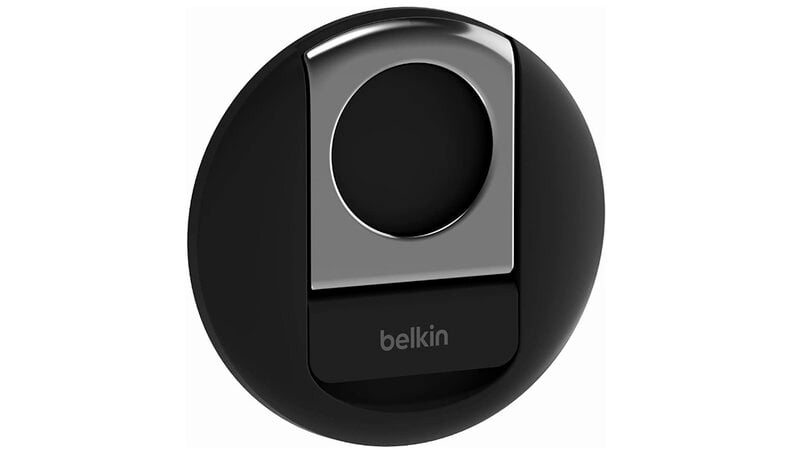 The Belkin iPhone MagSafe Continuity Camera Mount is an innovative accessory that enhances the user's experience with its powerful magnetic attachment system. Its high-quality construction ensures durability and reliability when attaching horizontally. This mount offers a stable platform for your iPhone, providing you with seamless, shake-free video capture on your MacBook. It also offers a 360-degree rotation feature, allowing for creative flexibility in capturing shots.
However, its compatibility is limited to iPhones with MagSafe, which might be a disadvantage for some users. While attached, you can rotate your MagSafe-compatible iPhone to either landscape or portrait orientation. The Belkin iPhone Continuity Camera Mount can also be used as a convenient ring grip and kickstand, easily installed and detached to take it with you.
What We Like: Powerful Magnets | 360-degree rotation | Can be used as grip or kickstand | Easy to attach and detach
Today's Deal: $6.76 Off
Apple AirPods Pro 2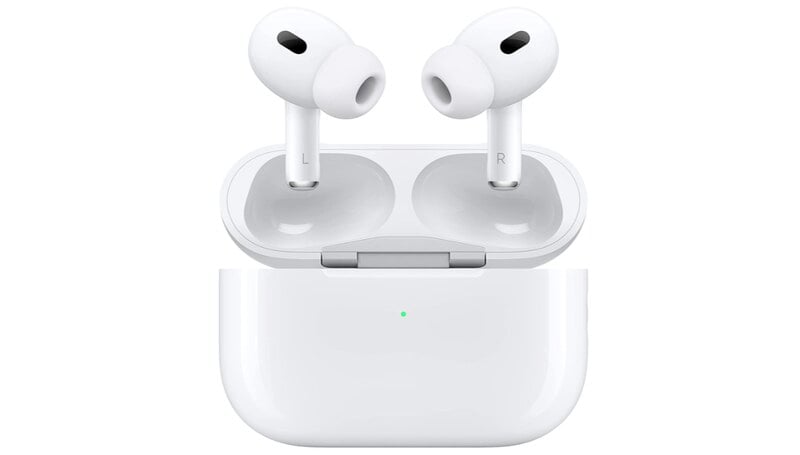 The Apple AirPods Pro 2 delivers an exceptional audio experience. With their compact design and high-quality sound, these wireless earbuds truly stand out. The active noise cancellation feature is impressive, efficiently blocking out ambient sounds. The Personalized Spatial Audio feature, simulating surround sound, adds depth to the listening experience. Apple's new H2 Chip provides better sound quality than the Gen 1. With the Adaptive Transparency feature, the AirPods adjust sound and noise and balance them out automatically.
The battery life is decent, with around 6 hours of continuous playback. The comfort level is high, thanks to the customizable silicone tips. Connecting to Apple devices is seamless, and the Find My feature is a lifesaver for misplacing the earbuds. The Case now supports Precision Finding with Ultra Wideband technology and can be charged via Magsafe or Wireless Qi charging.
What We Like: Personalized Spatial Audio | Apple H2 Chip for better audio quality | Adaptive Transparency | 6-hour battery | Find My feature | Wireless Charging supported
Today's Deal: $25.06 Off
Logitech MX Master 3S Wireless Mouse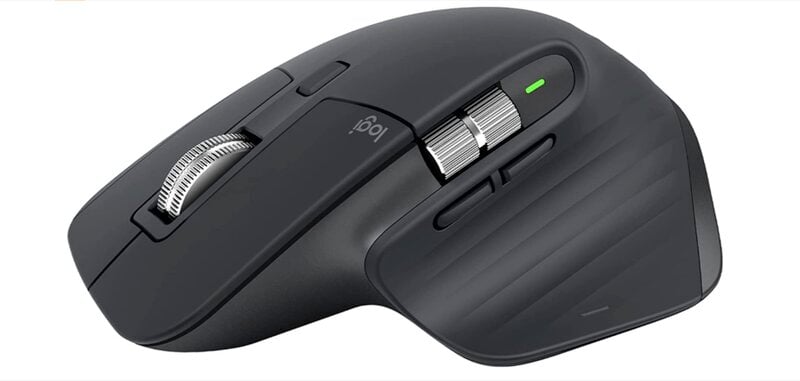 The Logitech MX Master 3S Wireless Mouse is a phenomenal peripheral that redefines the standards of a high-performance mouse. This device is an absolute game-changer with its customizable button layout and ultra-precise 8000 DPI sensor. The scroll wheel, which can alternate between ratchet and free-spin modes, is a notable feature, enhancing productivity. The QuietClick feature reduces click noise up to 90%.
The mouse is ergonomically designed to fit perfectly in your hand. Its wireless functionality allows for a seamless connection, and the battery life is remarkable, lasting up to 70 days on a full charge. The Logitech MX Master 3S also supports Logitech's Flow technology, which lets you control and transfer files between three computers simultaneously. This feature is ideal for multitasking professionals. The different options can be customized from the Logi Options app.
What We Like: 8000 DPI Sensor | QuietClick feature to reduce sounds | Customizable Macro keys | Logitech Flow for File Transfer | Ergonomic Design
Samsung T7 Portable SSD 1TB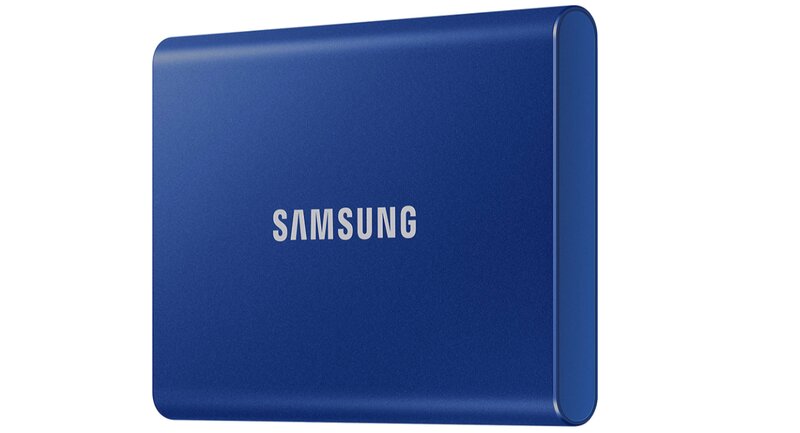 The Samsung T7 Portable SSD 1TB delivers excellent performance in a compact and sleek package. With its robust durability and blazing fast speeds of up to 1,050 MB/s with the embedded NVMe SSD chips, it offers a substantial upgrade from traditional external hard drives. The T7's lightweight design, weighing just 58 grams, makes it the perfect portable companion for those needing to transport large amounts of data on the go.
The solid-state drive also employs secure encryption with Samsung Magician software, ensuring your data is protected. The device comes with a USB Type-C to C and USB Type-C to A cable, offering flexibility to users. The Samsung T7 comes with Dynamic Thermal Guard to protect the SSD from heating issues. It supports the latest 15-inch MacBook Air, Windows PCs, and Android devices.
What We Like: Upto 1050MB/s speeds | Dynamic Thermal Guard for heat protection | Samsung Magician for customization and management | USB-C to C supported | Lightweight at 58 grams
Today's Deal: $51.99 Off
Logitech K380 Multi-Device Bluetooth Keyboard
The Logitech K380 is a robust and compact Bluetooth keyboard that offers a seamless connection with multiple devices. Its aesthetic, minimalistic design adds a modern touch to your workspace. Notably, the round scooped scissor keys, while adding to the visual appeal, provide a comfortable typing experience. It can be used with MacBook and Windows as the keys have macro functions mapped for both operating systems.
It supports up to three devices simultaneously, with an easy switch feature that works flawlessly. This versatility makes it ideal for multi-tasking across different devices. The battery life is impressive, providing up to 2 years of power with regular use. The Logitech K380 has an auto power-saving feature, so there is no need to turn it off when not used.
What We Like: 3 devices switching | Macro keys available | Round scooped scissor keys for comfortable typing | Auto power-saving feature | Minimalistic aesthetic | 2-year battery life
Brocoon Adjustable Laptop Stand for Desk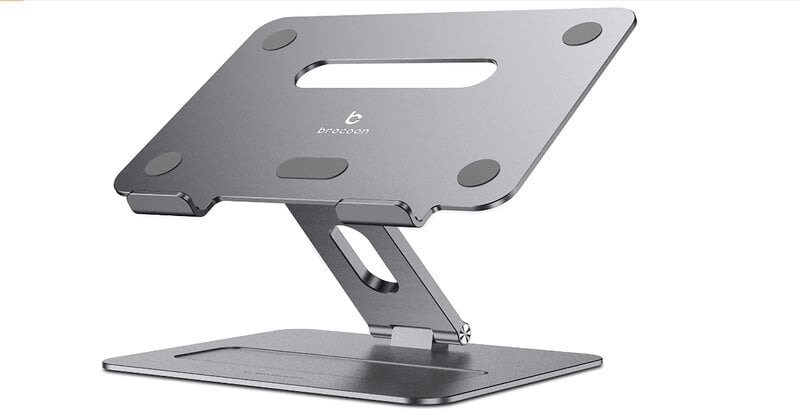 The Brocoon Laptop Stand features many height and angle adjustments. The ergonomic design of this computer stand will allow you to place the screen just in front of your eyes. The stand's Z-shaped construction, made of quality aluminum alloy, ensures that it won't topple over.
The stand can withstand weights of up to 20 pounds. Your laptop will stay put thanks to the non-slip rubber on the holder, and the protective hooks will keep it from slipping off. The top layer of alloyed aluminum can absorb and release heat with relative ease. Brocoon's heat vent design increases natural airflow to cool down your laptop, keeping it running at peak performance for longer and potentially extending its life.
What We Like: Z-shaped stand | Can withstand 20pounds weight | Vents for cooling the laptop | Aluminum alloy construction | Ergonomic design
The MacBook Air is a powerful tool on its own, but the right accessories can significantly enhance its functionality and user experience. Whether it's the added ergonomic comfort of a laptop stand, the convenience of extra USB ports from a USB-C hub, or the security provided by a robust case, investing in these accessories can transform your MacBook Air experience. These are not mere add-ons but essential components that ensure you get the most out of your Apple device, improving your productivity and overall computing experience.