Android OS always takes the cake when it comes to personalizing the smartphone. While Google always gives emphasis on the security aspects, it also provides freehand to the user to configure the device as per his own requirements. This brings us to the concept of having multiple user accounts on your Android. Yes, a smartphone supports multiple users. When we have more than one account on a smartphone, it's important that there should be a distinction among the Admin and the guest users. The best way to do it is by having a unique user account profile picture of each user on the phone.
In this guide, we will discuss, how to add a profile picture to the smartphone lock screen in Android 10.
Add Lock Screen Profile Picture to Android
The system of adding a profile picture to distinguish a user on an Android smartphone has been available since the times of Android Jelly Bean. Now, with the all-new Android 10, this option continues to be an important aspect of the Android OS. You must keep in mind to enable the Multiple User option on your Android phone. Only then you can distinguish your admin/user account by putting a profile picture in it.
It is usually set to on by default. Otherwise, tap on the toggle to activate the option for multiple user accounts. Now, let's move on to the next step which is to add the lock screen profile picture. The process is pretty easy. We have put up simple steps that you can follow. You can try this out on your device as you read this guide. You can enable Multiple User Option on your Smartphone with the following steps:
Go to Settings App on your device
Under the Settings, go to System
Scroll down to Multiple Users. tap on it to open.
You will see a toggle that is labeled as On.
Click on your name, if you are the Admin (or the guest user).
This will open the Profile info.

You will see the photo place holder beside the name. We need to replace this place holder with your profile photo

Tap on the photo place holder. It will open up an image upload dialog box.
Browse and select a photo of yours, crop and adjust it as per your requirements.
Tap on OK.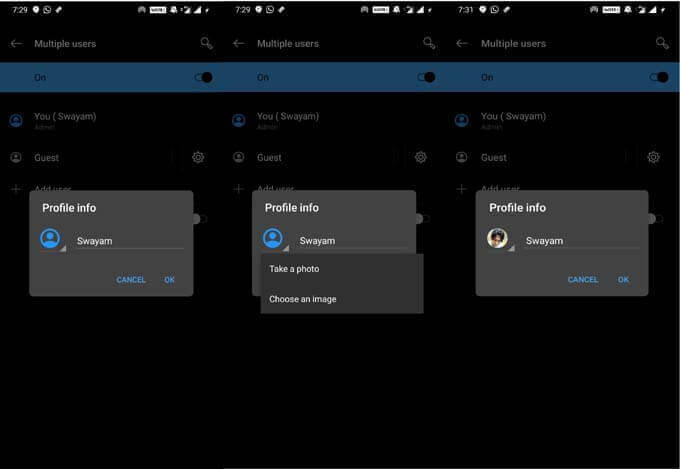 Now, go back to your device home screen. Lock it. While the lock screen is active, check at the top of the display. In the right corner, you should be able to see a miniature display of the same photo you have uploaded in the previous steps.
Congrats, you have successfully added a lock screen profile picture on your device.
Related: How to Remotely Unlock Windows PC using Android Fingerprint Scanner
Could it get any simpler.? So, go now and try to add the lock screen profile picture on your Android device if you have a device that has multiple users. If you have got any queries, reach out to us through the comments section.