Spotify, being the most popular music streaming platform, offers tons of features. The easy-to-use app controls and the interface is a major thing to notice in Spotify. As a social music streaming platform, whoever follows you on Spotify can see what you are playing and your music interests. Suppose you don't want it. You don't want your search history and listening history to be shown to others? Listen to music anonymously.
Here is a complete guide to letting you listen to Music anonymously on Spotify from Android, iPhone, and PC.
Content
Listen Anonymously with Spotify Private Session on Android and iPhone
You probably have seen what your friends recently played on Spotify. If not, you can go to their Spotify profile and find out what they are listening to. Now guess what, they can see what you are streaming too. To hide all your music listening history from others on Spotify, enable Spotify private session as follows.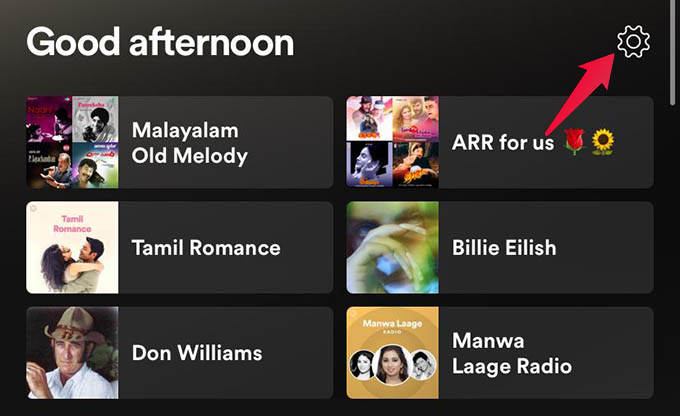 Open the Spotify app on your phone and go to the Home tab.
Tap the settings cogwheel icon at the upper right corner.
Tap Social option from Spotify settings.
Now, turn off the Listening Activity option.
Then, enable the "Private session" from the same screen.
If you do not want to let your friends know which artists you like, make sure you disabled the "Recently played artists" option.
Now your friends will not see which of the music you are listening to. Enjoy the music of your taste without letting your friends.
Related: How to Turn Off Spotify Connect to Disable Music Control for Another Device
Enable Spotify Private Session on Desktop
Do you stream music on your desktop through the Spotify app? Here is how you can enable Spotify private sessions on the desktop app quickly.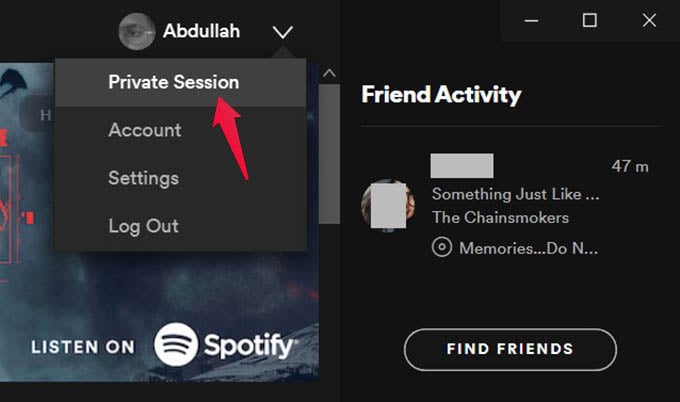 Open Spotify app on your Windows or Mac.
Click the down arrow button alongside your profile name at the top.
Click on Private Session.
When you are in a private session, your friends will not see you in the Friends Activity tab.
Related: How to Duplicate Someone Else's Playlist on Spotify
Turn On Spotify Private Session on Spotify Web Player
Spotify web player is really quicker to access and faster in streaming music. However, the web player is never a replacement for the desktop app and misses a lot of features. That being said, Spotify web player does not have an opinion to enable Private Session. In order to get Spotify private session, you should be listening to music from your phone or desktop app.
Even though the Spotify private session will hide your Spotify listening history from others, they can still see your public playlists and collaborative playlists on Spotify. If you want to hide your playlists from others, switch them to a private playlist on your Spotify profile. Now you have a clearer idea about hiding your music listening history from others easily.