Spotify lets you create playlists and share them with your friends. Your friends can listen to the playlist you curated based on your music taste. What if you want a playlist that reflects the music taste of your best buddies? The collaborative playlist on Spotify allows your friends to add songs to your playlists. It is a brilliant feature if you love sharing playlists with friends often.
Here, we will show you how to make a Spotify collaborative playlist and let your friends add songs on their own.
Make a Collaborative Playlist on Spotify Using Android or iPhone
Spotify app on Android and iPhone work pretty similarly. So, it is easier for you to follow up and create a collaborative playlist on Spotify, from your smartphone. Here is how to create a Spotify collaborative Playlist on Android and iPhone.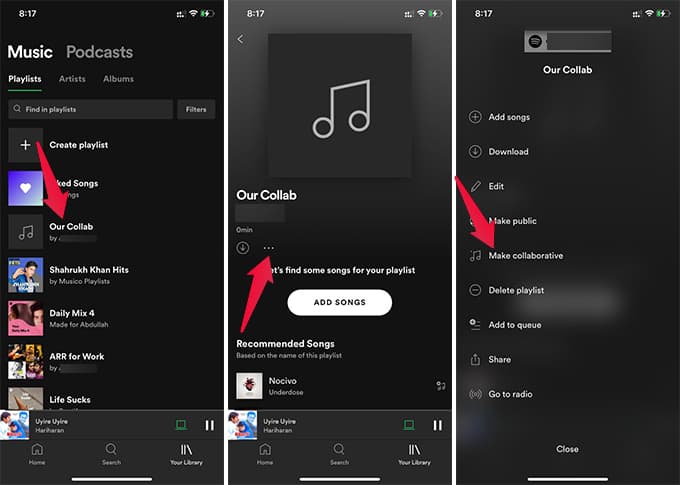 Open the Spotify app on Android or iPhone.
Go to the "Your Library" tab.
Create a new playlist or open an existing playlist.
Tap the three dots menu icon.
Choose the option "Make Collaborative."
Once you make a playlist into a collaborative playlist in Spotify, your friends can see it and add songs as they like. If you don't want others to add songs to your Spotify collaborative playlists any longer, choose "Make non-collaborative" from the menu.
If yours is a Secret Playlist, only those who you share the playlist link with can add songs to your playlist. On the other hand, for Public Playlists, anyone who added you as friend can see and add songs to your collaborative playlists on Spotify.
Make a Collaborative Playlist on Spotify from PC or Mac
Spotify offers fully-fledged apps for Windows and Mac. Like Spotify for smartphones, you can make a Spotify playlist collaborative from the desktop app. Here is how.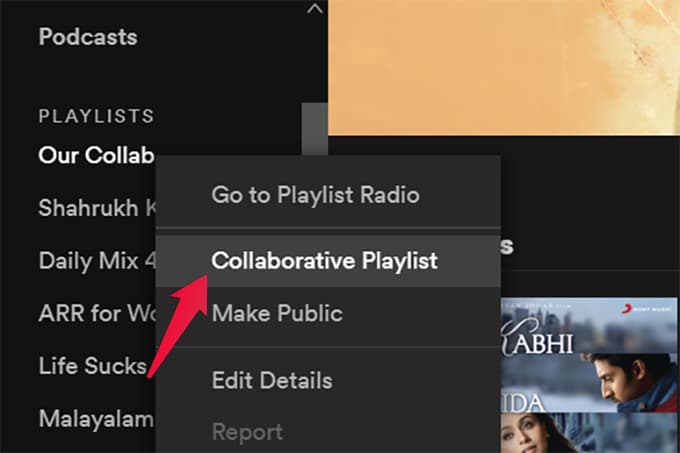 Open the Spotify app on your PC or Mac.
From the left pane, right-click on a playlist under the "Playlists" section.
Click on the "Collaborative Playlist" option.
There you go. Your friends can now add songs to your playlists. You can listen to the songs that your best buddy likes, right from your Spotify account.
If you are using Spotify Web Player, unfortunately, there is no option to make a playlist collaborative. From the Spotify Web, you can create playlists and make them public.
Spotify collaborative playlist is a clever feature for people like me, who love to do things together with friends. Now, you can make a playlist for your "gang" and everyone can add songs to it.